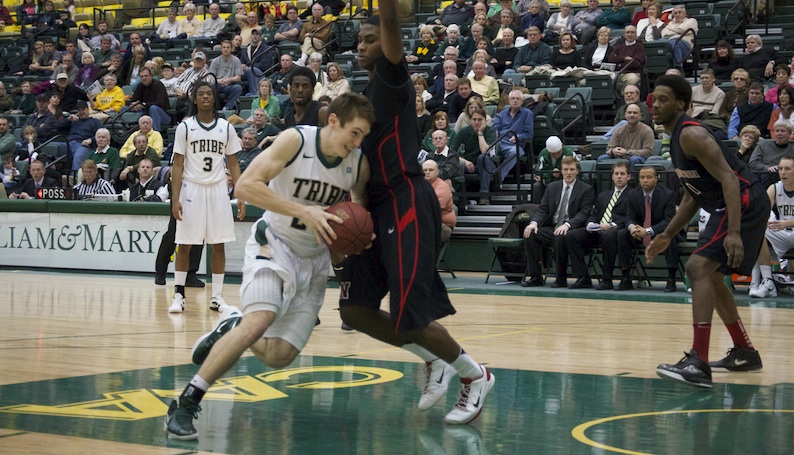 What a difference three days make.
William and Mary rebounded from a 19-point home shellacking at the hands of Old Dominion Wednesday to turn in a complete and all-around performance, dominating Northeastern in every phase en route to a 79-54 win. (More after the video.)
Harassing defense that caused 16 Northeastern turnovers while holding the Huskies to 44.9 percent shooting, coupled with a 10 of 20 night from downtown for the Tribe, four College players scoring in double-digits and a 38-24 advantage on the boards all combined for what senior forward Quinn McDowell unequivocally said was the team's best performance all year.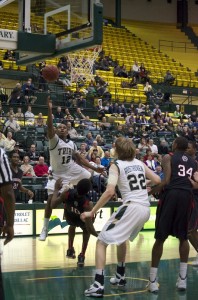 "Our defense really fueled our offense tonight … Our defensive intensity — the starting 5 especially — did a great job tonight setting the tone for how we were going to play defense the entire game," McDowell said.
Head coach Tony Shaver agreed that the defense was the biggest difference-maker.
"Our defense was the key. We've been really poor defensively the last two ball games … we started a little bit different lineup tonight because we felt defense had to be good early and they really were," Shaver said.
Sophomore guard Brandon Britt was decidedly more aggressive than usual, slashing to the basket and running the floor opportunistically on fast breaks to finish with a game-high 24 points on 10 of 14 shooting, three rebounds and two assists.
"Our guards have not been complete players this season, tonight Brandon played a really complete basketball game," Shaver said.
The College (5-22, 3-12 CAA)wasted little time building up a big cushion, maintaining a small lead through the opening minutes until junior guard Matt Rum hit the first of four consecutive three balls for the College. Freshman guard Marcus Thornton — who's started 14 games so far in his rookie year but came off the bench to score 14 points on 4 of 10 shooting (3 of 4 from long range) — knocked down two straight from downtown before senior guard Kendrix Brown hit one of his own off a feed from McDowell. Suddenly with 9 minutes, 11 seconds to go, the Tribe held a 20-11 lead.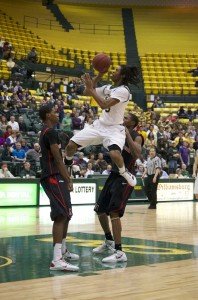 Northeastern (11-14, 7-8 CAA) would battle back to within four, but a 15-0 run capped by an NBA-distance trey from Thornton sent the College into the locker room with a 41-22 lead.
"There've been a lot of previous games where we have a four minute stretch, usually going into the half or coming into the second half, where we just went braindead and basically gave the game away," Brown said. "So we made a point on the floor … that this was going to be our turn to have a great four minutes at the end of the half."
The Huskies came out in the second half applying full court pressure on the defensive end, and the College didn't skip a beat, playing a wide open style that brought about one of the best passing displays the team's put on all season. Brown found McDowell under the basket with a nice pass, Rum hit sophomore forward Tim Rusthoven for an easy bucket, and Thornton threaded the needle to Rusthoven twice in the opening minutes of the second as the College grew its lead to 27 with 12:22 remaining. The team would finish with 18 assists and 30 field goals.
Without making a big dent on the scoreboard, Rum turned in an excellent all-around performance himself, grabbing nine boards, scoring six and dishing three assists while logging one steal and one block.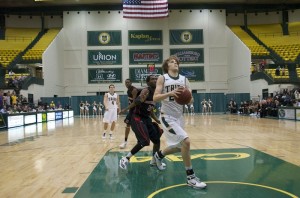 A layup from Britt gave the Tribe its largest lead, 79-47 with 3:01 to go, before head coach Tony Shave went to the reserves to close things out.
"We drove the ball really well," McDowell said of the offense. "And any time you can get into driving lanes it puts so much pressure on the defense, and once we were in the lane for the most part … we made great decisions about when to shoot the ball and when to pass the ball."
The win over Northeastern ends a nine game slide and, to this point, is the signature victory of what has otherwise been a disappointing 2011-2012 campaign. With four more games and just under three weeks to go before the conference tournament, Brown and McDowell — team captains and two of three seniors on the roster — reflected on how difficult the year has been, while looking forward with the confidence a dominant win brings.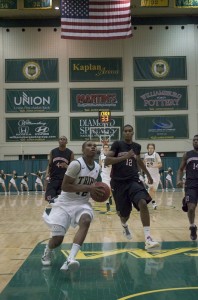 "We've learned a lot in this experience and we're still optimistic about the season," Brown said. "There's still plenty of games left to play."
With the losing streak now in the rear view, McDowell talked about what it meant for the College to be able to bounce back from the blowout loss to ODU with the kind of game it put together Saturday.
"[The season's] been an incredibly painful experience just because you come to the gym everyday and you feel like you're putting in all this work and all this effort and you feel like you're giving it everything that you can and you're not seeing the results," he said. "But our coaches have done a great job and, along with the other two captains, we've done a pretty good job of just coming to work every day, and believe me, it's not an easy thing to do when you get blown out on your home floor … like we did last week … [To bounce back like this] is a testament to the kind of people [the other two captains] are and the kind of people we have in the program as a whole."
Next up the Tribe will travel to Drexel to take on the Dragons Tuesday.