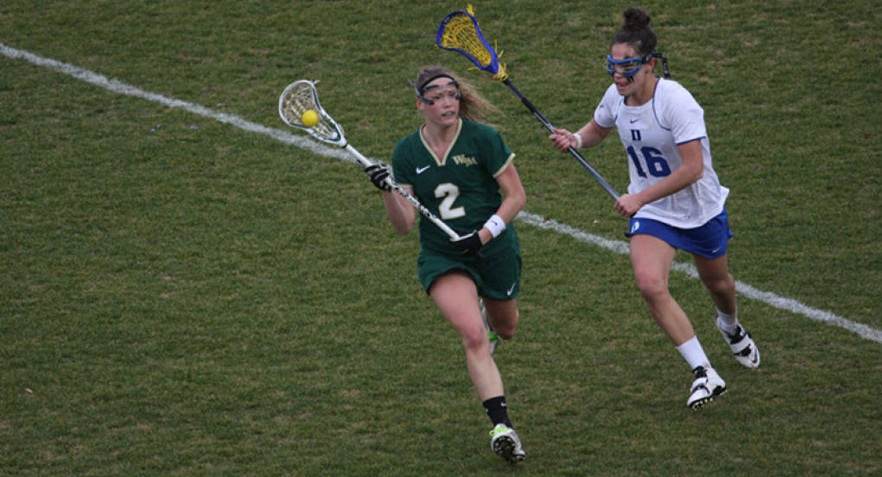 Following losses to two nationally ranked top-five teams, William and Mary traveled to Annapolis in search of a much-needed win. Instead, Navy held on to edge the Tribe, 13-12.
It was the first time in three seasons that the Mids (1-1) got the best of the College (0-3), which was ranked in the top 20 nationally the last two times the teams met.
Three Tribe players notched hat tricks in the contest, as junior attacker Kyrstin Macrides, sophomore attacker Taelor Salmon and freshman attacker Kaleigh Noon all found the back of the net three times. Salmon also logged a career-high five ground balls while forcing two turnovers.
Navy opened the scoring early, jumping out to a two-goal lead before the Tribe got on the board with 25 minutes, 23 seconds left in the half. As teams traded scores and possession, three quick unanswered goals gave the Tribe its first lead of the afternoon.
But the Tribe couldn't hang on to the advantage, as the two squads went into halftime in an 8-8 deadlock. Freshman goalie Lucy Ferguson stood stout in goal, finishing with a game-high 12 saves.
As the second half got underway in Annapolis, sophomore midfielder Hannah Clarke scored first for the College. The Mids responded, however, launching a 4-1 run to give Navy a 12-10 lead with 18:39 to go.
With just 2:03 remaining, Noon completed her hat trick to make the score 13-12 in favor of the Mids, but before the comeback could be completed, Navy regained possession and ran out the clock.
The game featured six ties and four lead changes, with neither team building up a lead of more than two. The College finished with 24 fouls, while Navy committed a sky-high 40. The Mids dealt out 16 more fouls than the Tribe in the first half alone.
While the Tribe's non-conference record fell to 0-3, the team has traditionally performed well within the CAA. The only other team in the conference whose season has already kicked off is George Mason, which rolled to an easy win over St. Francis.
Part of the issue in the Tribe's first three games has been its lack of offensive production. The team has been outscored 50-29 thus far, and has racked up just four assists in three games while opponents have put up 20.
The College will wrap up its three-game road trip when Virginia Tech plays host to the Tribe in the Hokies's season-opener next Saturday in Blacksburg.