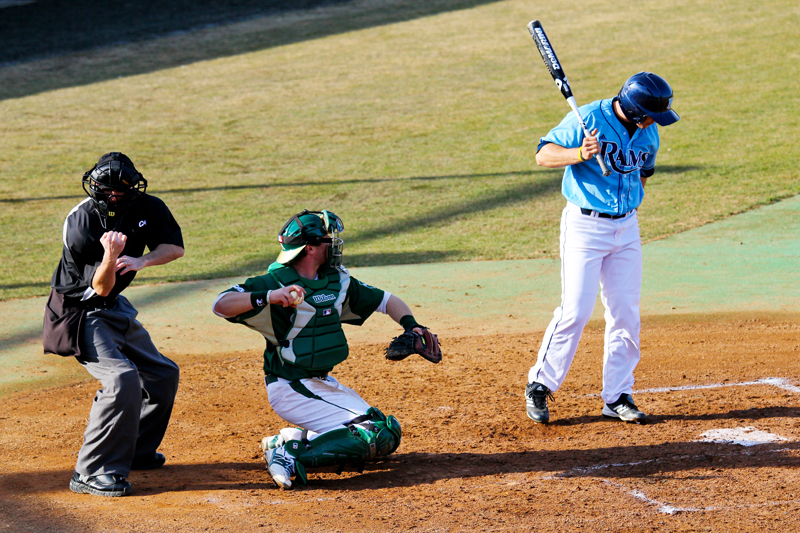 William and Mary kicked off its season in winning fashion over the weekend, taking two of three from Rhode Island on the strength of two dominant pitching performances. The Tribe opened with a 2-1 win Friday, then traded victories with the Rams, taking the first game of the Saturday doubleheader 2-1 on a play at the plate before losing the second 4-3.
Junior starting pitcher Brett Koehler set the tone on opening day, throwing seven innings of shutout ball and allowing just one hit and two walks while striking out five. After freshman designated hitter Michael Katz split the center-right gap for an RBI double in the fourth and senior catcher Chris Forsten put the Tribe up 2-0 in the sixth with a sac fly, the College survived a bases-loaded, one-out scare in the ninth to hold on for the 2-1 win.
"Brett's been awfully good for us — that's why we put him in that role as the Friday guy," head coach Frank Leoni said. "We knew he's the kind of guy that can give us quality starts like that. He did a great job locating. He was up at times early but maybe that was first game jitters. He did a nice job commanding."
Katz made his college debut going 1-2 with two walks and an RBI while senior first baseman Tadd Bower also had a big day, going 2-4 with a run.
"We have a lot of confidence in Mike," Leonie said of Katz. "He was a big recruit for us. He's a born middle-of-the-order guy … he's a good, pure hitter."
Junior starting pitcher Matt Wainman earned a tight win in the first game Saturday, narrowly besting his Rhode Island counterpart, Kevin Lee. Wainman went six innings, allowing just one earned on four hits and one walk, while striking out three.
"It was a pleasure," Wainman said, "just to go out there and give my team a chance to win."
The Rams got on the board first when they tagged Wainman for a run on two hits.
But the Tribe responded quickly, scoring two in the bottom half of the inning. Leading off, junior center fielder Ryan Brown beat out a bunt single down the third base line. Bower — playing left fielder — followed with a walk and advanced to second on an error before Katz — playing first base — singled to left, driving in Brown. Senior catcher Chris Forsten then lofted a fly ball deep enough for Bower to tag up and score, giving the College a 2-1 lead.
Other than the fourth, the College struggled mightily at the plate, earning just three hits and one walk. But Wainman wasn't disturbed by the sparse help he got from the hitters.
"Our team's always fighting … just to go out there and attack. Our offense usually likes to pull it out in the end," he said.
After senior reliever Matt Davenport tossed a flawless eighth for the second night in a row, junior reliever John Farrell came on to close the ninth. But the Rams wouldn't take the loss lying down.
Two consecutive singles from Mike LeBel and Greg Annarummo kicked off the inning and put men on first and second with nobody out. A sac bunt then moved the runners over before Farrell got pinch hitter Kevin Steinhouse swinging. With two on and two out, LeBel tried to score on a passed ball, but Farrell covered home in time and tagged him out, ending the game in dramatic fashion.
Freshman starting pitcher Jason Inghram then made his first college start in the second game.
Inghram's introduction to the college game was not the most welcoming. His control eluded him as he gave up two singles, a walk and a wild pitch that culminated in a two-run first inning for the Rams. Inghram would go just four innings on the evening, leaving with four earned on six hits and two walks and picking up his first collegiate loss.
The College wouldn't allow another run, but the damage was done and the deficit proved insurmountable despite an improved — albeit less opportunistic — Tribe offense.
The College scored two runs in the fifth on hits by sophomore third baseman Ryan Lindemuth and Katz, making it a 3-2 game.
The Tribe nearly tied it in the seventh when Lindemuth touched home after Rhode Island catcher Milan Adams committed an apparent error. But the umpire waved off the run, calling interference on the batter, sophomore designated hitter Devin White.
"I guess he swung and his bat hit the catcher. It's a crazy rule, but it's something you gotta let the umpires make a decision on," Lindemuth said.
Rhode Island closer Mike Bradstreet later retired the side in the ninth to close out the game. Still, Lindemuth was happy with the series.
"It's satisfying anytime you win a series," Lindemuth said. "We definitely thought we could have had the sweep there, but winning two out of three against a good team like Rhode Island is not a bad start."