A three-pointer from sophomore guard Brandon Britt with the shot clock running down and 18 seconds remaining propelled William and Mary past Hofstra, 75-71 Wednesday at Kaplan Arena. (More after the video).
The win followed an ugly loss at Virginia Military Institute Saturday and clinched at least the 10-seed in the upcoming CAA tournament. A James Madison loss to Drexel moved the Tribe into a tie with the Dukes for the No. 9 spot with one regular-season game left.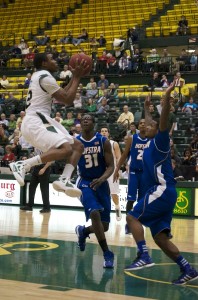 "[Head coach Tony Shaver] was trying to draw up a ball screen for the zone," Britt, who finished with 14 points on 4 of 6 shooting, five assists and three rebounds, said of the game-icing three-ball. "The first time, we set it, but I went off it the wrong way. … And then [sophomore center Tim Rusthoven] set it, the guy sagged off, and I was like, 'I'll just take the shot.' I was open, and so it went in."
The College (6-24, 4-13 CAA) had a chance just minutes earlier to put some distance between itself and the Pride (9-21, 2-15 CAA), but with 1 minute, 53 seconds left and the Tribe clinging to a 71-69 lead, senior forward Quinn McDowell — a career 82.8 percent foul shooter — missed a pair from the stripe, leaving the door open for a Hofstra comeback.
"I pretty much blew it," McDowell said. "But that's why you got teammates like [Britt] in order to pick you up. I don't have an explanation for it other than I just missed them but Brandon's one of my favorite people right now."
Despite the misses, McDowell led the Tribe with 21 points on 6 of 12 shooting while grabbing seven rebounds, also a team high.
In part, the Tribe was bailed out by an anemic shooting performance from Hofstra, as the Pride went a dismal 31.3 percent from the floor in the second half, finishing the game at just 40 percent. Hofstra didn't connect on a field goal for the last 4:28 of the game. (More after slideshow).
The College, on the other hand, shot 55 percent from the floor and 10 of 25 from beyond the arc.
The first half was defined more by free throw shooting than anything else, as the officials called things extremely close, putting both teams in the bonus before just nine minutes had elapsed in the contest. All told, the teams racked up a combined 40 fouls as three players — two from Hofstra and junior guard Matt Rum for the College — eventually fouled out.
Early foul trouble for Rum and Rusthoven limited their minutes drastically, but the Tribe was bolstered by strong play off the bench. Senior center JohnMark Ludwick — spelling Rusthoven — scored 10, pulled five boards and dished out three assists in 17 minutes of play while freshman guard Marcus Thornton stepped in for Rum to score nine points on 4 of 9 shooting. The College's bench outscored Hofstra's 22-15.
"We got some good things out of a lot of people," Shaver said.
Regardless of the officiating, the opening half was a back-and-forth battle, with both teams going on runs and building up moderate leads but neither pulling away. After shooting an enormous 65 percent from the floor and going 6 of 10 from downtown in the first, the College looked poised to head into the locker room with a six-point lead before a last-second heave from just inside half-court by Hofstra's Mike Moore fell, cutting the advantage to 42-39. Moore would spark the Pride's offense all night, finishing with a game-high 25 points to go along with six rebounds.
But as close as the Pride would get, Hofstra failed to ever completely bridge the gap in the second, and the College led throughout the final 20 minutes, twice building up leads of seven.
"Nice to win," Shaver said. "It was a hard-fought game. We could've made it a lot easier on ourselves down the stretch but the important thing is, a team that's had a lot of tough breaks this year found a way to win and that's really important right now."
Shaver also pointed out that Britt may have been playing with an especially heavy heart when he sank the deep ball with 18 seconds left.
"He probably didn't bring it up, but Brandon lost his father right before the season this year, and today was his father's birthday," Shaver said. "You gotta maybe think he guided that ball in there for him a little bit."
The Tribe will close out its regular season when it hosts Georgia State Saturday.