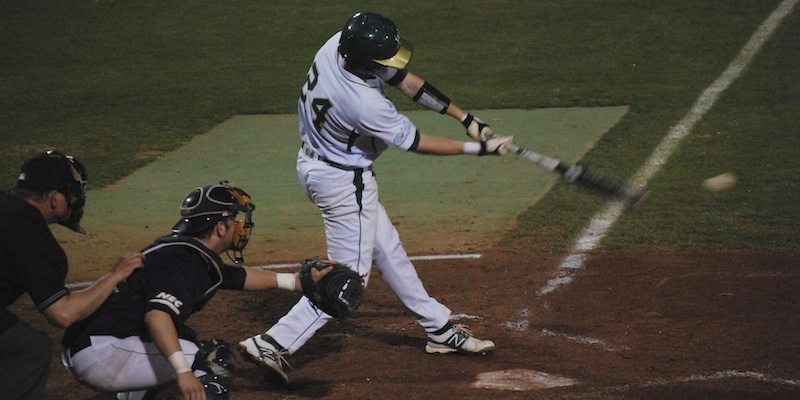 A day after dominating visiting Quinnipiac in a 13-5 win, William and Mary used  big nights from sophomore designated hitter Ryan Lindemuth and junior center fielder Ryan Brown Wednesday to pull out a tough win over the Bobcats, 9-5.
After freshman starting pitcher Jason Inghram struggled with his control and lasted just two innings, the College (12-7) needed a patchwork of arms until junior reliever John Farrell turned in one of his strongest performances of the season, getting the final eight outs of the game without allowing a run while striking out five. (More after the video.)
"You always try to build a little momentum during the week," head coach Frank Leoni said. "Since Northeastern came to town [handing the Tribe two losses over the weekend] we just haven't been playing our best baseball … it's good to see our guys just stick with it, don't panic and come back and win a couple of ballgames. Wins always make everybody feel better about themselves."
Inghram wasn't the only pitcher having a tough time finding the strike zone, as Quinnipiac's five pitchers handed out seven combined walks and hit three Tribe hitters.
The College took advantage of Bobcats starter Matt DeRosa's control problems early, scoring three in the first on a rally started by a hit batter, a wild pitch and a walk. Sophomore second baseman Kevin Nutter got plunked leading off the first, then took second on a wild pitch before Brown took ball four. Lindemuth then picked up his first of two RBIs with a single to right, driving in Nutter. After Lindemuth stole second, freshman first baseman Michael Katz drove DeRosa's 0-2 offering to deep center, allowing Brown to tag and score. Finally, senior catcher Chris Forsten smacked a double to the right-center gap, scoring Lindemuth to give the College a 3-0 advantage following the first frame.
(More after the slideshow.)
The Tribe tacked on another in the second with a leadoff double by senior third baseman Chris Yates and an RBI single from Brown before the Bobcats (1-8) responded in the third. Inghram walked the first two hitters he saw, Leoni quickly replaced him with freshman reliever J.T. Castner, but the rookie didn't help himself, fielding the ensuing Quinnipiac bunt and firing it into foul territory behind third base. The two runners came around to score and an RBI single and RBI double later in the inning tied things up, 4-4 in the third.
The final line for Inghram was two plus innings pitched, two runs (none earned), two hits, three walks, one strikeout and one wild pitch. DeRosa also left after just two and a third.
For the next few innings, the game hung in the balance as both teams put men in scoring position on various occasions but failed to capitalize. Sophomore reliever Matt Houston replaced Castner — who left after three innings pitched, five hits and two unearned runs — in the top of the sixth. Then, in the bottom half, Lindemuth and the Tribe broke through with a two-out rally. Lindemuth started it off by going deep on a 2-1 pitch to give the College a 5-4 lead.
"[The Quinnipiac pitcher] was just dumping in slider after slider," Lindemuth said. "So I was trying to stay right-center and he just left a fastball up and I got the bat on it."
After senior left fielder Tadd Bower singled and advanced to second on a balk, Katz drove him in with a single of his own, leaving the Tribe with a two-run cushion.
Lindemuth has been one of the College's most productive hitters this season. After Wednesday he leads the team with a .386 batting average and a .629 slugging percentage, is second in OBP (.488), and has team-highs in home runs (three) and RBIs (19), all while striking out just eight times in 85 plate appearances.
"He's very confident this year," Leoni said. "He played everyday as a freshman last year so he was able to get into a comfort zone … In my opinion he's our best all-around player right now … He's seeing the ball well at the plate."
The Bobcats weren't done, however, plating one in the seventh before Houston — who ultimately picked up his first win of the year after one and a third, one earned and two hits — gave way for Farrell with one out. The righty let up a single but then got the next two batters, keeping the Tribe's 7-5 lead intact.
The College then got some insurance in the eighth when Quinnipiac's pitchers completely lost their control, leading to a merry-go-round of Tribe batters that scored two on four walks, one hit batter and a wild pitch between two different Bobcat hurlers.
Farrell then shut the door in the ninth, striking out the side.
"Our original plan was to have [Farrell] go out there and have him maybe get three outs tonight and he ended up getting eight outs," Leoni said.
Farrell pointed to his pitches working well against the Bobcats.
"My slider's been a little bit off this year and I just got it back yesterday. I was throwing a bullpen and I got my slider back," Farrell said. "That's my best pitch, so tonight I had all my stuff working. It feels good to have everything click tonight."
The win extends the College's non-conference win streak to nine, but last weekend saw the team struggle in its conference-opener as the Tribe dropped two of three to Northeastern at home. The second CAA test of the year begins Friday when the College heads to Harrisonburg to take on James Madison.