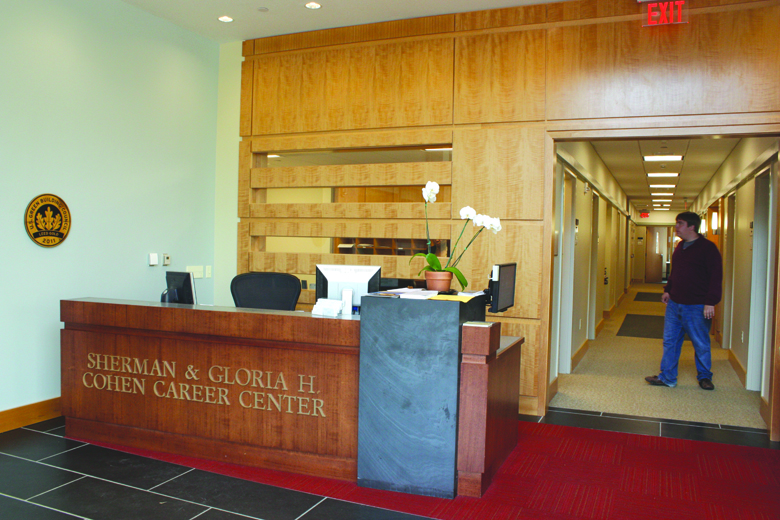 When Elliot Wegman '12 dons a cap and gown in mid-May, many will say that the graduating senior stands at a figurative crossroad. But there is one road Wegman knows he will not be taking: The one back home to mom and dad.
"I will do whatever it takes not to live with my parents," Wegman said. "I live enough of my life under a microscope and as somebody in their twenties, I don't think that should be the case."
He shrugs at the question of an ideal job, looking past the Campus Center walls to say that he has always wanted to travel abroad. As an English major also involved in theatrical productions on campus, Wegman says he plans to make his first trip ever to the Sherman and Gloria H. Cohen Career Center this week, which will mark the beginning of his job search.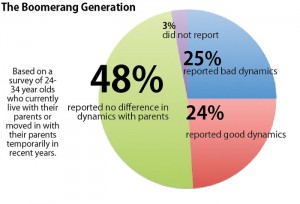 Wegman is not alone in being jobless seven weeks before graduation. According to a Cohen Career Center survey of the class of 2011, 31.35 percent of the respondents reported going directly to graduate or professional school, leaving 68.7 percent of the respondents, presumably, were looking for work.  Of that 68.7 percent, 65 percent reported finding work. The survey had a 53.3 percent response rate.
"I only know of one or two or three friends who have jobs, each of which are business majors, who are in cushy jobs," Wegman said.
For Kate Bonney '12, an accounting major with a summer internship at Ernst and Young, the job prospects also differ according to major.
"As an accounting major, you have more of a set path," Bonney said. "I am interning this summer with Ernst and Young, and I haven't really been that anxious about it."
With the current job market, Director of the Career Center Mary Schilling was not surprised at the number of graduates continuing their education after the College.
"The master's degree is the new bachelor's degree," Schilling said. "With the job market as it is, employers are looking for that extra dedication and desire to learn more in their chosen field."
Even though his unemployment is normal, Wegman's reluctance to live with mom and dad is an exception among fellow College of William and Mary seniors and young adults nationwide looking beyond college into a job market punctured by the recession. These recent batches of young adults now compose the Boomerang Generation, a label more are beginning to wear with pride.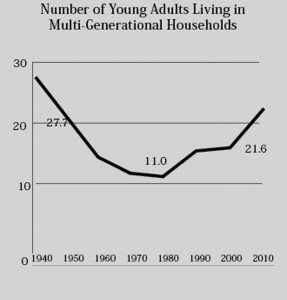 The Pew Research Center noted a climb in the number of recent graduates going back home to live with mom and dad in a study released March 15. The boomerangs of 2010 harken back to numbers seconding the 1940s, when 27.7 percent of graduates moved back home; 2010 saw 21.6 percent of graduates boomeranging home. According to the study in 2010, three in 10 young adults ages 25 to 34 have returned home.
"I'm not surprised at the recent spike," Wegman said. "Something is keeping jobs less available, particularly the ones that old people are occupying without retiring. Maybe that has something to do with it."
Schilling was equally unsurprised at the trend, attributing the change as an efficient and pragmatic reaction to the current state of the economy.
"There are fewer entry-level jobs, but we don't want students to think that is an excuse," Schilling said.
Vice President for Student Affairs Ginger Ambler '88 Ph.D. '96 agreed.
"The current economy has made it very challenging for both professionals and new job seekers and from that sense, I understand where those trends are coming from," Ambler said.
While the stumbling economy has shaken the confidence of many, it has also significantly reduced the stigma of failure attached to those graduates returning to the nest.
"Perhaps there is a higher tolerance for the reality that the path may not be as straight, and perhaps this generation is responding to that," Ambler said. "Anecdotally, I've seen students taking on innovative options, whether it is traveling abroad or [enlisting in] Teach for America more so than in the past."
While administrators were quick to stress that returning home was not a reflection of student character, senior students again named majors as the fault line determining those seniors who would return home and those who would put a negative connotation on doing so.
"Amongst my friends who are mostly humanities majors, there is certainly a greater acceptance for taking a year or two to get it all figured out, whereas business majors kind of go into college with a mindset of having to learn how to sustain [themselves]," Wegman said.
This sentiment was also true for Bonney, whose personal job search did not cause as much anxiety for her as for her humanities counterparts.
"A lot of people are moving back home, just for the first year or so, so that they don't have to pay rent," Bonney said. "I've noticed that my friends who are Arts and Sciences majors are more anxious about graduating since they don't have a set career path once they get out of school."
Another stigma the boomerangs seem to slowly be erasing is that of the helicopter parents, known for their habits of hovering over their children. The majority of boomerangs in the Pew Research Center study reported no change in their relationship with their parents, while over half of boomerangs contributed money either through rent or household expenses.
Yet for Wegman and some of the students he knows, the concept of helicopter parents is a reality, personally hindering Wegman's job search.
"I think most of my friends, particularly the guys, have an adversarial relationship with their parents," Wegman said. "I'm not anxious until my parents start breathing down my neck."
While Wegman has heard of parents sending their kid's job offers, Bonney could only talk of the support of her parents.
"While I'm interning, I will be living with my parents, since my internship is close to where I live," Bonney said. "[My] Parents were very supportive and liked the idea of me working at Ernst and Young."
Ambler echoed Bonney in feeling that involved parents do not necessarily create an unhealthy relationship, pointing to technological development as a possible source for closer student-to-parent relationships.
"Technology makes parents and students more connected than they were in the past," Ambler said. "Perhaps it makes it more comfortable to go home for a short period of time after graduation."
Schilling and Wegman thought the financial contribution, coupled with the short expectation of living time, pointed to good aspects of the boomerang phenomenon.
"It is good reality therapy," Schilling said. "I think it is good for students to understand that it's OK to be pinching pennies right out of college."
Seventy-five percent of boomerangs remained upbeat about their future financial situation, according to the Pew Research Center study.
"If there is evidence that they're trying to live off the fat of the land, then it does not become a good situation," Wegman said. "But I think that people who go to college are not like that."
As Wegman begins his job search this week, he joins the 27.5 percent of the U.S. population who will soon flood the job market with new diplomas in hand.