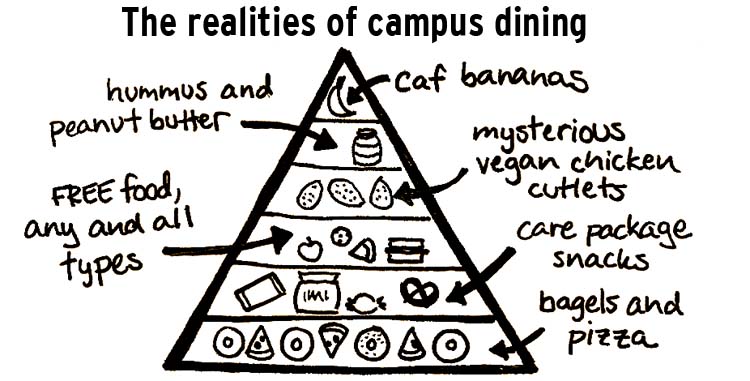 With so much emphasis placed on what should be improved or changed with regard to on-campus dining facilities, the concept of extending our dining options off-campus often gets lost in the shuffle. Having only three dining halls on a small campus makes sense, as do the other limited Flex Dollar options. However, I think it would be helpful to both the College of William and Mary and the local community to work on extending Flex and meal swipe options to restaurants off campus.
Domino's Pizza currently holds the advantage in number of student customers, and is reaping the benefits — you can't walk around campus without seeing a Domino's delivery car. One of the reasons this is such a popular option for students is the convenience of using Flex points at the restaurant. The effectiveness of this option is apparent, and it's a win for both Domino's and students. Domino's popularity reinforced itself recently when their Flex system actually went down, and I heard countless students lamenting that they were temporarily unable to order their pizza with Flex. This business has shown that there is a high demand for off-campus options that accept students's meal plans, for which they have already paid.
Many may point out that several local restaurants already accept William and Mary Express. However, I for one unfortunately do not have parents contributing to my Express account, so paying with Express is the same as paying with cash for me. Many other students are in similar circumstances. Since I have already paid for a full meal plan, I would much rather be able to utilize it in more locations rather than spending additional cash on outside food. When Pita Pit opened, I talked to the owners about whether Flex would eventually be an option there. They claimed they were working on making it possible, as they realize it could greatly boost their business. Hopefully other restaurants will see this potential for growth in sales and follow suit.
Additionally, while it may be complicated for restaurants to start accepting meal swipes, the idea is certainly one businesses should be looking into in addition to Flex usage. This is especially pertinent given the looming mandatory meal plans for all on-campus students in the near future. With such a consistently large group of students with meal plans, businesses could surely count on a good deal of revenue from them by offering meal swipe or Flex options.
Although there may be difficulties or additional costs related to a restaurant obtaining the ability to accept Flex or meal swipes at its location, it seems well worth it to me. If it's working for Domino's, there must be other restaurants that could benefit as well.