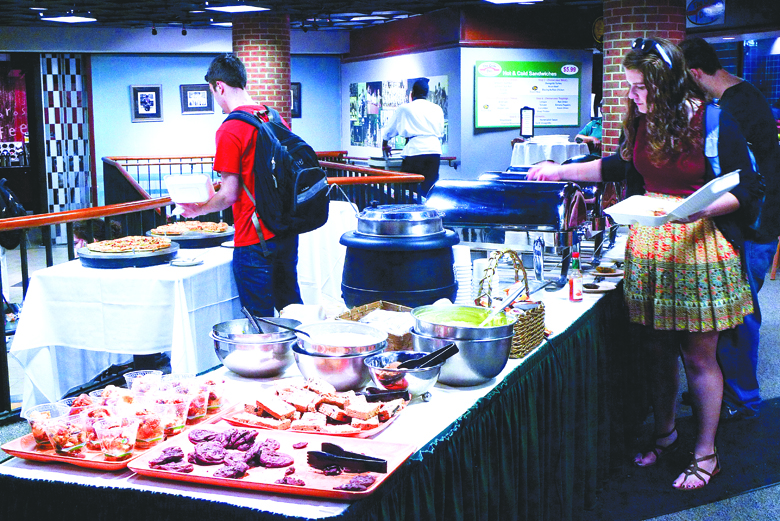 With books such as the "Omnivore's Dilemma", "Food Rules" and "Supersize Me" topping the National Best Seller's lists, knowing where your food comes from has become a pop-cultural phenomenon.
The College of William and Mary has not wanted to fall behind on this trend. During the 2010-2011 school year, the College took steps to increase sustainability within Dining Services by increasing local food procurement, creating a campus herb garden, initiating a re-usable take-out container program and increasing on-campus recycling and composting. Although corporate oversight has created some obstacles to these steps, College administrators remain hopeful for the future.
"It is important as members of our local, national and global communities to do our best as a school to take care of our environment. Our goal is to work with the school and with the Committee on Sustainability to create new traditions of 'green' practices, by implementing programs which work to reduce waste, increase healthy eating habits and minimize our overall negative impact on the surrounding environment," Becca Starr '13, a sustainability intern for Dining Services, said.
Through special events, such as Vegetarian Night at the Commons Dining Hall, Dining Services hopes to promote sustainable food. Although some students say that vegetarian and organic options are limited, there have been substantial increases in the availability of locally-grown produce since the inception of the Sustainability Programs.
Daily Grind owner and manager Scott Owen tries to ensure that all coffee and food he sells is sustainable by buying coffee from fair trade local buyers and food products from local farmers.
"I don't advertise that we are selling sustainable coffee, I just do it because it's the right thing to do." Owen said. "I would be more than willing to buy any of the things here sustainable if I could, but it's impossible with the volume of consumption we are using. It's a consumer's world, though. If consumers change their habits, so will the industry."
Numerous local farmers in the Williamsburg area currently provide the College with local, sustainable, and, oftentimes, organic produce.  Local Virginia farmers, for instance, supply all peanut products and sweet potatoes, and many herbs come from the campus's two gardens.
A sustainable option that has been around longer than a year is the Daily Grind. The Daily Grind is the College's only on-campus non-ARAMARK dining option for students. The coffee shop, located in what was formerly known as Lodge 2, provides fair trade coffee and organic breakfast sandwiches.
The beginning of the 2009 academic year also saw Dining Services begin the Sustainability Interns program. Each intern follows a project relating to campus dining and sustainability, helping to relay the feelings of the student body to Dining Services.
Created as a part of their sustainability initiative, the College's two student-run herb gardens, located by the Commons and by the Boehly Café, provide organic herbs to the dining halls and serve as an educational tool for sustainable farming.
"Because local food is more sustainably grown, it's also more expensive. So we've been making slow changes and small steps," sustainability intern Katie Gehron '12 said.  "The goal is to understand what you're eating and make sure it's not only healthy, but also has a positive the impact it's having on the world."
Because campus dining is run under the ARAMARK Corporation in affiliation with PepsiCo, administrators say a complete switch to organic foods is difficult.
In an effort to decrease waste production on campus, Dining Services works with Chip Hall of  Natural Organic Process Enterprises to compost approximately 40 percent of all waste.
Since the creation of the partnership in September 2010, composting of organic materials on campus has increased from 10 to 16 tons per month.
"In the upcoming years we hope only to strengthen these relationships and create more in order to increase local procurement of healthy, sustainable food products," Starr said.