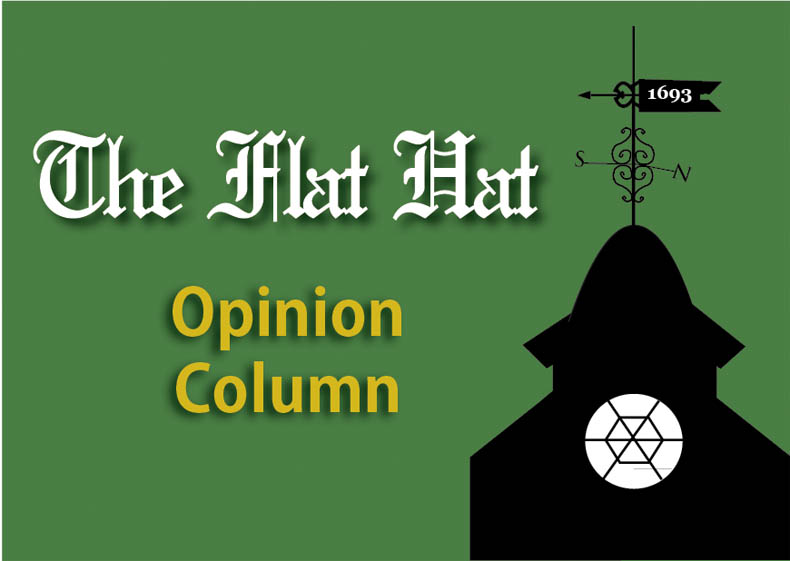 Dear Fellow Students, Alumni, Faculty, Administration and residents of the City of Williamsburg,
I am writing to thank you for a gift I received this year. On day one of that hot, un-air-conditioned hell known as Orientation, I was given a wristband emblazoned, "One Tribe, One Family." I unthinkingly slipped it onto my wrist, where it has remained ever since. I apologize for the tardiness of this note, but it has taken me a full year to begin to understand the special gift that I received.
When I underwent the college selection process, it was a game of numbers. I tried to develop a metric to evaluate the merits of location, reputation, cost, academic rigor and social scene. The College of William and Mary suffered from the severe disadvantage of being only an hour from my house if my parents drove — 45 minutes with me at the wheel. Honestly, I didn't have any interest in staying in Virginia, but my parents cajoled me into attending Admitted Students Day.
When I stepped onto campus, it was unlike anything I had expected. I had been told there was a lot of brick, but I don't think anyone could have prepared me for the sheer quantity. Other aspects that exceeded my expectations were the love of learning and the sense of community. I felt both the second I arrived.
The College is strong on academics and hard on GPAs, as anyone here will tell you. This, while absolutely deserving of praise, is not what makes this university unique. There are many places where one can study under esteemed faculty. who probably grade more generously. Here, amid what College President Taylor Reveley calls "the sacred confines of William and Mary," people really care about the pursuit of knowledge. Sure, we sometimes get fixated on grades and exams, as demonstrated in the Earl Gregg Swem Library finals-invasion video, but I think this stems from an intense, campus-wide desire to understand things as deeply as possible. It is this passion that I sensed during Admitted Student's Day. I have grown to more fully understand it during my freshman year.
Another attribute of the College that I think is praiseworthy is our sense of community.  Despite our students's extreme desire to do well, the campus dynamic is one of collaboration, not competition. Numerous friends have spent countless hours coaching me through my 300-level Roman Art and Archeology class, and without their help, I wouldn't have stood a chance of passing. This atmosphere of support pervades not just the classroom, but all activity here.
Earlier this year, I explored the possibility of running for Williamsburg City Council. While I decided against it, the process brought me into contact with a wide range of people, including members of the Government Department, administration, Student Assembly, other campus organizations and Williamsburg residents and elected officials. Although the advice I received was not always what I wanted to hear, it was invaluable to the development not just of a potential campaign, but also of me as a person.
In the process of writing this letter, I showed it to several friends. "That's everyone's William and Mary story," was the typical complaint, but, far from being an argument against writing this letter, it is the biggest reason to do so. The College is home to a wide variety of students with a wide variety of interests, but they share one thing: The ability to flourish.
Perhaps it is premature to be writing this letter after only a year here, but I sincerely feel that the College and the City of Williamsburg have become my home. I really can't thank everyone involved with this experience enough. This is not to say that improvements can't be made, but I am beyond excited for the years ahead.
"One Tribe. One Family."