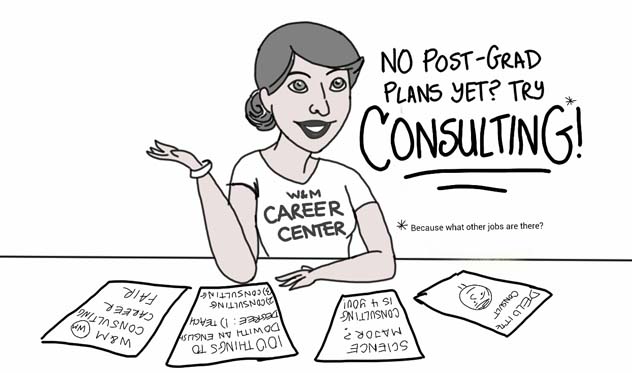 Students at the College of William and Mary seem to be inundated constantly with emails from the Sherman and Gloria H. Cohen Career Center about finding a career in either marketing or consulting. While we are thankful that the Career Center is working so diligently to ensure that all students have job opportunities after graduation, it sometimes seems as if we're left thirsty for more options.
It is common knowledge that there are more career opportunities in a field such as marketing where large firms have specific hiring plans than in an area like museum work where funding for new employees is extremely inconsistent. Even then, however, there are still job openings in these smaller fields, and the Career Center needs to promote these options. We believe that the Career Center is trying to build better programming for all career areas; however, the Career Center needs to take a look at little ways it can make students more aware of all of the career opportunities available to them.
The Career Center relies on sponsors to provide money for funding, and these sponsors generally include large, wealthy corporations. The Career Center has a duty to its sponsors because their funding keeps it functioning; however, there are many small and cost-effective changes that the Career Center can implement to help all students find jobs, whether they are majoring in marketing or classical studies.
One simple improvement would be a more thorough list of job opportunities and internships on the Career Center's website, including opportunities in all fields. It is embarrassing that students have to search for these opportunities on other universities' websites considering that we have such a well-funded Career Center at the College. While students would still be responsible for investigating the positions and the employers for themselves, they would at least have a foot in the door in knowing that positions exist.
After compiling a list of these opportunities, the Career Center should make sure to advertise them and keep the list updated so that it is useful to students. The only emails students receive from the Career Center seem to herald openings in only a couple of areas, and students quickly become disheartened and cease to read the emails altogether. Because the smaller fields are the ones where the job opportunities are less stable, students need to be especially aware of these positions in order to be able to apply.
The Career Center has been trying to expand to be more useful to other majors by hosting events geared toward theater, publishing and science, and we applaud it for its efforts. Before emphasizing these large-scale active programs, the Career Center needs to take a step back and look at the little and affordable things it can do to help the most students.
In order to be an effective resource for students at the College, the Career Center needs to try to benefit the most students in the most efficient ways. After all, students graduating from the College should not have to settle in order to have a career.