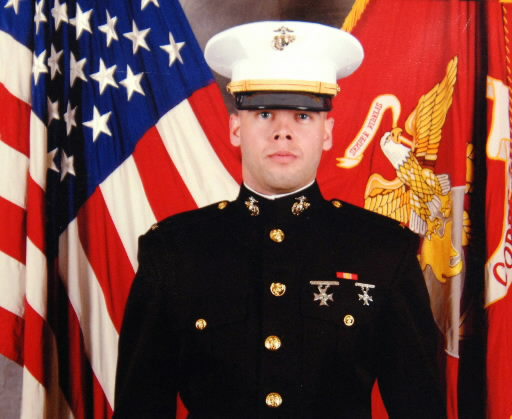 The College of William and Mary places a heavy emphasis on service to the community and to the world. Fallen soldier First Lieutenant Donald Ryan McGlothlin '01 kept this value in mind until the end.
The Basic School at the Marine Corps Base in Quantico, Va. will recognize McGlothlin, who was killed in action in Iraq in 2005, May 17 for his service to the United States Marine Corps.
McGlothlin graduated from the College with high honors and a major in Chemistry. He worked closely with many professors on his work with lunar elements. McGlothlin's work provides much of the foundation research for a project being done by current students and faculty in collaboration with NASA.
The premise of his thesis was to experiment with polymer materials and mix them with "lunar dust," then hot press or microwave the materials into bricks that could possibly be used to build a lunar station for further exploration and experimentation on the moon.
"He was a very good student and well-known for it. He was a genuinely nice person with a very good worth ethic," chemistry professor Richard Kiefer said. "He was very pleasant and really one of the best students I have ever had. He ranks among the top five I have ever taught in my 38 years of teaching."
After graduating, McGlothlin accepted a doctoral research fellowship at Stanford University, where he completed his master's degree in polymer chemistry after two years.
"When he was in his junior year of college, I was talking with him and asked him what he wanted to do. He replied that he'd always wanted to join the Marines," Kiefer said. "I think some others in the department convinced him to go to graduate school first, though."
During his time at Stanford, McGlothlin joined the Marine Corps, and following the completion of his master's degree, he opted to enter the Officer's Candidate School at the base in Quantico. He was commissioned as a second lieutenant and then entered the Basic School in 2003.
He completed the program six months later in 2004, achieving the highest overall scores in his class, and entered the Marine Corps as an infantry officer and then a platoon commander. His platoon was deployed in 2005 and was moved to the Al-Anbar province in Iraq after training in Australia, Egypt and Kuwait.
McGlothlin's platoon was part of Operation Steel Curtain, the goal of which was to eliminate the presence of terrorists and insurgents along Iraq's border with Syria. He was killed in Ubaydi during combat while trying to rescue wounded soldiers in the village nearby.
In November 2009, in his hometown of Lebanon, Va., McGlothlin was honored when a bronze bust of him was unveiled and dedicated in his memory. The base at Quantico will honor him further.
The Basic School, which McGlothlin attended, was created to help "train and educate newly commissioned or appointed officers" in order to prepare them for duty in the forces. t is where McGlothlin became a First Lieutenant and this is where he will be honored with the dedication of new student quarters in his name.