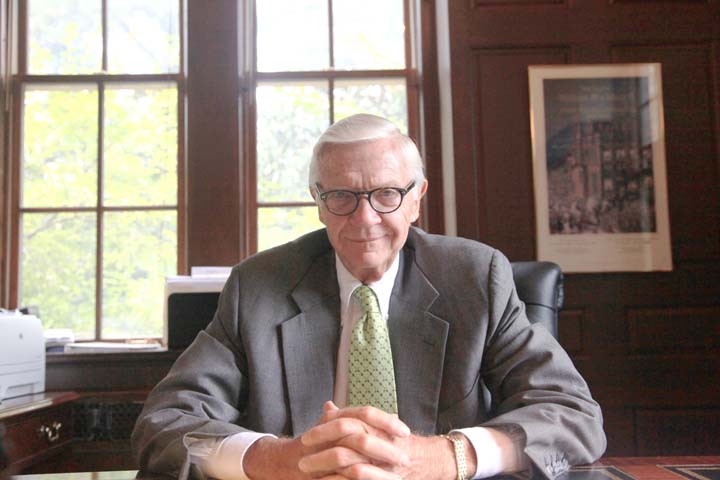 Despite the heat, College President Taylor Reveley was on the move this summer, transferring his belongings from his office in the Brafferton to a temporary office in a first-floor corner of Blair Hall.
"The move-in to Blair was very frisky, because we had to deal with tons of paper and all sorts of things," Reveley said.
The Brafferton was scheduled for renovation, something the building hadn't seen in years. So, on July 13, Reveley and Provost Michael Halleran loaded up the moving trucks and set up offices in Blair.
Although Blair Hall is farther from the President's House, it remains in walking distance from his favorite Williamsburg restaurant, the Fat Canary, and even closer to Tribe Square, which he encouraged students to check out. Even though Reveley exuded praise for the special meals at the President's House, he acknowledged his love of a simpler meal.
"Truth of the matter is I don't eat out that much in Williamsburg," Reveley said. "By the time I do all the eating I'm supposed to do, it's just nice to have a secluded peanut butter sandwich in the President's House."
The hectic move failed to slow down work on campus, as the College continued to change in the summer months. Announcements about a visit from the Dalai Lama, a merger between the College and Eastern Virginia Medical School, and even changes to Convocation filtered through the College.
The Student Assembly announced a visit from the Dalai Lama, pushed for largely by students. While Reveley sent a letter inviting the Dalai Lama, he won't be attending the event in October.
"It's a really classic example of William and Mary students taking initiative and getting things done," Reveley said. "But, I'll be in South Africa during the event. An unusual opportunity came up to see South Africa in a wonderful way [and] I will spend some time with the Vice Chancellor of the University of Cape Town."
July came around with an important announcement from the school. The College and Eastern Virginia Medical School were considering a merge that would turn EVMS into the William and Mary School of Medicine. Reveley stated that the issue is still in progress.
"Whether it will come to pass, I don't know," Reveley said. "But we're looking at it closely and EVMS will be looking at it closely. One of the realities that we're living with … is the whole constellation of questions about healthcare. … We do a little bit about all that, but it would be good for the University to be much more fully engaged in all of that since it's going to be such a dominant force in our economy and way of life."
Even Convocation, a time-honored tradition at the College, will experience a change this year, being celebrated on the first Wednesday of classes instead of Friday.
"We might get more of our varsity athletes to come," Reveley said. "So we'll see. We've moved it to the middle of the week and pushed the time back a little. I think it'll work better, but we'll find out."
Fiscal year 2012 ended this summer, but not without leaving its mark. The College gained $43.6 million in private gifts.
For the past four years, the College has raised more than $40 million in private gifts each year, creating one of the most successful fundraising ventures in the College's history.
Reveley contributed this fundraising success to a continued effort to increase lifetime connections with the College.
"There's this huge amount of emphasis on not just loving William and Mary quietly in your hearts when you graduate, but also doing something about it.," Reveley said. "We really are a public ivy which means to continue to be excellent we have to have a lot of support from our alumni and friends."
Reveley continued to be an advocate for funding at the College, writing an editorial that ran in the Richmond Times-Dispatch and the Virginian Pilot.
In the editorial, he emphasized the importance of recognizing that colleges subsist on public-private partnerships and thus need more freedom to encourage private partnerships.
"We understand that we have to learn how to be even more productive than we already are on campus," Reveley said. "We're already the most efficient of the leading universities, but we have to figure out how to be more efficient. We also need to be allowed to have our public-private partnership do what it needs to do."
Last September, the Board of Visitors approved a six-year plan which included the addition of 150 students over the span of four years.
Reveley acknowledged the need from the state to grow, but insisted on maintaining the small-school feel.
"We prize our human scale," Reveley said. "We prize being able to house 75 percent of our undergraduates on campus. We prize the intense engagement of faculty with students. We like being a small state university and we don't want to grow and grow and grow."
The College, noted often because of its smaller community, sports a sizable campus, one that Reveley encourages students to explore.
"This is a great campus to walk all over because you just keep running across places that you didn't know existed," Reveley said. "They're really quite striking. Everybody has their beaten paths where they tend to go all the time. Get off your beaten path, see the entire campus, walk over the whole thing. Enjoy it, savor it."
With the fall semester approaching and freshmen preparing to move into their dorms, Reveley reflected on his first year as a freshman at Princeton University.
As to advice he wished that he had for his freshman year, Reveley passed on some encouragement for those tougher moments.
"You can start out and if you're not having a great time and you're home sick, you can have steely confidence that it won't last and you will have a really good time," Reveley said. "Some people when they start on campus, it's not an issue at all. For some people, it's a big issue and they don't tend to talk about it. It's not life-threatening, so just relax and get to know somebody. I think more kids are home-sick than you ever really know."