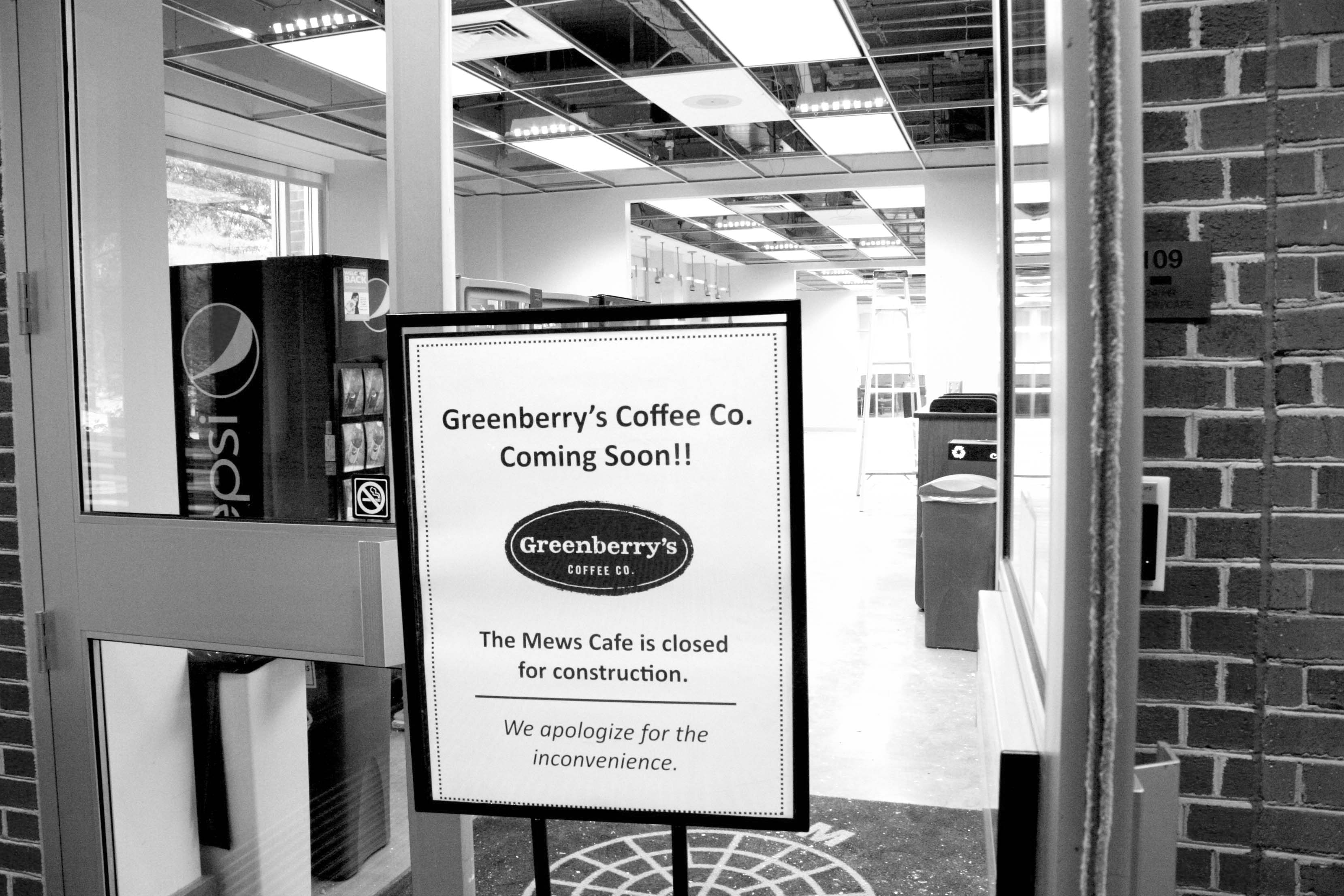 Students returned last weekend to find a refurbished and updated Earl Gregg Swem Library, equipped with a new scanner, new fine policy, aesthetic updates, extended hours and a Mews under construction.
This last alteration is apparent immediately upon entering the library as Greenberry Coffee Company replaces Starbucks in the library cafe.
"We knew we needed a different option there," Assistant Director of Marketing and Communication Eden Harris said. "We wanted to bring in a more full-fledged café. So far the response has been great."
Greenberry Coffee Co. is a cafe-style coffee shop based in Charlottesville, Va. When completed, the shop will offer artisan-roasted coffees, premium teas, smoothies, gourmet soups, salads, sandwiches, breads and pastries.
"The look will be completely new," Aramark Marketing Manager Faren Alston said, describing the process as a complete overhaul of the area.
Dean of University Libraries Carrie Cooper assured students that construction should not interfere with exams and other key study periods. During construction, vending machines will be relocated to the Copy Center. The machines currently only accept cash, but Swem is working with IT to connect the machines to Express accounts.
When completed, Greenberry will accept Express, Dining Dollars, cash and major credit cards. According to Alston, Aramark has discussed including a swipe option at the cafe, but no decision has been finalized.
Swem's changes don't end at the entryway, however. One notable change is the extension of Swem's weekend operational hours beginning Sept. 30. The library will remain open until 8 p.m. on Friday and Saturday and will open at 10 a.m. Saturday and Sunday.
"We've got several more hours every week that students will be able to come into Swem," Cooper said.
The late-book policy also saw changes, including extended borrowing days. Undergraduate students may now borrow a book for up to 120 days before it is considered late while graduate students may borrow a book for 365 days. In addition, students can now rent DVDs for up to seven days.
When a student retains a book for more than the allotted time, he or she will receive a series of reminder emails, followed by a notification that he or she will be charged for the price of the book rather than fined for tardiness. If the student returns the book, the charge for the book's price will be removed.
Aesthetic changes to the library include the addition of accent paint colors including Independent Green, Gingery and Soulful Blue as well as new chairs on the first floor.
"We thought maybe a pop of color in Swem might be a nice idea," Cooper said. "I want this to be a place for all students, a place for undergraduate students and graduate students. I want it to be comfortable. I want there to be enough variety throughout the building."
The new walk up scanner, which includes a searchable PDF option, will allow students to scan books for free and either email the images or save them to a USB drive. The Swem Sustainability Committee (SASSY) and the Committee on Sustainability collaborated to bring the scanner to campus.
"We are really concerned with sustainable practices, and we know students pay a lot for copying," Cooper said.
The new scanner is located on the first floor of Swem next to the copy machines.
Future changes to Swem will continue into the spring and will include the movement of the media collection to the right of the circulation desk on the first floor, as well as the addition of ottomans in key study areas.
Cooper also encourages students to use the whiteboard at the entrance of Swem for comments and suggestions. Many of Swem's changes were inspired by responses to surveys completed in the spring.