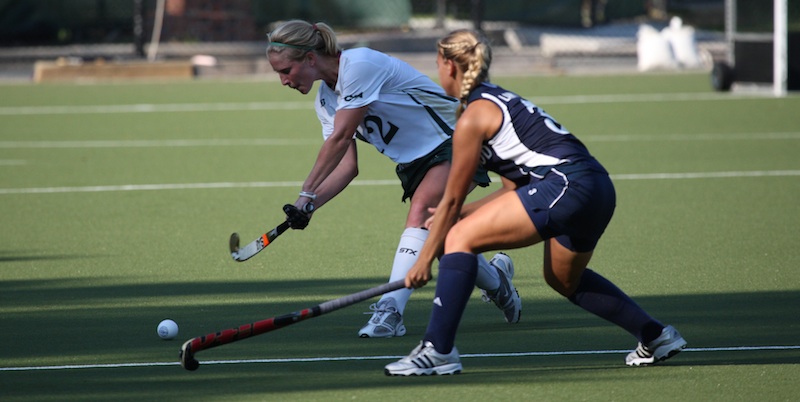 Near the end of William and Mary's 3-0 victory over Liberty last Sunday, head coach Peel Hawthorne '80 saw something unusual out of the corner of her eye. A large group of her players were crouching on the ground, changing T-shirts. Something was up.
As the clock hit zero and the win was solidified, Hawthorne suddenly felt the cold rush of a Gatorade ice bath. Hawthorne's players huddled around her, showing off their commemorative T-shirts and unfurling a special banner.
The Tribe's triumph over Liberty wasn't just any win — it was the Tribe's fourth consecutive win since the beginning of the season, but more importantly, it was Hawthorne's 300th career victory.
"Honestly, I don't really think about those kind of things. … I got the ice bath and parade of custom T-shirts that the kids had all made, so that was very special," Hawthorne said. "The fact that they were excited about that and celebrated that with me made it extremely special."
This milestone came in the midst of a successful early season stretch for the College. The four game winning streak marks the Tribe's best start since 2006.
"We are off to a really good start," senior midfielder Christine Johnson said. "It's the best start we've gotten off to in a really long time … I think we have a lot of returning players, we only lost five seniors, and we have a lot of our starters coming back, so it's looking like a good year and we brought in a lot of great freshmen."
Johnson set a school record in the season opener against Davidson by scoring four goals  and is currently the squad's leading scorer. Eight other players have scored goals so far this season, and six players have scored multiple goals.
"We've played a lot of teams and we've been able to generate a lot of attacking corners so that really helps with our offense and our shots," Johnson said. "That's the only reason I have been really able to score because I can go up during penalty corners, but a lot of us worked during the summer to make sure that we had our plays right and a lot last spring to make sure that everything was good."
The extra preparation appears to have paid off so far. The Tribe has dominated its opponents, downing them by an average of 3.5 goals per game. The offense has notched 19 goals and 18 assists after four games, which is the most goals over four games since 1979.
Hawthorne attributes the College's offensive prowess to the amount of depth and skill on the roster.  Senior midfielder Allison Moran — the College's second leading scorer — and sophomore midfielder Kayleigh Ross both have scored multiple goals without starting a game.
"The roster is deep," Hawthorne said. "This is the first time in a while we've had 16 to 17 players that it doesn't matter what the combination is, they can come off the bench and score. That's been the case. Some of our opening goals have been by people who've come off the bench, and that's just what you want. … We've used different starting lineups almost every game because we do have that depth."
Fresh legs have also helped the defense. The unit hasn't given up more than two goals to any of its four opponents.
The College has rotated two goalkeepers, senior Elizabeth Frey and redshirt freshman Catherine Johnson, and both have played well. Frey has recorded three saves and allowed two goals through three starts while Johnson allowed three goals and made nine saves through one start.
"I feel like we are really well balanced, which is awesome, and we have an older defense. … Anyone can be interchanged in the roles that we have and the pace of the game doesn't really change," senior defender Maria Caro said. "You might have a different style of play in the back … but we play off of each other really well and we each know how to pick and choose our moments to step up, step back, and choose when to go, when not to go, based on who's playing."
While the College's experienced core is beginning to see the dividends of its hard work, its success is especially important to this group — a group that has seen its fair share of losing seasons, perhaps none more heartbreaking than last season. The Tribe got off to an equally impressive start in 2011, only to lose its final 10 games en route to a 6-11 record. This season, the Tribe is determined to not let its good start slip away.
"We started out by beating Northeastern, which was a great win, and then we hit the skids and it was about the same time we were starting to lose people due to injuries," Hawthorne said. "I'm trying not to look back on that, and I'm trying not to make that our focus but I'm sure it might be in the back of some people's minds. We're playing better hockey now than I've seen us play in quite a few years."
Hawthorne admitted that the Tribe's most challenging tests are yet to come — including games against Radford, Virginia, Boston and Miami (Ohio). Despite the challenges that lie ahead, Tribe players and coaches are ready to prove that last season was an anomaly and that the squad will finish strong this season.
"I'm excited to honestly play the U-Vas, the Wakes, the Northeasterns," Caro said. "That's not to say the teams we have played were easy in any shape or form, but we play U-Va. who has two Olympians. I really want to know what we can do against teams of that caliber … I truly believe that if our basic hockey stays stable and grounded that we stay level headed that we can play against those people and put up a fight … I just hope that we continue to progress and that we don't peak now and drop like other seasons."