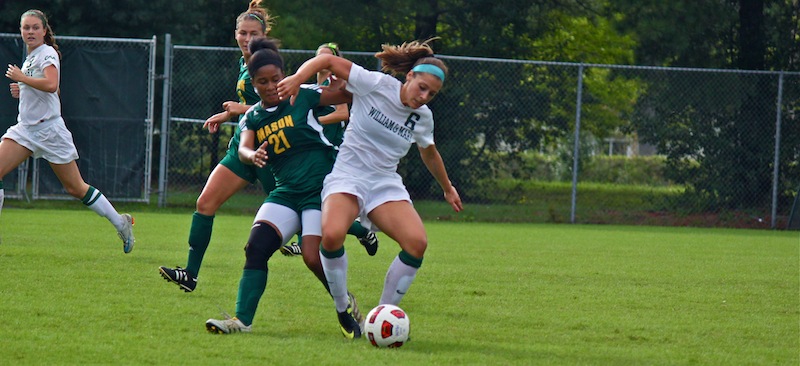 The women's soccer team won the Villanova Invitational in Philadelphia Sunday after edging Seton Hall 1-0 to earn a hard-fought victory in a game head coach John Daly called a "dog-fight."
The lone and game-winning goal came in the 37th minute when freshman reserve Nicole Baxter narrowly beat her defender to tap in a low cross off the foot of senior forward Cortlyn Bristol. The goal was Baxter's first at the collegiate level.
The Tribe has now won five straight and hasn't surrendered a goal since a double-overtime loss to Tennessee Aug. 24. With this victory, the College moved its record to 5-2, thanks in no small part to the stellar goalkeeping of freshman keeper Caroline Casey.
Casey, who finished with six saves, has emerged as the starter in the absence of the injured Carla Manger, and her outstanding play may be the surprise of the season so far for the Tribe. Daly was pleased with Casey and the rest of the defense, adding that the current scoreless streak is also a credit to a defense and midfield that is playing with chemistry and cohesion.
"We have been a little fortunate, but our back-four has been pretty consistent," Daly said. "It's been a combination of good goal-keeping, our midfielder trio working hard, and everybody seems to be gelling."
Overall, the College was outshot 15-13, with the Pirates clanging shots off the framework on two occasions. Seton Hall threatened to tie early in the second half, challenging Casey with four shots in the first five minutes. The freshman answered though, and a tightened College defense smothered any subsequent chances to preserve the win.
Bristol, meanwhile, continued her hot play early in the season. The dangerous forward and preseason All-CAA selection already has four assists and a total of eight points on the season, earning high praise from her coach.
"Cortlyn has just been outstanding for us," Daly said.
Bristol is one of the many highly skilled players composing an attacking offense loaded with depth and talent, which make the arrival of Baxter seem surprising. But Daly says the freshman has earned her way onto the pitch, thanks to her precocious skill and an especially high soccer IQ.
"[She's] a very good player who uses the ball extremely well," Daly said. "She's a very smart player with good understanding of where to be and when. We expect tremendous things from her over four years."
The Tribe hosts Davidson Sunday, and Daly hopes to see his team avoid its occasional problem of starting slow and sluggish.
"We started poorly against Duke and Tennessee, and that's not good enough," Daly said. "We've got to correct that."