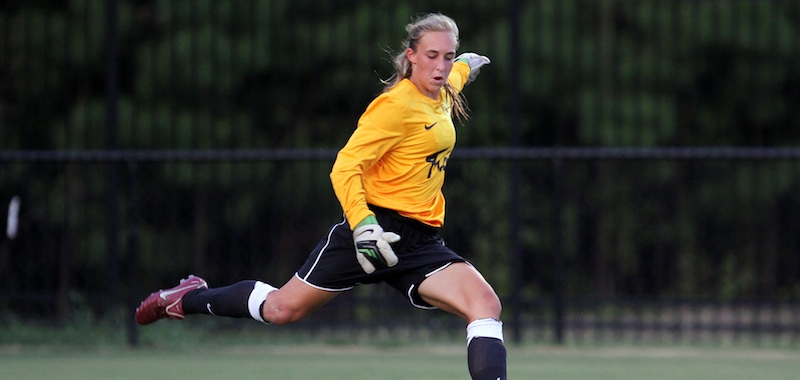 William and Mary scored three first-half goals en route to an easy 3-0 defeat of Davidson at Martin Family Stadium Sunday. Star senior forward, reigning CAA Player of the Year and All-American Mallory Schaffer continued her dominant play on her way to tallying three points in the contest.
After assisting sophomore forward Emory Camper in the 20th minute to put the Tribe up 1-0, Schaffer added two goals of her own, in the 37th and 45th minutes respectively, to blow the game open and assure the win. Head coach John Daly placed Schaffer in a category of her own in terms of players he's coached.
"She does everything. She defends, she creates, she scores … she could do anything," Daly said. "She's probably the most complete player that we've ever had."
In addition to Schaffer's superlative play, the College recorded its sixth straight shutout victory, benefitting from a back-end trio that suffocated a frustrated Davidson squad. The Wildcats managed just three shots, none of which posed any serious threat to freshman keeper Caroline Casey.
Junior defender Allie Heck, who makes up one-third of that back end trio, cited team chemistry as the main factor in the College's consistently tough defensive play.
"I think it's definitely the chemistry," Heck said. "We're very comfortable with each other. We can count on each other, and if one makes a mistake, we always know that there's support."
On the offensive end, the College benefited once more from the contributions of freshman midfielder Nicole Baxter as well as fellow freshman forward Leci Irvin. It was Irvin's give-and-go with Schaffer down the right-wing that ultimately led to the senior whipping in a low-cross to Camper, who poked it in for the game's first goal.
The highlight goal came off the foot of Schaffer in the 37th minute, when junior forward Audrey Barry carried the ball to the end-line before crossing to Schaffer, who snuck in behind the Wildcat defense and finished with a perfect volley.
"[Audrey] did a great job on the outside, hitting a solid serve," Schaffer said. "I was back-door and nobody was marking me."
Nine minutes later in the waning moments of the first half, Baxter hit a perfectly-weighted pass through a small window in the Wildcat's back-half to link up with a sprinting Schaffer, who calmly slotted her second goal low and away from the keeper to put the Tribe up 3-0.
"The second and third goals were just beautiful goals to see," Daly said.
The coach was pleased with his team's offensive showing, but just as happy with yet another near-perfect performance from his defense.
"Overall I thought we defended really well," Daly said. "We really kept them at distance and working hard just to keep their attacks going."
The coach also credited the play of his two center-backs, sophomore Emily Fredrikson and senior Kiersten Harpe, with defensive teamwork that has consistently made it tough for opponents to create opportunities.
"I thought [Fredriskon and Harpe] were very good. They've got a good partnership going now," Daly said.