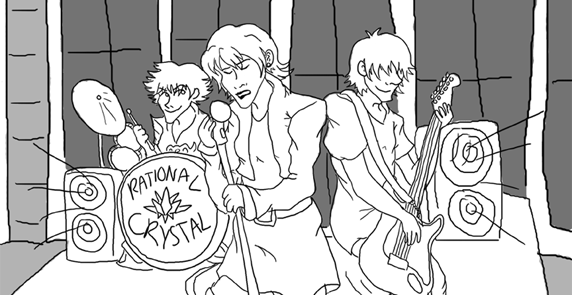 The College of William and Mary has many claims to fame: an impressive alumni network, the nation's oldest academic building in continuous use, and an award-winning faculty. What the Admissions Office brochures don't say is that WCWM, the College radio station, has a vinyl collection so impressive that the Wu Tang Clan tried to buy it.
"This is the kind of place that has a lot of legends," WCWM Station Director Todd Van Luling '13 said.
Standing in the station, in the middle of what is potentially the second largest vinyl collection in the southeast, you can see why. The walls are lined with records tucked safely away in their album covers, competing for space with a plethora of decade-spanning posters.
"Part of the reason we all joined the station and became DJs is because we love sharing music, not just listening to it — that's why we have shows, so we can put music on the airwaves and show people what we love," WCWM Vice President Arthi Aravind '13 said.
WCWM will host several events this year, including a new weekly concert series this fall sponsored by The Crust, as well as the third annual WCWMFest in the spring.
Last year WCWMFest brought out, by Van Luling's estimates, approximately 1,000 people from the College and the surrounding community to hear the Mountain Goats and the Walkmen play. The festival also showcased panels with members of National Public Radio and BuzzFeed. According to Van Luling, this year looks to be even more promising.
"The goal is always to make it a stepping stone, where the first year was just a concert, the next year was a much bigger concert and more of a three-day thing; this year it's going to be absolutely ridiculous. We're already talking to members of the SA, and I think it could shape up to be something pretty ridiculous."
Pretty ridiculous could mean an expansion of the festival to include not only concerts but other activities as well.
"There's a lot of, not just artists, but activities that we talked about doing last semester that just never came into being because it was sort of new to us, the whole scale of it, and once it was over we[realized] we couldn't do it this time, but we should definitely try it out next year," DJ Kayla Meyers '14 said.
In addition to working with the SA for WCWMFest, the radio station is making plans to branch out into other partnerships on campus as well.  The upcoming modern journalism panel featuring Travis Morrison of the band Dismemberment Plan is the product of collaboration between WCWM and AMP's Contemporary Culture Committee.
The fruit of WCWM's newest partnership is a weekly concert series at The Crust, which agreed to front the cost of the artists, according to Ellyn Greene '13, WCWM's events director.  Every Saturday through Nov. 17th, a local or unknown band will open for a bigger, up-and-coming artist. Often, the openers will be student talent — this Saturday's show will feature student groups Swampblossom and Car Seat Headrest. Tickets will range from $5-10, but the radio will be advertising a $40 season ticket that includes admission to all of their shows for the semester, a free pizza and a WCWM T-shirt.
"The atmosphere we're trying to create is an outlet for — this sounds corny — but for culture in Williamsburg," Greene said. "There are a million things going on on William and Mary's campus at all times, but none of it really represents a regular place where the niche music scene can express itself. So we want a consistent place where people can come and listen to good, local bands."
However, this niche music scene has not always been looked upon favorably in the past by other students on campus.
"No one's allowed to talk about music. It's unfortunate that it gets that stigma because you can't be a music nerd without simultaneously being considered pretentious," Van Luling said.
Through these upcoming campus and community events, WCWM hopes to dispel any aura of exclusivity that may currently shroud the radio organization.
"There's also kind of the stigma of the radio station being exclusive and hyper-counterculture, too trendy, and I think that probably has a tendency to scare people off," Greene said.  "WCWMFest and the radio station have been seen in this certain light for a long time, and we're trying to change that and trying to bring more people in without undermining the character of what makes it special or what makes it unique on campus."
Ultimately, WCWM is trying to find its niche at the College.
"People aren't listening to the radio as much as they used to," Van Luling said. "People aren't even owning radios as much as they used to, so we're just trying to figure out what our role on this campus is. Like any organization, we try to do our best, and if people think that's what the best should be, then maybe they'll follow it."