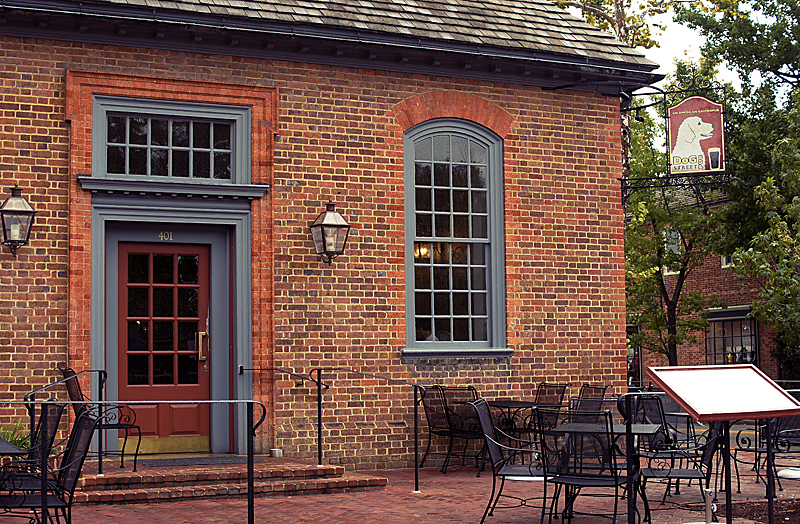 With the opening of the DoG Street Pub this past June, Williamsburg also welcomed its first gastropub, a type of pub considered to be high-end.
"Pubs are known as local hangouts with great well-known and local beers. But a gastropub basically has higher quality food served in an unpretentious manner and atmosphere," Executive Chef and Owner of the DoG Street Pub David Everett said. "Casual is the kind of thing we were going for."
Everett, who was present from conception to construction to opening night, is also the executive chef and owner of two other popular restaurants in the area, The Trellis and the Blue Talon Bistro.
"As opposed to having the desire to open a particular type of restaurant, this restaurant [DoG Street Pub] was open to looking at the question: What is the area lacking?" Everett said. "We looked at everything from a steakhouse to a fast food restaurant, but what we found out is that we don't really have a beer thing around here."
The pub replaced an 80-year-old SunTrust Bank in central Merchant Square. It reflects the style of a British pub, with a menu similar to typical British cuisine.
Chef Jason Clay, previously a chef at The Trellis next door, was one of the members of the team that helped create the menu for the new restaurant. Clay tried multiple variations in an attempt to preserve classic British recipes while also providing options that would appeal to American tastes.
"We were literally mad scientists and tried probably 16 to 20 versions of recipes. We worked all day long and then had all the options ready to taste. So we would round up all the chefs, waitresses and waiters, and they tried them all," Clay said. "It was a huge conglomerate with Chef [Everett] at the head, so ultimately the final decisions were made by him, but there were a lot of people involved."
Everett's wife played a huge role in designing the interior, but all of the tables, cabinetry and countertops are hand-made by Everett himself.
"We wanted all the elements in the restaurant to sync with the design and layout of the building," Everett said.
When the idea was conceived, a Facebook page and Twitter account were created to garner support for the restaurant's opening. The Facebook page now has over 1,200 likes.
"The service we received was really accommodating, and the setting was so nice and quaint. Plus, they made an amazing cup of coffee," Emma Doyle '15 said.
General Manager Michael Claar was also the driving force behind the extensive beer and beverage menu offered at the DoG Street Pub.
Between Claar, managers and the head bartender, beers are swapped out at a rapid pace.
"The really fun thing about craft beer is that there is new stuff coming out all the time. The organization that judges and assigns beers to categories has a new category of specialty beers, which is basically made up of the beers that don't have a category yet because they're so new," bar manager Zac Moore said. "Beer in general is just very exciting."
In order to introduce the public to some of the new brews at the DoG Street Pub there will be an "Occasion for Beer" in October where different vendors can show their crafts. Beer 101 classes also will be offered for those interested in receiving formal beer education from one of the restaurant's managers.
"This is a unique opportunity for both college students and working class people to come and enjoy good food and drinks," Clay said.