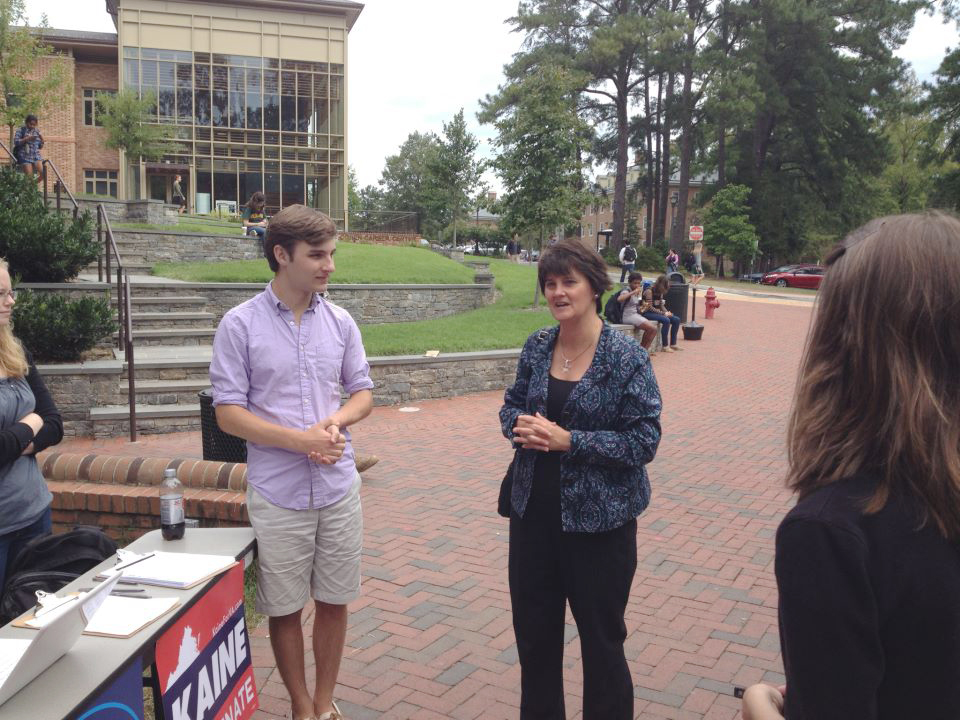 Anne Holton, the wife of former Virginia Governor and Democratic Senate candidate Tim Kaine, visited campus Wednesday to help the Young Democrats register students to vote in the November elections.
Holton thanked the group for its work in registering students to vote in the swing state of Virginia. She emphasized that these local-level efforts were key to the campaign's success in one of the nation's most closely watched congressional races.
"We are fundamentally a purple state, and that's a good thing in many ways, among others that we get attention from all the nationals. But it does mean we do get the $10 million in negative ads as part of the attention too, so it means that what you all are doing to register folks and get people out to vote is really important," Holton said to the assembled students.
William and Mary Young Democrats President Zach Woodward '14 said that over 1,000 students had registered to vote in Williamsburg since the start of the semester.
Before visiting the voter registration drive, Holton was on campus to promote Kaine's education-reform proposals at the College of William and Mary School of Education.
Kaine faces former Virginia Republican Sen. George Allen in a race that political handicappers believe could decide which party controls the Senate in Jan. 2013. Both parties view the Virginia seat as key to winning Congress's upper chamber.
Allen is running for the seat he held until 2006, when he lost to now-retiring Sen. Jim Webb, D-Va., by less than half a percentage point. Webb's victory became the final seat Democrats needed to clinch a Senate majority.
A Washington Post poll released Wednesday found that Kaine led by 8 points over Allen, 51 percent to 43 percent. It marked the first time that Kaine had opened a lead in the Post's polling of the Virginia Senate contest. Until then, the previous two Post polls had showed the race in a statistical tie.
Similarly, a poll by Quinnipiac University, CBS News and The New York Times also released Wednesday showed Kaine in the lead by 51 percent to Allen's 44 percent. The two recent polls on the U.S. Senate race mirrored President Obama's current lead in the state among likely voters. The same Washington Post poll found Obama leading Mitt Romney by 8%.
Holton said that higher turnout among young voters could help vault Kaine and other Democrats to victory in November.
"Young people historically haven't participated as [much as] the rest of the eligible population. Anything we can do to increase that, it absolutely makes a difference," Holton said. "Young people have a longer perspective, they're thinking about the future. I think when they think about those issues, they'll vote Democratic."
But Holton also noted that increasing voter participation among students was the most important part of voter registration efforts, even above choosing a particular candidate.
"I hope they vote for my husband, I hope they vote for the president. But it's even more important that we get people in the habit of participating in democracy. It doesn't work without people participating," Holton said.