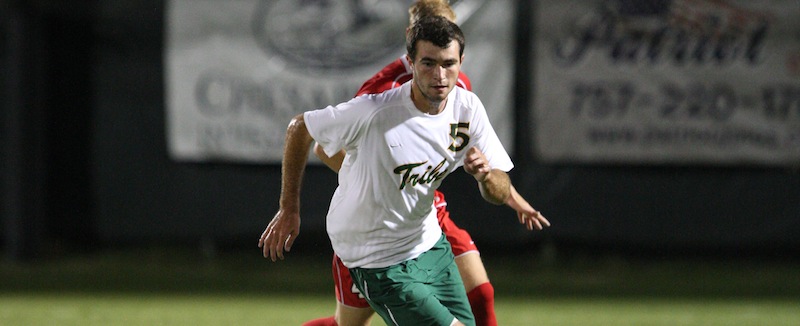 William and Mary fought through another close contest, picking up its third draw of the season in a 1-1 battle against Colonial Athletic Association foe Towson. The Tribe (2-7-3, 0-2-2 CAA) led for nearly 40 minutes before losing their lead and, as a result, a chance at their first conference victory of the season.
The College was kept off the scoreboard for much of the first half, but the offense showed spark from the beginning. Overall, the Tribe fired 11 first-half shots — including five in the first 30 minutes of play — and stayed aggressive, putting heavy pressure on the Towson defense.
The Tribe broke the scoreless tie in the 39th minute with an assist from the Towson defense. Freshman midfielder Ryan Flesch sent a corner kick intended for forward Patrick O'Brien, but before the sophomore could attempt a header, a Towson defender deflected the ball into the net for a rare own goal. The good fortune sent the Tribe into the locker room with a 1-0 lead and a healthy dose of momentum.
The Tribe nearly added a second goal to their lead in the 47th minute, when sophomore forward Andrew Kestler fired a shot on goal. However, the strike was saved by Towson goalie Felix Petermann, who stopped six Tribe shots to help keep his team within striking distance.
Towson's defense tightened up for the rest of the second half, only surrendering three second-half shots to prevent the Tribe from extending their lead. The Tribe defense was predictably strong, turning away several shots. Sophomore goalie Bennett Jones was also sharp, registering five saves to preserve the Tribe lead well into the second half.
The Tribe faltered in the 79th minute, however, when Towson's Daniel Grundei slipped a header past Jones to equalize the match and dash the Tribe's victory hopes. The goal came off a corner kick by Mateo Vertucci and was Grundei's first and only shot of the contest.
The teams exchanged strikes in the overtime periods when the Tribe nearly connected on junior forward Chris Perez's shot on goal. Petermann turned the shot, however, to preserve the tie. Perez, one of the Tribe's top offensive players this season, led the team with two shots on goal, but neither found their way into the net.
For its part, the Tribe defense held firm against Towson in extra time to guaranteeing the Tribe escaped with a tie, allowing only three shots in the 20-minute overtime, with none coming on goal. The defensive struggle continued until the end of the match, with the final 10 minutes featuring just one shot, ensuring a 1-1 tie.
The Tribe will return home in pursuit of its elusive first conference win Wednesday night when it hosts Georgia State. The match will be the Tribe's second-to-last home game of the season and will be followed by three road matches in the upcoming weeks.