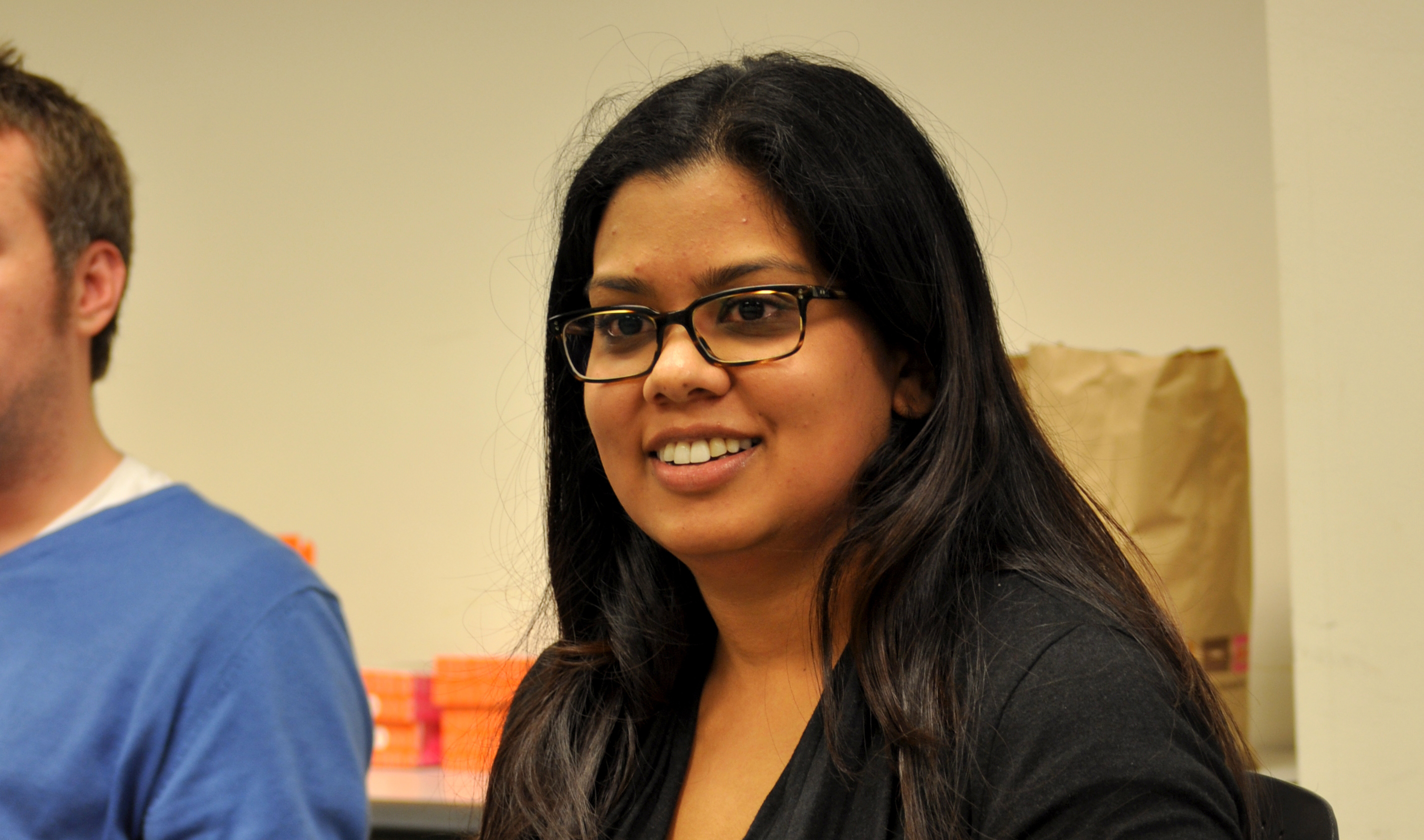 They are comedy show hosts, published authors and screenwriters. They come back to the College of William and Mary with a fondness for their freshman halls and gritty, determined attitudes that led them toward their respective paths of success. They are creative alumni working in television and media, and they are growing increasingly prominent.
Chitra Sampeth '06 spoke to students Saturday, Oct. 27 about how she turned undergraduate film studies and business to a job as a screenwriter for shows including TNT's police drama "Southland."
Following college, Sampeth moved to Los Angeles — a move she deems necessary for the aspiring screenwriter — and began applying to writing programs and networking with other people in the industry. She landed an assistant position with writing consultant and Paramount executive Jen Grisanti, through which she was first exposed to the writer's room, where screenwriters map out their show's plot.
"My first day in that writers' room, I just knew that was where I wanted to work," Sampeth said. "Even if I had to waitress the rest of my life, if I could just find a way to get into that writers' room, I would be happy."
In her path from assistant to actual writer, Sampeth continued to network, but also kept up with her writing. She wrote specs — "speculative screenplays" — of television shows currently on air in addition to original work.
"I go to work and there is a staff of writers," she said. "They talk through stories episode by episode. You decide what you're going to do for a whole season, and then what you'll do for specific episodes. The hardest thing is breaking [brainstorming] the stories. We got two weeks on Southland, which was very luxurious."
After talking through the whole season, a specific writer is assigned to an episode based on the outlined plot.
Sampeth wrote 10 episodes as a staff writer and 10 episodes as a story editor at "Southland." She is currently meeting with and selling her own work to executives in the hopes of creating her own show.
But Sampeth's rise to the position of staff writer was not as easy as it may have lookedl. She initially shared a Los Angeles apartment with four roommates and worked in bookkeeping to support herself.
"If the arts feed your soul, you will find a way to make it work," Sampeth said.
Undergraduate students and recent alumni are working toward the spot like the one Sampeth now holds. Colleen Patterson '14, for example, is interested in comedy screenwriting.
"This talk was eye-opening. It was encouraging," Patterson said. "It just seems plausible now to get in my car and drive to LA and make something happen."
Brian Terrill '12 is now taking classes at a local public access television series in Fairfax, VA, where he hopes to pitch a show and to get it a timeslot. He cited extracurricular activities, including Alma Mater Production's Comedy Brew and a student comedian club he started with friends, as influences in his creative life.
English and American studies professor Arthur Knight spoke about the broad critical and creative thinking skills and curiosity students develop at the College and the ways in which those skills can help them in professional careers. "If you want to write or direct, you have to have things to write about," he said. "If you don't have ideas and you can't communicate your ideas effectively, you won't be successful as a writer."
Students can read screenplays in the Earl Gregg Swem media center and create their own short films and video projects. Sampeth suggests aspiring comedy writers join improv groups.
"The thing about writing is it is natural ability and then it is craft. You can learn the craft on your own," Sampeth explained. "What is most valuable is your writing, which the writers' room will change very rapidly."
To keep up with her writing, Sampeth read several scripts and watched television, analyzing the structure of what she read and saw. A group of friends she formed during initial networking events became a support system in this process.
"It is the collaborative component, throwing ideas out there and jokes, jokes, jokes, having this community of friends and coworkers, the whole writers' room environment [that makes screenwriting so attractive]," Patterson said. "And just getting invested in a project and sticking with it, as opposed to writing a script and sticking [it] on a shelf and then it's over."
The Arts and Entertainment Council, which will take place on Nov. 8 and 9, will bring several creative alumni back to the College to discuss aspects of media in the world today. Those who are scheduled to revisit their alma mater this weekend include Sheri Holman '88, author of "A Stolen Tongue"; Ashley Edward Miller '94, screenwriter of "Thor" and "X-Men: First Class"; Nancy Gunn '88, executive producer of "The Amazing Race" and "Celebrity Apprentice"; Sara Schaefer '00, host of MTV's "The Nikki & Sara Show"; and Pete Johnson '91, vice president of creative advertising for Nickelodeon.