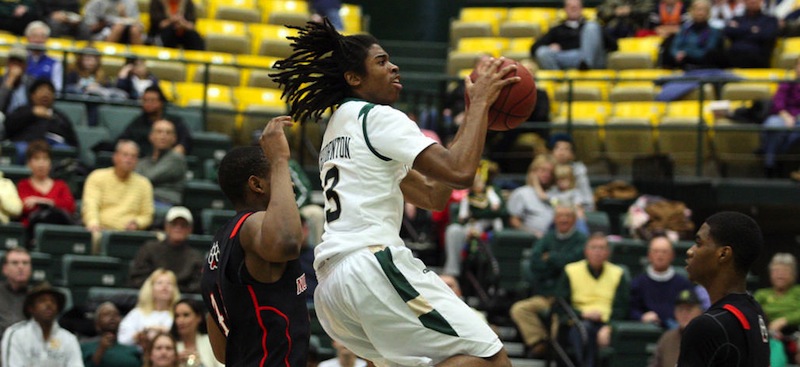 Complete roster breakdown is below.
Stack up this season's William and Mary squad with its 2011-12 counterpart, and the biggest difference may be size. With a long, athletic swingman returning from injury and a freshman center who's already one of the tallest players on the roster, one of the few certainties about this year's Tribe is that it's bigger than before. But the guys that may be most crucial to the team's success in 2012-13 may also be two of the smallest on the team.
Standing at 6'5" is dangerous sophomore guard Marcus Thornton, the team's top returning scorer coming off one of the team's most impressive — albeit inconsistent — freshman campaigns in recent memory. Bringing the ball up beside him is 6'2" junior Brandon Britt, the hard-driving, up-tempo point guard who also turned in an outstanding freshman season but is returning most recently from a self-described "sophomore slump."
For the past few seasons attention on the College was typically drawn to forward and Kaplan-favorite Quinn McDowell '12. But this year the team looks poised to go as far as its backcourt duo can take it.
"They're both talented young men," head coach Tony Shaver said. "It's very important that they run the show. They don't have to score 20 a night but they have to get other people involved, and then I think our balance will take over."
But with McDowell — the team's top scorer for the last two seasons — gone, there's little doubt that Thornton will be the offense's go-to guy. One of the highest-profile basketball recruits to come to Williamsburg in a long time, as a freshman Thornton showed he could, if needed, carry the load points-wise, averaging 11.1 points per game on a Tribe team that averaged just 60.3 total. At the hostile Siegel Center in Richmond he turned in a career night, scoring 22 points in the College's heartbreaking 69-68 loss to CAA Champion VCU.
But there were also games where he checked out, unable to find his place in the offense. Thornton scored just one in a trouncing at the hands of rival ODU, then went 0 for 6 and scoreless in a late-season loss at VMI.
"For my personal grade, I would give [my freshman year] a C," Thornton said. "I did some good things here and there, but the consistency wasn't there … this year I'm going to improve a lot more and be more consistent."
The Maryland native didn't play point in high school but often split time with Britt at the position last season. This year things will be different. Shaver said that when the team takes the court for tip off against Hampton on Friday, Britt will be at point guard, Thornton at shooting guard. Both talked about working together during the off-season to build up the on-court chemistry that lacked at times last season.
"It's definitely exciting because me and Marcus are two talented players," Britt said. "Last year we played a little bit together but this year we're starting together. We've worked together all summer in the off-season to get better together, making sure we're getting out chemistry right. … It's good so far."
Britt saw his production drop off in his sophomore season. His points per game went from 10.9 as a freshman to 9.0 and his assist average fell from 2.2 to 1.8. With the addition of Thornton, his minutes ticked down slightly as well.
Still, as with Thornton, there were times that Britt carried the team. He scored 24 on 9 of 13 shooting in the Tribe's most impressive win, a 79-54 thumping of Northeastern. This year, though, there will be one thing weighing less on his mind. Just before his sophomore season his father passed away. Now, with the leadership-role that McDowell filled effortlessly in the past vacant, he wants to assert himself.
"Last season was definitely tough for me," Britt said. "But I've worked really really hard, trying to emerge as a leader of the team … But I'm expecting big things from myself and the team honestly."
The two players will presumably lead a dynamic attack. Britt displayed an almost endless motor in his first two years, and Thornton's agility makes him a tremendous threat in the open court.
"This year we're working on running a lot more," junior center Tim Rusthoven said. "With those guys both playing well and both playing healthy, they've been a really good one-two combo."
The College should get a shot of athleticism from redshirt junior Kyle Gaillard, who showed promise in his second year before being hurt all last season. Shaver expects him to get a lot of action at power forward.
Rusthoven returns for his second season as the team's starting center. After facing injuries early last year, Rusthoven emerged as a consistent and tough post player, averaging 10.3 points and 6.6 rebounds per game.
Rounding out the starting five will be senior Matt Rum at the small forward spot. The team's most consistent perimeter threat, Rum shot 37 percent from behind the arc last year, averaging 6.3 points per game.
"He, Tim Rusthoven and Marcus have been our three most consistent players every day in practice," Shaver said. "Those three guys have been very dependable."
With the team ready to start is 2012-13 season after an ugly six-win campaign last year, Shaver feels like it could be a big year for the College.
"It's been a long time since I've been this excited," he said. "You hear a lot of coaches say that if you're not excited at the beginning of the season you need to get out of coaching. But quite honestly we had a very difficult year last year for us to go through. A bunch of us want to make it right."
Roster breakdown
JULIAN BOATNER, Junior guard
After a strong freshman year, Boatner went through a sophomore slump last year, averaging just 4.4 points and shooting below 30 percent  from three-point range. Too undersized to be much more than a perimeter shooter, Boatner saw his playing time cut slightly with the addition of Thornton last season. Always a fiery competitor, though, expect Boatner to be a real part of the rotation.
KYLE GAILLARD, Redshirt junior forward – Projected starter
Known for his impressive athletic ability and long stature — an asset on the defensive end — Gaillard saw no action last season due to injury. Still, Shaver trusts that his ability and experience are enough to earn him a starting spot. He showed promise in his sophomore season, averaging 5.8 points and 3.3 rebounds per game.
TOM SCHALK, Sophomore forward
Schalk had a surprisingly impressive freshman year, seeing action in all 32 games and starting in four — mainly during the early part of the year when Rusthoven was hurt. At times he looked a bit small to play power forward but finished with an average 1.7 points and 2.2 rebounds per game. Gaillard returning should cut into his time to an extent, but expect him to get his fair share of opportunities.
DOUG HOWARD, Senior guard
One of the Tribe's four seniors, Howard was named a captain for the 2012-13 season. Always a fan-favorite, Howard also recently earned a scholarship as a reserve guard. His on-court role probably won't change much in his senior year, but neither will his enthusiasm.
ANDREW PAVLOFF, Senior forward
A captain for his senior year, Pavloff returns as a reserve post player. He averaged just three minutes per game as a junior, going 6 of 12 from the floor. With Gaillard back and the addition of Sheldon, his role on the court probably won't expand a great deal, but he does provide depth at the post position.
BRANDON BRITT, Junior guard – Projected starter
After a sterling freshman year, Britt took a step back in his sophomore year, averaging 9 points, 1.8 rebounds and 1.5 assists. With Thornton getting the second-most minutes on the team, Britt had to split time at his natural point guard position. This year, he'll be the unquestioned starting floor general with Thornton playing the two.
MATT RUM, Senior guard – Projected starter
A strong perimeter shooter, Rum had an inconsistent junior year, in some games playing as a legitimate scoring threat and in others going ice cold. The only senior in the starting five, Rum will be expected to provide some leadership. The team will also need him to improve on his 6.3 points per game. Still, Shaver said he's been one of the team's best players in practice so far.
TIM RUSTHOVEN, Junior center – Projected starter
After missing a chunk of the early season as a sophomore, Rusthoven returned to assert himself as the team's starting center, finishing third in the conference with a 54.5 shooting percentage and 10.3 points per game. Strong defensively and on the boards, Rusthoven has no problem doing the dirty work down low. He grabbed 6.6 boards last year and is expected to build on his success as a junior.
FRED HELDRING, Junior center
A big body in the post, Heldring saw most of his action last season spelling Rusthoven. Shooting 43.5 percent from the field, the junior averaged 1.9 points and 1.8 rebounds in 11.6 minutes per game. Expect to see him in a similar backup role this year.
MARCUS THORNTON, Freshman guard – Projected starter
The sophomore guard played a full season as a freshman last year, starting 14 of 32 games for the Tribe and finishing second on the team with an average of 11.1 points per game. Named to the CAA All-Rookie team last year, Thornton averaged 27.8 minutes per game and is expected to help fill the void left by leading scorer Quinn McDowell as the team's only player named to the preseason All-CAA second team.
BEN WHITLATCH, Junior guard
A walk-on his freshman year, the junior guard appeared in nine games in a reserve role for the Tribe last year, averaging 1.3 points per game and shooting 4-of-7 from 3-point range. Expect Whitlach to continue in his role as a reserve.
BRETT GOODLOE, Senior guard
A senior walk-on, Goodloe joined the team after a rash of arm injuries derailed his pitching career with the Tribe's baseball team. Goodloe was a first-team all-state selection in basketball for his senior year of high school but don't expect to see much of him on the court this season.
SEAN SHELDON, Freshman forward
Coming out of high school as the 116th best power forward according to ESPN, Sheldon is in the process of learning the center position under Rusthoven. At 6'9" he's big enough to play the position in the CAA, but is still learning. Expect to see some action, but mainly he'll be behind Rusthoven and Heldring.
TERRY TARPEY, Freshman guard
Shaver is already raving about his defensive ability, but in high school Tarpey was an outstanding scorer, averaging 25.6 points per game. Ranked as the 5th best player in Connecticut by ESPN, Tarpey apparently needs some ball-handling work, but is expected to be a part of the team's regular rotation.