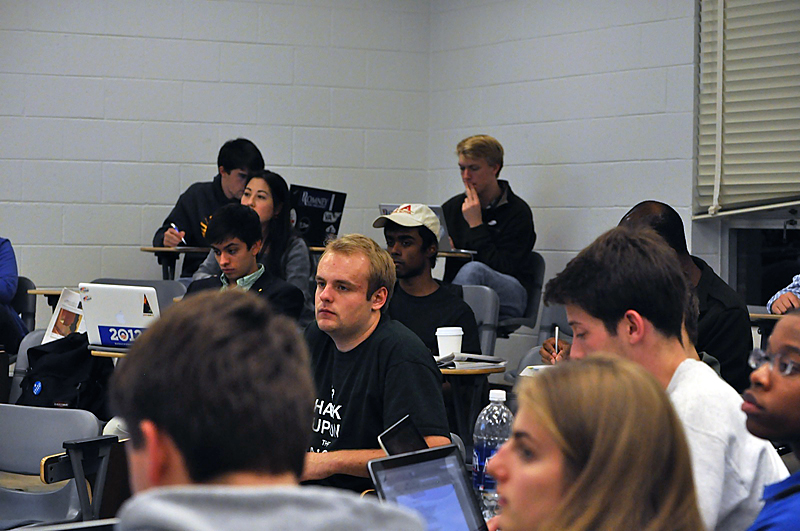 Secretary of Finance Brett Prestia '15 updated the College of William and Mary Student Assembly senate on the state of their financial holdings at the senate meeting Nov. 13.
As of Nov. 1, the SA reserves totaled $23,098.63. This figure reflects the deductions from all SA legislation before Nov. 1, including the $40,000 allocated to the I Am W&M Week Concert.
"We got money back from the Dalai Lama," Prestia said. "That's really why we were able to afford spending this much [on the I Am W&M Week Concert]."
The SA is working to shift unused funds such as these back into their reserves.
The SA Activities and Events account totaled $27,779 as of Nov. 1. The account funds a number of organizational events during the academic year, including the Middle Eastern Student Association's Peace in the Middle East Week and Kappa Alpha Psi Sorority's Bra-lloween Run.
Other SA accounts remained unchanged from Prestia's previous financial update. The Competition Fund sits at $12,078, the Conference Fund at $12,210, and the Off Campus Account at $3,671.50.
"Any student organization can apply for [these funds]," Prestia said in response to a question from Senator Drew Wilke '15.
SA President Curt Mills '13 addressed the senate about various future events and efforts, including the renewal of the Publications Council contract, the upcoming debate on the budget and the I Am W&M Week artist.
"We are closing in on the artist that was discussed," Mills said. "I think that there's a good chance that we'll still be able to pull it off."
The senate discussed ongoing initiatives including quarter machines, an SA film series and promoting Swem publications on campus. SA Vice President Melanie Levine '13 shared the SA sponsored STI awareness video. This video is part of the new SA film series.