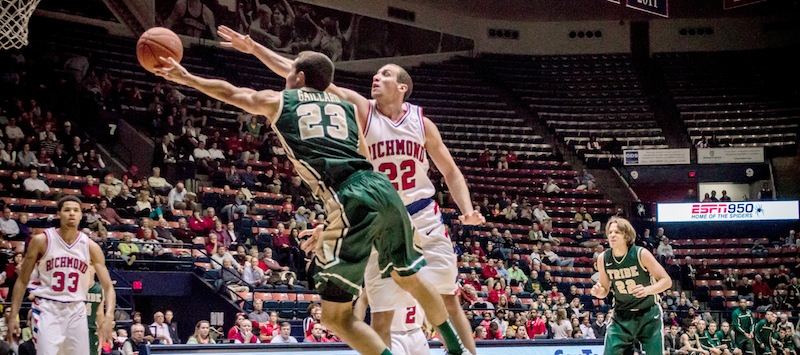 William and Mary started the season on a historic tear, winning its first three games for the first time in two decades. Then came the slump — two consecutive road losses.
Traveling to the Robins Center to face the Richmond Spiders offered the College a chance to turn the slump into another streak. The Tribe (3-3) gave the Spiders (5-2) all they could handle but ultimately lost its third straight in an 86-78 double-overtime defeat.
"Heartbreaking loss. We played great basketball — it's hard to ask much more of a group of kids than we gave today," head coach Tony Shaver said. "Heartbreaking to lose. We had the game in our hands a couple of times, and it slipped away from us."
As regulation wound down, sophomore guard Marcus Thornton coolly stepped to the line and gave the College a three-point cushion with 1:15 remaining. Following a change of possession, the Tribe had the lead and the ball, with just 49 seconds left in the game. The slump appeared over.
Off the inbound, senior guard Matt Rum turned and passed to junior guard Brandon Britt. There was only one problem: Britt was five yards up-court, and the ball sailed out of bounds. On Richmond's ensuing possession, Cedric Lindsay sank a three-point shot from the corner to tie the game at 64-64.
"We had a three-point lead with approximately 30 seconds to play and the ball, and we threw it away. It wasn't a forced turnover," Shaver said. "That's a play we'll learn to make, and I'm telling you we'll learn to make that play."
With the game tied, the Tribe turned to its sharpest shooter to put the game away. Thornton's jump shot wouldn't find the basket, though, and the game turned to overtime.
"I probably would have liked to have seen him drive the ball a little bit, maybe try to get to the foul line, but he got a wide-open jump shot," Shaver said. "Your best shooter with a chance to win on the road against Richmond; I'll take that chance anytime."
As both teams fought through the overtime periods, the College's guards continued their second-half surge to keep the score close. A Thornton circus shot fell, while Britt drew key fouls. Thornton would finish with 22 points; Britt closed out the night with 14.
Ultimately, however, the Tribe couldn't contain the Spiders' shooters. After Thornton drilled a three-point shot to make it 76-75 with less than two minutes remaining, Richmond's Greg Robbins was left open in the corner to hit a three-ball of his own.
Richmond wouldn't turn back, hanging on for the victory.
"I thought we played pretty good. We didn't execute as good as we wanted too, but I thought the effort was all there," Thornton said.
The College seemed in control early in the first half. Stretching its lead as far as six points, the Tribe relied on the post play of junior forward Tim Rusthoven and the athletic redshirt junior forward Kyle Gaillard. Rusthoven, who was tied up with Richmond's big man Derrick Williams all night, finished with 20 points and a team-high 9 rebounds.
Gaillard provided the fireworks in the first half. In what's becoming a signature Tribe play, Gaillard cut down the lane, took a baseline inbound and dunked. Moments later, he found himself on the receiving end of an electrifying alley-oop off a feed from Rum.
Cooling off in the second half, Gaillard finished with 16.
"I was proud of Kyle though. We need more from him. He's been out for a whole year, and he's given us a lot defensively and on the boards, but he has not been an aggressive offensive player," Shaver said. "So we challenged him a little bit the last two or three days, and I thought he responded really well. He did a good job."
While the first half featured Rusthoven and Gaillard, the second half saw more from Richmond's leading scorer Darien Brothers and post-man Williams. Brothers totaled 20 points, while Williams registered a double-double with 17 points and 11 rebounds.
"[Brothers] made big plays. A few were defensive mistakes, but he made some really heavily contested shots," Shaver said.
Shaver pointed to the team having to pay attention to Williams as a reason for Brother's success.
"We had to double on [Williams] some, and that leaves perimeter players open. Maybe our rotation was a little slow at times," he said.
Coming off three consecutive road losses, Shaver said the Tribe can look to last year for motivation through comparison.
"We're deflated a little bit right now, and we should be," he said. "As I told [the team], you have to stop and think where we've been the last 12 months. This is great stuff our kids are doing right now. … We gave Richmond all they could handle. We'll make these plays with time. We have one senior on this team, and we'll make these plays."
With conference play on the horizon, Britt recognizes the squad's progress.
"We're feeling good. …This is one we should have won. These teams in the past, they beat us by 20, 30 points. It's definitely good going forward, and we're excited," Britt said.
The College will look to turn the slump around as it hosts Old Dominion University Saturday. Tip-off is scheduled for 7:00 p.m. at Kaplan Arena.