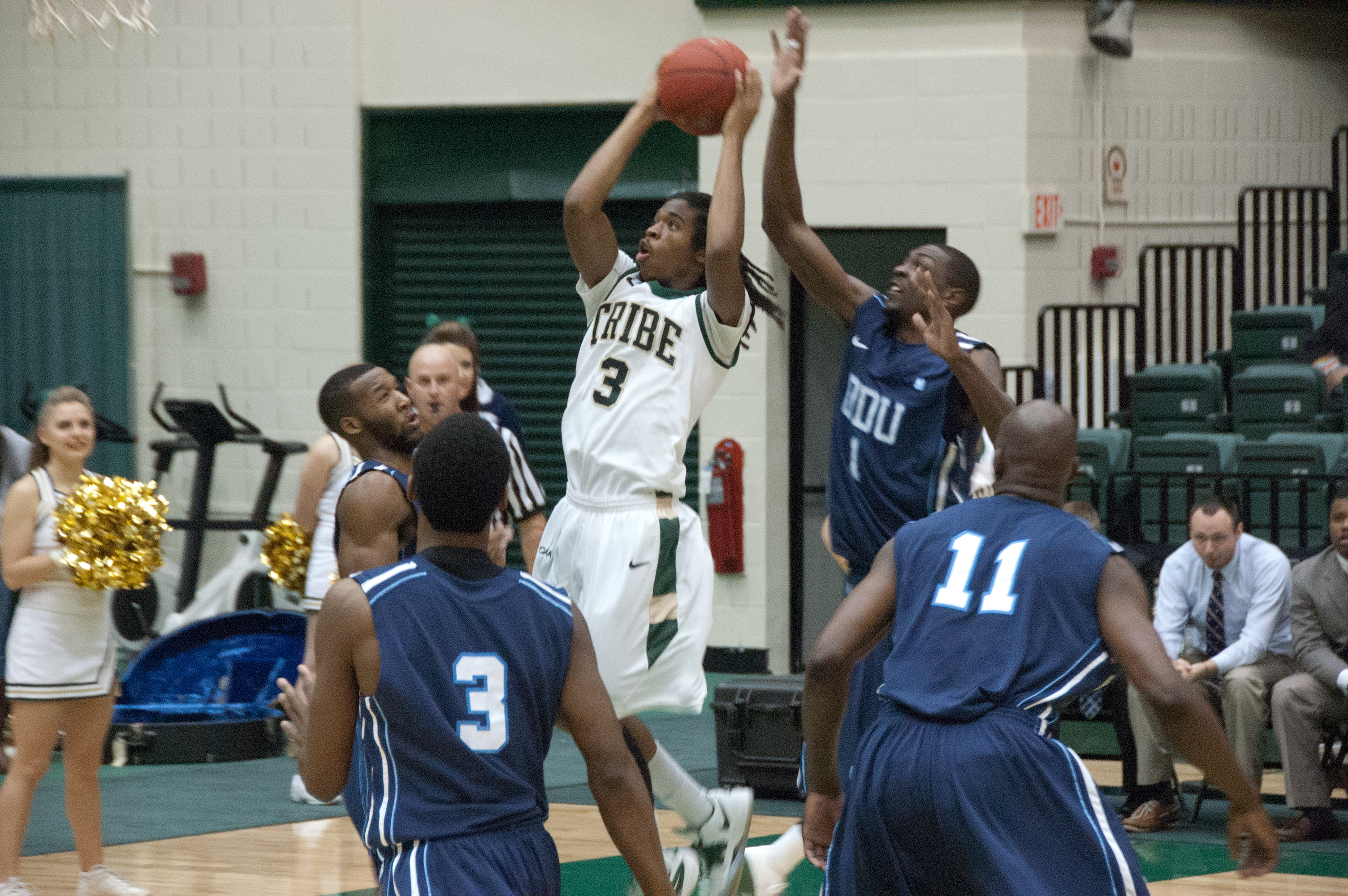 William and Mary last defeated Old Dominion in 2008. In the intervening four years, the Colonial Athletic Association rivals have met nine times, with ODU winning every time and often in dominant fashion. That streak came to an end Saturday night at Kaplan Arena, as the College used a second-half run to win its conference opener, 71-62.
Sophomore guard Marcus Thornton's 23 points led the Tribe. Thornton converted five of nine three-point attempts on his way to leading all scorers. Junior guard Brandon Britt poured in 15 of his own, 12 of which came during a five minute second-half stretch that saw the College outscore the Monarchs 14-2 to put the game out of reach.
Thornton emphasized the importance of the win, not only as the conference opener, but also because it ended a three-game skid in which the Tribe gave up late leads.
"This was a big game," Thornton said. "We had lost our last three, so it was good to come out here and protect our home court and get a good win."
Playing in front of an enthusiastic and uncharacteristically noisy home crowd, Thornton and his teammates seemed to feed off the added energy.
"The fan support was amazing tonight," Thornton said. "We hope [the fans] keep it up and we'll keep the wins coming."
Although beating ODU is something head coach Tony Shaver has done only four times in his previous nine seasons at the helm, he was still hesitant to see the win as anything other than a good start to the conference season.
"We're 1-0 in the CAA. It feels good to win a CAA game," Shaver said. "We played so well at Wake Forest and Richmond and didn't win. For us to come back and respond this way is a sign of great toughness."
A determined Tribe squad overcame a turnover-plagued first half to score with ease in the second. ODU used an aggressive match-up zone for most of the game, and trailed by just one point at the half after forcing eleven turnovers. But the College adjusted, and in the second half committed just four turnovers en route to shooting an even 50 percent for the game, including 43 percent from beyond the arc.
The Tribe eventually broke the zone thanks in large part to the steady play of junior center Tim Rusthoven. Rusthoven also cracked double figures, scoring 15 points and grabbing seven rebounds against a Monarch squad known for its physical play in the paint. Hobbled by injuries most of last season, Rusthoven often struggled for position against teams with size. This year, a stronger Rusthoven is playing healthy, and the team is looking to him for a big year.
"If [Rusthoven] can stay healthy he's an All-CAA type player," Shaver said.
Rusthoven is one half of a much improved low-post duo, with fellow junior Fred Heldring providing key minutes off the bench.
"[Heldring] came in and gave us a great performance against their zone. He's a great passer out of the zone," Shaver said.
While a healthy Rusthoven looks improved from last year, he sees an overall improvement in the team since a difficult 2011-12 season. The win was his first against ODU, which is true for most of his teammates as well.
"It's huge," Rusthoven said. "They're a great program. … [We have] some seniors who haven't beaten them, so it's good for our program, and we're excited about it."
Freshman guard Terry Tarpey also made a major contribution in the win, with nine points, five rebounds, two assists, a steal and two blocks in just 18 minutes of play. Tarpey's energy and effort on the defensive end played a major role in stifling a reinvigorated Old Dominion team that scored the first five points of the second half to reclaim momentum and the lead.
"I thought [Tarpey] was really good tonight," Shaver said. "He was a real key. Defensively, rebounding, and scored some big baskets for us too."
Early in the second half, it looked as though the perennial CAA power might once again prove too tall an order for the Tribe. In need of a response, the College turned to Britt, whose consecutive threes put the Tribe back in the lead, and started the run that would ultimately put the Monarchs away.
"We haven't beaten them in a while. It feels good for this team to win a big game," Shaver said.