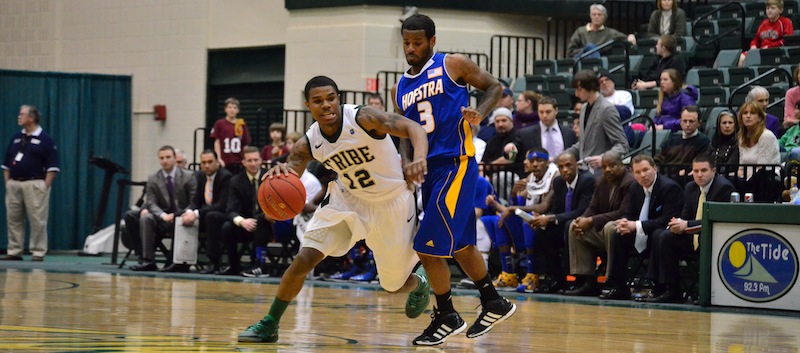 Everything that had been going wrong went right Saturday. Stingy defense, effective shooting and transition baskets propelled William and Mary (9-12, 3-7 CAA) past visiting Hofstra University (5-17, 2-7 CAA).
The College rode junior center Tim Rusthoven's record-breaking performance to a 72-59 win, marking the squad's second victory in its last three contests.
Rusthoven scored 17 points and grabbed 16 rebounds as he recorded his fifth double-double of the season. Rusthoven's 16 rebounds were the most by a Tribe player since David Colley's 26 during the 1995-96 season.
"He's pretty good," head coach Tony Shaver said. "He's phenomenal. He touches the ball so much, and only has one turnover in the game. He's playing at a really high level. He really is good."
Rusthoven helped build a 34-26 point advantage in the paint while racking up three assists and three blocks.
With Rusthoven busy in the post, the Tribe utilized an effective first half to build an 11 point lead at halftime. Plagued by poor first-half performances in recent weeks, the Tribe shot 62.5 percent from the field to avoid another slow start. The College's 56.8 field goal percentage was its best this year.
"We came out with energy," junior guard Brandon Britt said. "In warm-ups, everyone was getting excited, jumping around. I think when we have energy at the beginning of the game, it just opens it up for us."
Junior forward Kyle Gaillard provided an early spark, scoring four points in the opening eight minutes. Gaillard turned in a solid night, finishing with 13 points and five rebounds on 4 of 6 shooting from the field.
"We came out of the gates pretty hard, Shaver said. "And I think it's defense that makes it happen. We got layups off defensive stops and rebounds."
The most exciting of those layups came from Britt, part of an 11-0 Tribe run. The game plan was simple: exploit Hofstra's transition defense with an outlet pass to Britt for a fast break basket. Britt scored 13 of his 17 points in the first half.
"We knew coming into the game that Hofstra's transition defense wasn't very good," Britt said. "Coach [Shaver] was stressing that we need to catch the ball high, so I just caught the outlet, and I'm good in the open court. [I'm] glad some of them went in."
Shaver had emphasized the transition game to his squad throughout the week.
"We have been working really hard on getting our outlet pass higher, so we can get some transition baskets. We like to take advantage of [Britt's and Thornton's] ability in the open court. We can't do that if we don't get stops," Shaver said.
The second half saw more of the same. The College maintained its lead as Rusthoven took over in the post. Sophomore guard Marcus Thornton turned in a quiet performance. Despite scoring 16 points, Thornton attempted only nine shots from the field.
The Tribe would keep the lead throughout the  second half, eventually running out the clock for its ninth win of the season.
Hampered by uneven offensive production in the last 10 games, Shaver once again tinkered with the starting lineup. Junior guard Julian Boatner started in place of Britt, recording six points and two assists in 19 minutes of action.
"If you look at the games we've played this year, you'll see that. Most of our baskets are off assists. We have a lot of guys who pass the ball and a lot of guys who score the ball," Rusthoven said. "We need to move the ball to get more people going."
Four players scored in double figures, as the Tribe scored 25 baskets on 18 assists.
Although Britt did not start, he did score all 17 of the College's bench points, one more than Hofstra's bench.
"[Britt] is a starter in my eyes, there's no question about that. We juggled the lineup, and we've sort of begun to piece it back in the direction we had it," Shaver said.
Another result of Shaver's lineup changes was senior guard Matt Rum's improved defensive play. The College's defense held its opponent under 60 points for the seventh time this season, holding Hofstra's best scorer, guard Taran Buie, to just nine points.
"We did a great job on their best player, Buie. [Rum] did a hell of a job guarding him. When he struggles to score, they struggle as a team," Britt said.
Shaver also lauded Rum's play.
"The unsung player of the day was [Rum]. He didn't score but three — a lot of good looking shots, but just didn't quite go in for him. He held their best scorer, Buie, to 3 for 18 from the floor," said Shaver.
Buie did not score in the final 17 minutes, 27 seconds, struggling to find the rim. Collectively, Buie and fellow guard Stevie Mejia shot just 6 of 32.