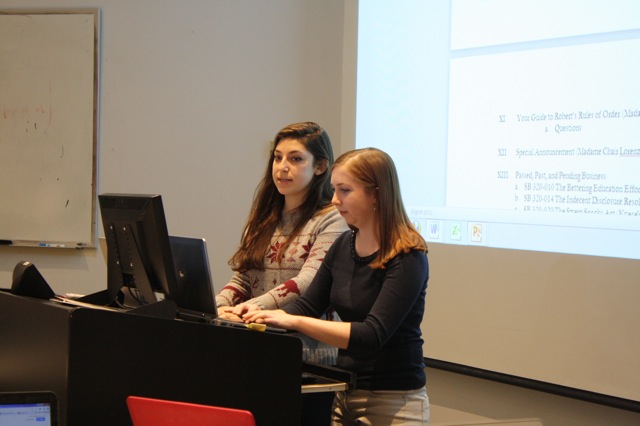 Two weeks ago, the Student Assembly halted their sponsorship of free sexually transmitted infection testing due to the depletion of funds. To continue to provide cheaper STI testing and encourage safe sexual lifestyles, Madame Chair of the SA Senate Kendall Lorenzen '15 introduced the Student Health Act. The SA Senate will vote on the bill tonight and, if approved, the policy will take effect Wednesday.
Nicknamed "Lorenzencare," the bill will subsidize HIV, gonorrhea, syphilis and chlamydia tests by $9. College of William and Mary students being tested for these STIs will be charged as follows: $16 for an HIV test (originally $25), $9 each for gonorrhea or chlamydia tests (originally $18 each) and $4 for syphilis (originally $13). The bill allocated up to $3,800 to the Health Center to fund these subsidies.
"Honestly, it's not a good situation but I think it's the best that we can do," Lorenzen said.
For the 2012-13 academic year, the SA budget allocated $17,000 for STI testing. Currently, the accounts rests at about $2,000 at the half way point of the year.
According to Lorenzen and Secretary of Health and Safety Jake Lewitz '13, one reason most of the year's STI funds were depleted in one semester is that students were abusively overusing the program by receiving full tests multiple times a semester. Last semester, 550 tests were administered to 190 unique students.
In comparison, the free flu shot program had over 600 unique student participants. Lewitz described how the SA is trying to incorporate more universally attended events rather than those that only benefit a small number of students.
"We're looking at policy measures to limit excessive use and depletion of funds in the program," Lewitz said. "The reason why this [fund depletion] happened is because the Student Assembly is spending money on other things. … We're trying to make it so that student money goes to as many students as possible."
SA President Curt Mills '13 advocated using the subsidization to try and encourage better safe sex practices among students relying solely on free STI tests rather than cheaper safety mechanisms such as condoms.
"It's a balance between respecting the privacy of someone who seeks an STI test for the obvious reasons and then the goal of encouraging healthy sexual behavior on campus because if someone feels like taking advantage of an STI test for free every two weeks is the only safeguard [for sex] they're going to take then that's obviously not what we're trying to encourage," Mills said.
Lorenzen agreed, citing the use of subsidization to kill two birds with one stone.
"I feel like if it costs money to [students abusing the program], they're going to be a lot more conservative about taking the tests because they don't want to actually pay for it [all] themselves," Lorenzen said. "But at the same time, students that do need to have STI testing but maybe don't have $25, $18, $13 or $18 to get the full scan will be willing to put in [the subsidized] amount of money."
Another reason put forth was the use of the STI funds by the Health Center to offer free Gardasil shots that are technically an STI preventive measure rather than a test to check for STIs. The Student Health Act provides a clause to clearly deny the use of the STI fund for Gardasil shots.
"$16,000 were used because eleven students got Gardasil shots, which we never told [the Health Center] that we were funding," Lorenzen said. "It's a big issue."
Lorenzen and Lewitz used the statistics of administered STI tests for last semester to decide which tests the new program would be limited to. HIV, gonorrhea, syphilis and chlamydia were the most popular STIs to test for. The bill will halt the subsidization of Hepatitis B/C tests and HSV tests due to lack of popularity.
"We looked at these numbers and they were high numbers compared to what we've been looking at in previous years," Lorenzen said. "We've kind of used that as a gauge for what we can do financially for this bill. "
Lorenzen and Lewitz ran the numbers for three different subsidization plans, considering $10, $9 and $8 subsidy plans before settling on the $9 plan.
Alongside the subsidization of individual STI tests, the bill also charges Lewitz with presenting information about how many STI tests are given and their total cost at the end of the semester. The Department of Health and Safety will also have to create and implement a sexual health campaign that focuses on healthy sexual decision making if the bill is passed.
Overall, the SA budget called for $25,000 to be marked for a Health Fund, with $17,000 marked for STI testing and $8,000 for flu vaccines. According to Secretary of Finance Brett Prestia '14, the SA moved $3,000 from the STI testing account to the flu account when the flu account began to dwindle last semester. About $2,000 remain in the STI testing account.
Lewitz provided various options students can use to continue to receive certain STI tests for free. Planned Parenthood and Lackey free clinic in Williamsburg both provide certain STI tests for free and women who receive a gynecological check up at the Health Center also receive a free chlamydia test. According to Lewitz, the budget for next year, currently under review, will allocate thousands more dollars to the STI fund in the hopes to fully fund the initiative through the entire 2013-2014 academic year.
The Senate Finance Committee gave the bill a positive unanimous recommendation. The Senate will vote on the bill at tonight's meeting at 7:00 pm in Blow 331. Lorenzen will continue to search for other organizations that may aid in further subsidizing STI tests for the remainder of the academic year.