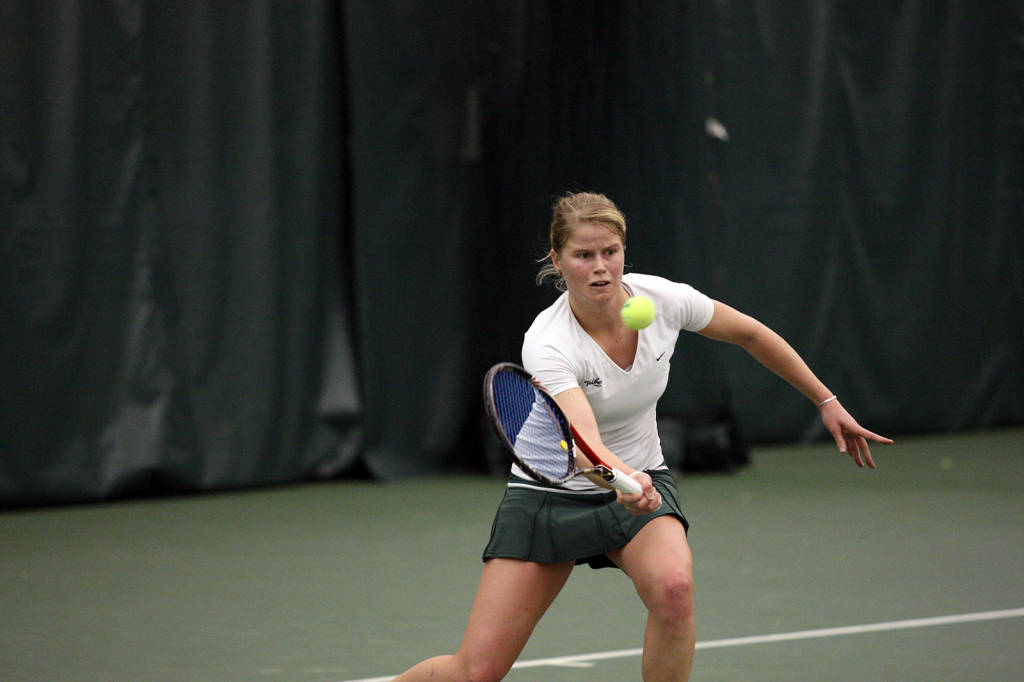 After a challenging but successful non-conference schedule, No. 53 William and Mary made a brief foray into conference play, downing Colonial Athletic Association foe UNC-Wilmington, 4-3 Saturday at McCormack-Nagelsen Tennis Center.
The Tribe, which played its first game as a nationally ranked team, entered the match seeking to parlay its early-season successes into an early conference lead. The College (5-2) faced four nationally ranked squads in a row, managing wins against No. 19 Mississippi and No. 71 Harvard with a series of impressive performances.
The College's win was cued by a strong performance from junior Jeltje Loomans. Loomans' impressive day began in doubles play, where she and junior Maria Belaya — the No. 3 ranked doubles tandem in the nation — dismantled UNC-Wilmington's top doubles team. Belaya and Loomans blew away their Seahawk counterparts, Olga Blanks and Angie Sekely 8-2 to move to 14-2 overall and 5-1 in dual match competition.
Senior Anik Cepeda and junior Sydney Smith collaborated for an 8-4 win over UNC-Wilimington's Christine Kharkevich and Alyssa Ritchie to clinch the doubles point for the Tribe.
With a 1-0 lead, the match shifted to singles play, where Loomans continued her strong day. After falling behind 3-1 in the first set to Ritchie in the No. 2 singles spot, Loomans came storming back. The junior won 11 straight games, including a straight-set victory in the second set, to claim a 6-3, 6-0 win.
Loomans was the first singles player to claim victory, giving the College a 2-0 advantage with the rest of the singles matches still in progress. Junior Hope Johnson finished next, delivering a 6-0, 6-2 victory over Blanks at the No. 4 spot.
Freshman Leeza Nemchinov clinched the College victory with a 6-1, 6-3 win over Christina Riley at the No. 3 spot. Although the Tribe had already clinched the match, play continued and the Seahawks won at the No. 1, 5 and 6 positions to give the final 4-3 score.
The College will resume action next weekend when it travels to Blacksburg, Va. to face 4-0 Virginia Tech.