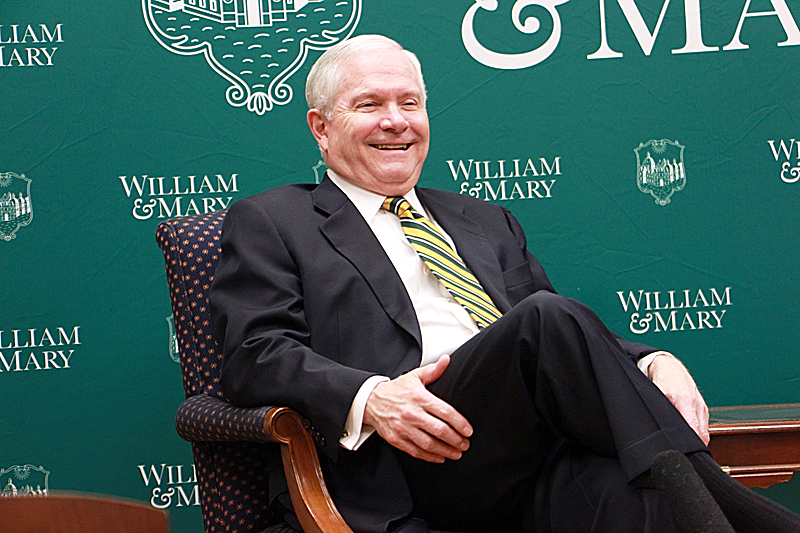 For the College of William and Mary's 320th birthday, College President Taylor Reveley welcomed back Chancellor Robert Gates '65 as the Charter Day speaker for the second year in a row. During Friday's ceremony, Gates expressed happiness at being away from political world of Washington, D.C., as politicians discuss finances for the upcoming budget season.
"Well, Taylor, you don't have to worry about any of that, because you hardly get any money at all from the government," Gates said.
Gates continued this financial trend throughout his speech, bringing attention to the Charter's allocation of "one thousand nine hundred and eighty-five pounds, fourteen shillings and ten pence," along with land to create the College in 1693. Gates went on to describe the desire of the English monarchy to invest in and further higher education, "the engine driving America to a better future for all its citizens."
"Thus, from its first day, this ancient college was seen by the government as a public good, an investment in the future," Gates said. "And [the] royal government was willing to put its money where its royal mouth was."
With numerous cracks at the government's expense, Gates gave a historical rundown of governmental policies and laws that supported and developed the higher education of the United States, including the G.I. Bill, the Land-Grant college system and the Morrill Act, but concluded on a less positive note.
"Public universities have gone from being state-supported to state-assisted to state-located," Gates said.
An Illinois State University study concluded that state aid to universities declined by nearly 8 percent between 2011 and 2012. State funding has fallen to less than 15 percent of the College's operating budget. Gates described this trend as the redefinition of education as a "private consumer good" — something from which only individuals benefit.
"While programs for the elderly, which now consume more than half of all federal spending, are considered politically untouchable, there is no such resistance to cutting support for higher education, an investment in future generations," Gates said. "To be blunt, Americans are mortgaging the future of our country to pay benefits to my generation, while sacrificing the engines of economic and social growth for the coming generations. This is a formula for national decline."
Despite dwindling support from the state government, Gates commended the use of the finances that could be attained to ensure that the College continues to work to the best of its ability.
"Despite extremely low levels of state support, both William and Mary and the University of Virginia are ranked by the Princeton Review as being among the top five best values for students in America among public universities," Gates said. "This is a remarkable tribute to the leaders, faculties and staff at both universities."
However, education should be one of the principle concerns of government in the wake of the election.
"My hope is that now that the election is behind us, whatever adults remain in the two political parties will make the compromises necessary to put this country's finances back in order," Gates said.
Gates warned the College to continue to ward off technological shortcuts.
"Just a cautionary note from an old guy … Don't go so overboard in the online world that we lose one of the fundamental benefits of higher education — live, in-person interactions with faculty and other students," Gates said.
George and Mary Hylton Associate Professor of International Relations Mike Tierney '87 also addressed higher education reform in his acceptance speech for the Thomas Jefferson Teaching Award earlier in the Charter Day ceremony. Tierney spoke from an educator's point of view, emphasizing the need of increased support of faculty research — a vital aspect of higher education — and the inclusion of students through the new proposed academic curriculum for arts and sciences.
"This [liberal arts] approach to education requires sustained student-faculty interaction; it will not take place in a 200-person classroom, it will not occur by hiring more temporary and adjunct instructors, and it will not be incorporated into distance learning classes," Tierney said. "It's time for us to double down on liberal arts education and teaching through engaged research — we should find the resources to reinvest in our comparative advantage."
Other Thomas Jefferson Award recipients included associate professor of Hispanic studies Theresa Longo and Brian Rabe '13. Taylor Nelson '13 received the James Monroe Prize for Civic Leadership. Dylan Frendt '14 was selected to present his reflections on the College's charter, comparing memories to charters of our lives. Lois Critchfield was awarded an honorary degree for her work to further the Middle Eastern studies program at the College.