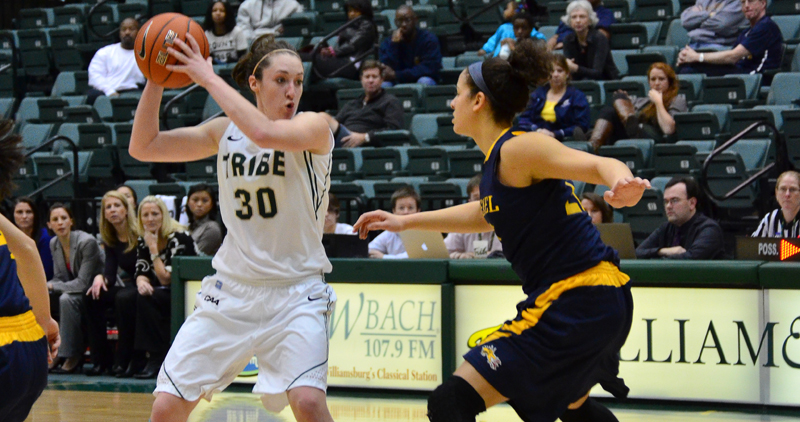 After battling for 39 minutes, William and Mary was two seconds away from victory Sunday in Fairfax, Va. The College held a one-point advantage with nine seconds remaining before George Mason guard Rahneeka Saunders buried a deep jumper to give the Patriots a 57-56 victory.
Saunders, the game's leading scorer with 19 points, found an opening in the Tribe defense, lifted up, and nailed a deep jumper with barely any time to spare. Head coach Debbie Taylor called a timeout immediately afterwards. The Tribe (5-17, 3-8 CAA) had the inbounds pass at the center line with just two seconds left to avert heartbreak.
The pass came in to senior guard Janine Aldridge. Aldridge's would-be game-saving three pointer fell short and the Patriots (7-14, 2-8 CAA) claimed victory. With that, a game that was essentially a tie in almost every statistical category came down as another tally in the loss column for the Tribe.
Sunday's late game collapse was indicative of a larger trend for the College. It was the ninth game the College has lost by five or less points.
Despite missing the last shot, Aldridge turned in another impressive performance Sunday, pacing the Tribe not just in points, but also in rebounds. She finished with 16 points and 11 rebounds, her first double-double of the season.
Senior forward Emily Correal also played well for the Tribe, finishing with 10 points and three steals. Correal put the Tribe ahead in the final seconds by hitting a jumper with just 0:43 showing on the clock.
The Patriot defense proved challenging for junior forward Kaitlyn Mathieu, who had been excellent for the Tribe in and back in the starting lineup for the last five games. Although she has become a real shooting threat of late, Mathieu shot just 2 of 9 from the field and finished with just four points against the Patriots.
The College's shooters struggled in the first period, missing five shots in the first four minutes, and fell by seven points early. But, once Aldridge and fellow senior Jaclyn McKenna started finding the net, the Tribe came back to a 28-32 halftime deficit.
In what has become a trend this season, the College was once again out-rebounded by an opponent. George Mason out-muscled the Tribe 41 to 29 under the basket. Those 41 George Mason rebounds included 12 offensive boards, several of which were turned into easy scores
Sunday's contest was a battle of evenly matched teams. This was especially evident during the last 10 minutes of the second half where neither team could amass a lead of more than three points. The Tribe held on to a tenuous lead for the last few minutes before George Mason prevailed in the closing seconds.
The College returns to Kaplan Arena Friday to host Northeastern.