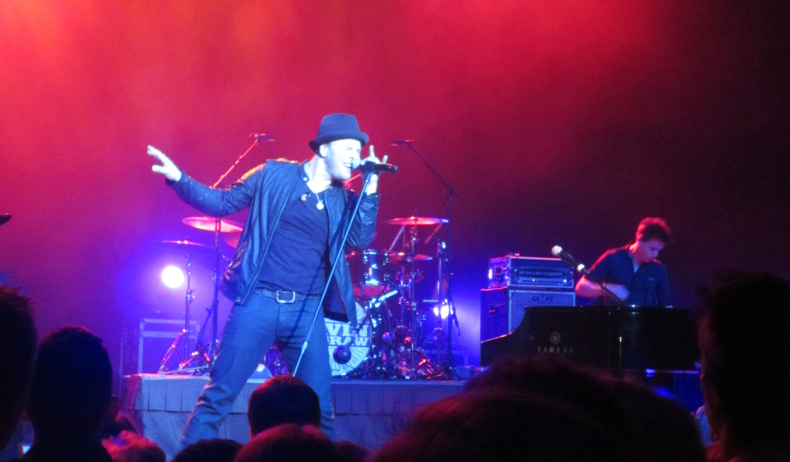 When the College of William and Mary turns 320 years old, there's bound to be a celebration. Luckily for students and the Williamsburg community, Gavin DeGraw and Good Old War know how to throw a great party.
Students and the general public piled into William and Mary Hall the night of Saturday, Feb. 9 to hear singer/songwriter Gavin DeGraw and his opening act, indie-folk band Good Old War, perform some of their tunes. AMP and the Student Assembly brought the artists to the College, and the concert was sponsored by the non-profit organization Global Flight Relief.
The band members of Good Old War definitely pulled the hipster card, much to the enjoyment of the audience. Lead singer Keith Goodwin, who also played guitar and synthesizer, had some unforgettable dance moves reminiscent of Vector from "Despicable Me." At one point, he even started doing the cat daddy. The lead guitarist, Dan Schwartz, played six-string and twelve-string acoustic guitars, and even had an electric that he played over his acoustic. The last member of the trio, Tim Arnold, played drums for the majority of the performance, but he also pulled out the accordion, cowbell and tambourine for a few songs. And if you pay close enough attention, you might notice the name "Good Old War" actually came from the names of the band members — GOODwin, ArnOLD and SchWARtz. Although you have to wonder why they didn't use the "t" in Schwartz's name to make "Good Old Wart."
Harmonies were key to Good Old War's performance. The trio harmonized well, which added depth and richness to their songs. Even though Good Old War is composed of only three members, all of their songs sounded full, with clear bursts of energy and plenty of enthusiasm, especially from Goodwin.
Good Old War played some of their biggest hits, including "Coney Island," "Better Weather" and "That's Some Dream." Everyone in the audience enjoyed their rendition of the Jamaican folk song "Day-O," as evidenced by the crowd's echoes of, "Daylight come and me wanna go home."
Good Old War's main fault lay in their stage presence and transitions. Goodwin's dancing (even when no music was playing) and remarks to the audience seemed awkward at times, and the guys had trouble going from one song to the next. However, Gavin DeGraw more than made up for what the trio lacked.
DeGraw's lead guitarist opened up with a heavy rock-anthem riff, and the audience roared as DeGraw stepped onto the stage singing "Sweeter," the title track off his latest album. DeGraw did a great job mixing his well-known songs, such as "I Don't Want to Be" and "In Love With a Girl," with his lesser-known tracks like "Belief," a soulful yet simple melody that he played solo on piano to give his band members a break.
At times, however, DeGraw may have confused the concert with a relationship counseling session. Between songs, DeGraw gave the audience tips on how to behave on first dates and how to make up after fights. Even listeners who didn't enjoy his music may have at least gained some love advice on how to get that perfect girl or guy.
"It's about doing the right thing," DeGraw said. "Being there for somebody."
DeGraw also advised young musicians in the audience to live their dreams. The musician has certainly been living his dream. His first album, "Chariot," went platinum, and "I Don't Want to Be" was the theme song for One Tree Hill. Even those who think DeGraw's blue-eyed soul and pop-rock isn't quite their style may still be familiar with him as a past contestant on Dancing with the Stars.
Some people may have been worried that DeGraw would not sound as good live as he does on the radio. After all, radio Taylor Swift and live Taylor Swift are two completely different people. However, DeGraw delivered a powerful performance with vocals that matched their radio quality. He wasn't shy about hitting high notes; standing on top of the piano at the end of "Chariot" seemed to help him reach those risky pitches in the treble clef.
For the encore, DeGraw performed his platinum single "Not Over You," a song that reached No. 18 on Billboard's Hot 100. The piano-driven melody was a fitting song to end the concert. Just as DeGraw isn't over his girl, after his superb show of vocals at William and Mary Hall, the audience is surely not over DeGraw.