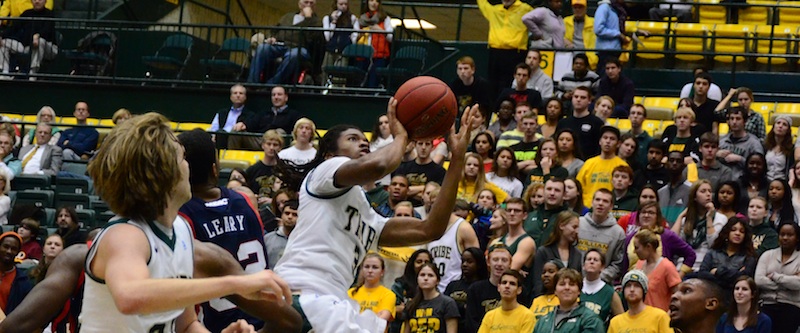 Behind a career-high 32 points from sophomore guard Marcus Thornton, William and Mary took the season-series against Old Dominion with a 74-62 win in Norfolk Saturday. It's the first time since 1998 that the Tribe has bested the Monarchs twice in a season and, in all likelihood, the last time in a while that the two teams will meet, with ODU jumping to Conference USA next season.
The win moves the College to 11-14 overall and 5-9 in the conference while dropping Old Dominion to 3-23 and 1-13 in the CAA with four regular-season games to play.
"It's a great feeling, I'll be honest with you there," head coach Tony Shaver said. "Getting two in a row in their last year in the league is a wonderful feeling. And it's wonderful because I've got so much respect for them. … If we'd beaten a YMCA team twice it might not be so exciting but we beat a program that's been very good with a staff I have great admiration for."
The win carried much historical significance, both long-term and recent. Not only was it the first time the College had defeated the Monarchs in Norfolk since 1998, but it also gave Shaver his 114th win as the Tribe's head coach, making him the winningest head coach in school history. More immediately, it snapped the College's 11-game road losing streak.
Realizing early that the length advantage ODU had in the post was hindering his ability to get clean shots inside, Thornton turned to his perimeter game to lethal effect, going 7 of 13 from beyond the arc and 11 of 12 at the line to score 32 without hitting a two-point field goal.
"They run a zone, and I was able to get open," Thornton said with a smile, "I was able to knock it down, and that was that."
It was clear from the tip that the Tribe was overmatched down low. Neither junior center Tim Rusthoven or his backup, junior Fred Heldring, could do much against ODU's DeShawn Painter, who himself scored 16 points on 8 of 11 shooting while grabbing 10 rebounds. Overall, the Monarchs outscored the Tribe 43-20 in the paint.
The three ball, though, was falling, especially against the zone ODU employed. Junior guard Brandon Britt led the Tribe to a 39-34 lead at halftime, scoring 15 points in the first before finishing with 18 on 5 of 11 shooting, four assists and three rebounds.
"Coming off of ball-screens we know that Painter sags off a little bit so they were giving me that space to shoot the ball so I'm glad I was able to knock some shots down," Britt said. "I'm just realizing that we got a couple of games in the regular season, I'm just trying to have fun. Coach is always stressing, 'just relax, just play your game.' And making sure the guys come out with energy. I think we're doing a better job … when we're warming up and getting ready to play, we're coming out with energy. And I'm just enjoying myself and having fun.
But the second half was all Thornton. Each time ODU threatened the College's lead it seemed that Thornton responded with a back-breaking three. He knocked down treys of every variety, whether open or contested and created his own look at times, using his quick crossover to make just enough space. And when the College relied on him to close things with free throws down the stretch, he delivered, knocking them down with staggering consistency.
"What both [Thornton and Britt] have really grown in is the art, the understanding of when to be aggressive, when to stay within the offense," Shaver said. "And they both have found ways to score within our offense."
It was Thornton's 11th game this season with 20 or more points.
Of course, the sophomore got help in a legitimate team win. Senior guard Matt Rum was excellent, scoring just two points but pulling down a team-high seven boards, distributing six assists and turning it over just once. Giveaways and offensive fouls hurt the Monarchs all game as ODU finished with 15 turnovers that turned into 20 Tribe points.
Junior forward Kyle Gaillard, meanwhile, added eight points on 4 of 9 shooting and five rebounds. Overall, the College finished 23 of 41 (45.1 percent) from the floor and 10 of 23 (43.5 percent) from three while ODU shot 50 percent from the field but just 27.3 percent from three. And while the Tribe hit 18 of its 22 field goals, the Monarchs failed to hit a single one of their seven foul shots.
Shaver said he hoped to continue to play Old Dominion after they leave the CAA for Conference USA.
"We'd definitely like to continue to play Old Dominion," he said. "Whether we can play every year or not, that's a whole other issue but it's a rivalry that we enjoy, it's a rivalry that our fans and alumni love so I see no reason not to continue playing."