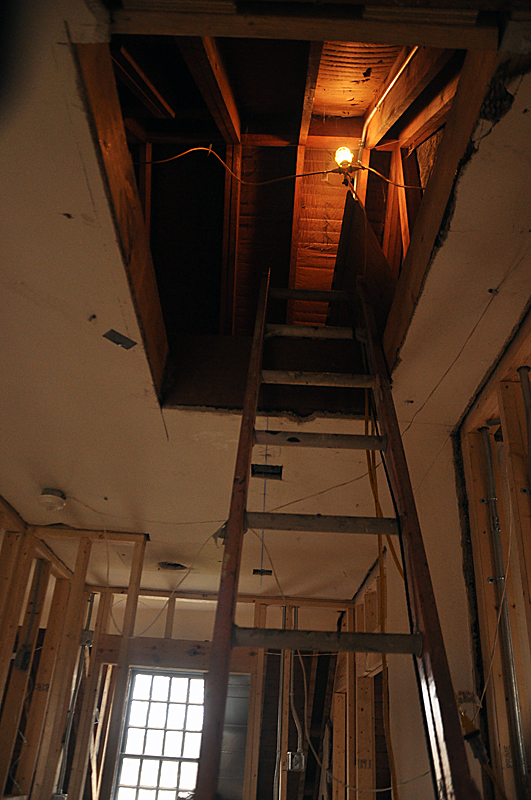 The Brafferton, constructed in 1723 to serve as an Indian school during the colonial period, is the second oldest building at the College of William and Mary. The building is currently under renovation in order to house the offices of the College president and the provost by August 2013.
As with the Tucker Hall renovation, members of the Virtexco construction team are paying attention to the original shell of the building during the renovation process in an attempt to preserve the historical facade of the structure.
"The renovations are going to bring the building up to code, bring the systems up to modern, safe standards but will also preserve as much of the original fabric of the building as possible," Wayne Boy, director of facilities planning, design and construction, said.
The renovations include a new staircase, a small kitchen, space for file storage and a mechanical room in the basement. The basement had to be dug out by hand before workers could begin construction because the ceiling was too low for machinery to fit.
In the 1930s, John D. Rockefeller led the renovation of the interior of the Brafferton as well as the Sir Christopher Wren Building and much of Colonial Williamsburg. This renovation left wall chases, or hollowed-out areas of the wall housing ductwork, which have already been built out to the second and third floors for heating and pipes. Within these chases, new piping and building systems such as fire alarms and sprinkler systems will be added to bring the building up to code.
Additionally,the construction team will turn the separate kitchen, called the dependency, into a conference room and upgrade it to meet American Disabilities Act  (ADA) standards so that members of the administration will have a cozy yet modern place to adjourn for conferences and meetings.
Construction crews will reroof both the Brafferton and the kitchen using the same tiles from the 1930s renovations. In addition, each large window will be restored to its original features.  Most of the construction work on the windows will either fix damage to the frames or panes or replace them entirely. Hand-blown glass will replace the individual panes, making  the windows look similar to the original ones
Due to the age of the building, the age of the brick and the peculiarity of the masonry, historical building repair specialist Peter Post was responsible for repairing cracks or damage in the walls.  Post worked in the basement, where there were large cracks in the existing wall .
The project should be concluded in time for the 2012-2013 academic year.