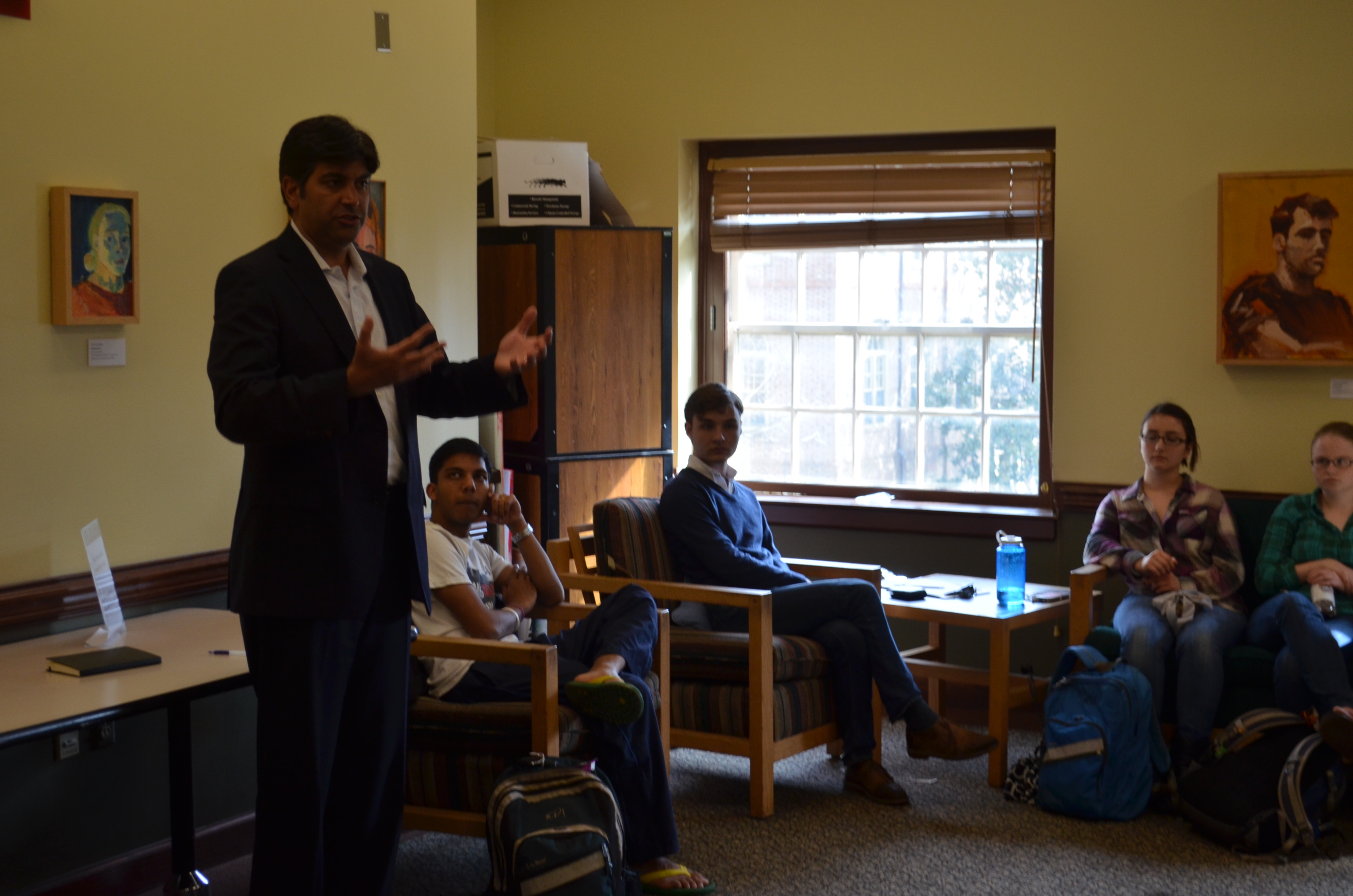 This Wednesday, Virginia Lt. Gov. candidate Aneesh Chopra visited the College of William and Mary to talk about his campaign and vision for Virginia's future. About 30 people — mostly students — gathered in Blow Memorial Hall's third floor lounge to hear him speak.
Chopra began working in the public sector full time as former Gov. Tim Kaine's secretary of technology 2006-09, and then served as the nation's first chief technology officer under President Obama 2009-12. Chopra announced his intent to run in July 2012, and submitted about 20,000 signatures — double the required number — for ballot access.
If elected lieutenant governor, Chopra aims to use his background in technology to improve Virginia's economy. He used crowd funding as an example of how technology can be used to help entrepreneurs launch businesses. Crowd funding is a way investors who often collaborate over the internet can pool money to support businesses and organizations.
He also discussed at length how technology can be used in the classroom. While working with Kaine, Chopra developed a program to help uneducated Virginians earn their GEDs with IT credentials.
"We're about 100,000 graduates short of losing the accolade of best-educated workforce in the country," Chopra said. "We have to find a way to get people to finish, and not just two and four year degrees but also industry certificates. … To do this, we're going to have to find innovative solutions, not just more money or political maneuvering."
By focusing on these ideas, Chopra aims to reverse Virginia's reputation as a socially conservative state, which developed under the leadership of Gov. Bob McDonnell and Attorney General Ken Cuccinelli.
"I believe the commonwealth can be faster, smarter and fairer for every Virginian; unfortunately this vision will be inhibited by the current structure of Richmond," Chopra said. "[Richmond] has hijacked common sense policy and turned Virginia from the best managed state, the best place to raise a family, to the centerpiece of late-night comedy shows."
Although he criticized Virginia's current leadership, Chopra challenged the common notion that the Republicans and Democrats accomplish few things without bitter disagreement, labeling this notion as a fiction developed by the media for their own purposes. Chopra pointed out that the JOBS Act, which helps provide money for new companies and was passed with strong bipartisan support, received very little media attention because it did not portray a dysfunctional Washington.
Throughout his talk, Chopra expressed confidence in the potential for cooperative  bipartisanship in the future. When asked by a student how he would work with southwest Virginia's conservative representatives as lieutenant governor, he expressed confidence that his constituents would be receptive to the progressive legislation he hopes to introduce if elected.
"In the southwest, there may be leaders — I don't believe them to exist but they might — who don't want change," Chopra said. "But there are people who want a better life for their families. … I believe there are people hungry for change."
Noah Kim '13 invited Chopra to campus. Kim, who currently works for his campaign as a voter-registration activist, hoped the visit would both inform students and help recruit volunteers for his campaign.
"For me, watching him speak is what drew me to him," Kim said. "I was following him when he was still chief technology officer, and the level of policy expertise he brings to issues like education, technology and healthcare is really mind-blowing to me … and I think hearing him speak on those things will resonate with people."
Economics major Andrew Bryant '15 attended Chopra's talk and was impressed with Chopra's message and enthusiasm.
"I enjoyed listening to him speak very much; he seems very excited and passionate about harnessing the ideas that everyday people have," Bryant said. "It was definitely worth my time. In general, I want to learn more about state politics, so I just stopped by."