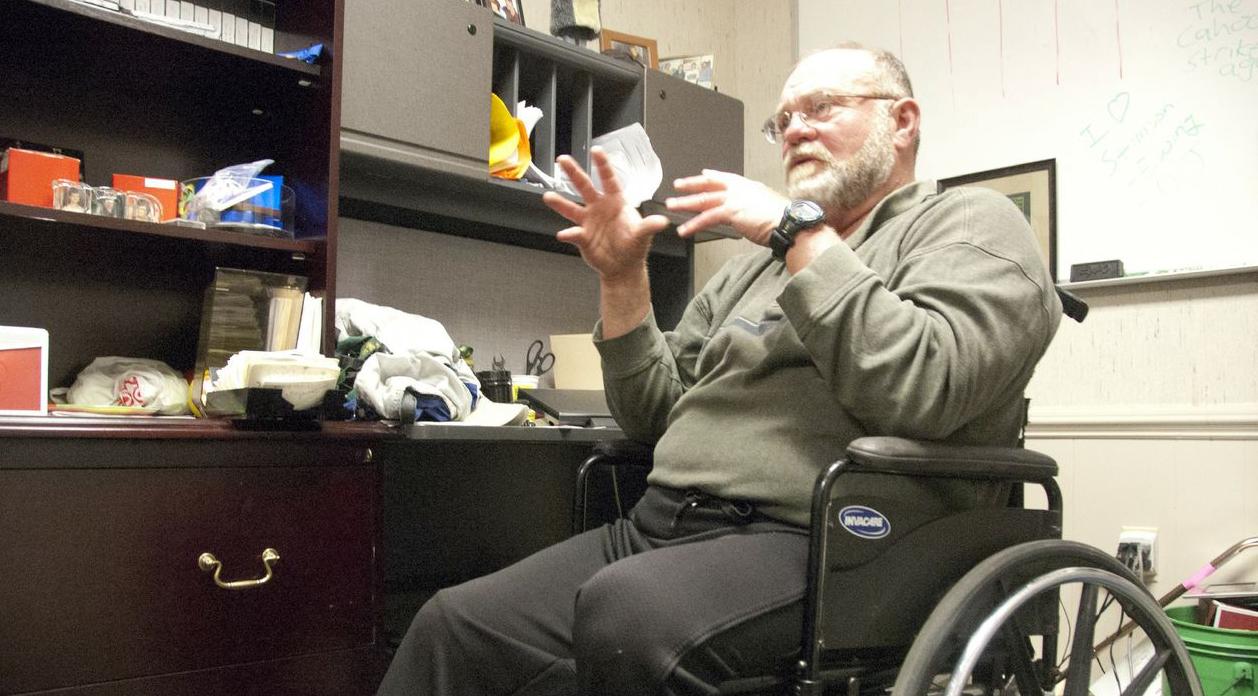 You'll find him hanging around the aptly-named Stimson Throwing Events Area, directing his athletes. Dan Stimson, assistant coach for William and Mary's track and field program, brings more than a few trophies to the table.
In Stimson's 25 years as the director of the program, Stimson guided the Tribe to 25 of 34 possible Colonial Athletic Association championships. Since 1986, the year of Stimson's arrival in Williamsburg, the 25 CAA championships rank third most in that span, trailing only James Madison and the rest of the College's programs in total number of CAA championships won.
Rather than merely setting a tone of conference dominance, Stimson revitalized the track and field program at the College. Arriving in the summer of 1986, Stimson inherited a team lacking talent and struggling to field scholarship athletes. The throwing team, Stimson's specialty, had a single male thrower — and he was coming off shoulder surgery.
"The team was terrible. John Randolph [the Athletic Director at the time] put the men's and women's teams together. Back then, you still had separate men's and women's programs throughout the country," Stimson said. "And then we started putting them together, so a new position was the director of track and field. And the women's team was pretty bad, frankly. They kind of let the program go for awhile."
With limited personnel and talent, Stimson relied on his previous experience and connections to build the track and field program mostly from scratch.
"Back then you had to learn all those events and learn coaching. I kind of came up through the old system where you were a graduate assistant and you've got knowledge in the areas you've done — I knew the throws," Stimson said. "People don't do that anymore. They're too specialized, almost, I think. I try to encourage the assistants I've had here the last 25 years to learn all the events."
Stimson, a former All-Ohio and a two-time Mid-American Conference shot-put champion at Central Collegiate, put aside throwing for coaching when he joined the University of Tennessee's staff as a graduate student in 1971.
Through his next 15 years, Stimson coached at Miami of Ohio and Tennessee again, learning the finer details of practically every field event. When an opening for director of track and field appeared in 1986, Stimson packed his bags and arrived in Williamsburg.
"I thought I'd have a chance to get the thing going again, and I had been an assistant for 16 years. It was time to be a head coach," Stimson said. "I felt like I could sell this place, and I knew the coaches of Virginia. I took the job, and frankly, the rest is history."
Due to the financial situation of the track program, Stimson was forced to recruit more in-state students and throwers who had never competed in events like the hammer or javelin.
The 15 years of fine-tuning his approach to the throw events began to pay off — students would drastically improve their distances after a short time with Stimson.
"There's an art of coaching, you can read a book, go on YouTube, but it takes awhile. God, I've been coaching for 42 years, I hope I know something. I've developed enough patience to make the kids be patient," Stimson said. "And a place like here, they're very tenacious. They're willing to work year round, and they're great at doing that. It's not my knowledge as much as it is them taking my knowledge and applying it."
Take senior thrower Natalie Baird, for example, coming out of Park View High School in Sterling, Va. with seven state titles and national media attention — and a salutatorian to boot. Baird seemed primed to start where she left off in high school.
Instead, Stimson instructed Baird to simply not throw the summer before entering the College. Counter-intuitive, but for Baird it worked.
"He had me not throw for awhile, over the summer, so I'd be more like a fresh slate to start with, to lose any bad habits," Baird said. "We started with the ending of the throw, called the front, and worked our way back to the full spin."
More than technique, Stimson also helps new athletes and potential recruits feel at home.
"The first thing I say to a recruit is, 'What if you've never even ran track? Would you be interested in William and Mary?' If they say no to that, then they're missing the whole point," Stimson said.
It wasn't just recruiting in-state talent like Baird, however, that helped build the College's program. Stimson also ran into some good luck with especially talented individuals.
Upon arrival in 1986, the throw team had no women. Enter Wendy Warren. A walk-on, Stimson helped craft Warren's raw talent. Warren seemingly began a tradition of great women throwers, seen today in Baird.
Aside from the accolades as a coach and director, Stimson offers another element to his athletes — care and attention beyond that of a typical coach. As Baird entered the fall of her sophomore year, she began to suffer from severe bouts of tiredness and weakness.
"I was tired all the time. I don't think I knew how much it was affecting me [as much as] those people watching me knew. He was really supportive of me during that time. I know one time I was having a hard time – things were taking me forever to do, tasks that should have only taken a certain amount of time," Baird said. "One day I just sat there and cried and I was like, 'Coach, I don't know what's going on!' And he was like 'It's ok, we'll get through it.' And we did."
Despite the adversity, Baird still won the CAA title in discus that spring. Baird continued to show signs of abnormal weakness until Stimson took action and prescribed a series of blood screenings.
The tests revealed a rare form of thyroid disease, hypothyroidism, which occurrs in roughly 10 percent of women. For Baird, Stimson's commitment was instrumental in her recovery.
"He was so committed to me even when I was having issues. He was focused first on me, then on my performance," Baird said. "That was important because of the community feeling here rather than all the pressure."
Stimson's athletes mirror the balance of relaxation and focus found in their coach.
"Our kids are real smart, they take care of themselves and they're very disciplined off the track. And on the track you can't hide. You know exactly how good you are every second," Stimson said. "Every time you race you have a time just as you have a height. You can compare yourself to anybody in the world –— some people can't handle that. That's called reality."
Some might say Stimson has a knack for coaching; others might say he's an expert beyond compare. For Baird, it's just enough to be thankful to have a coach as relaxed as Stimson.
"You might think you have to be all hyped up, but no, man, give me a good joke before I go in the circle and I'll throw better for you," Baird said. "It's nice to have someone who's more laid back."
Maybe that's the key to success.