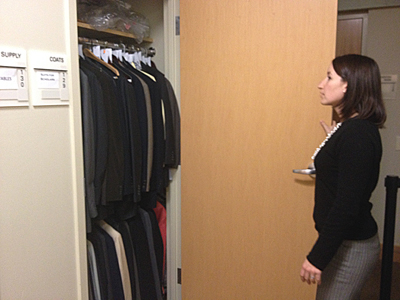 As the Board of Visitors ponders ways to increase alumni donations to the College of William and Mary, the Sherman and Gloria H. Cohen Career Center is actively accepting donations to the newly established Suits for Scholars Program.
Started by Assistant Director for the Career Center Ashleigh Brock and Career Center employee Annie Martinez '14, the program provides professional clothing to students of the College who may not necessarily have the time, money, space or wardrobe variety to own professional ensembles. Brock and Martinez want outfit choice to be the last thing on students' minds when they enter the possibly make-it-or-break-it interviews for competitive internship or job opportunities.
"They don't have to worry about 'Do I look okay?,' 'Is this fancy enough?' They're ready to go. They don't have to worry about their physical appearance anymore. They're focused on the strengths that they're going to bring to the table," Martinez said. "That day when you go into that interview is already so nerve wracking, the last thing you want to be worrying about is are you dressed appropriately."
Brock and Martinez discovered the need for the program firsthand while observing students at a variety of Career Center-sponsored networking and career fair events. During the spring 2012 semester, Brock began to study similar programs at other colleges and universities, including Columbia University's Columbia Clothing Closet, which provides new clothing from various department stores for students to use for career events.
Brock noted the infeasibility of such a program at the publicly funded College and instead reached out to alumni, faculty, staff and members of the Williamsburg community for donations of new or gently used professional wear last fall. Through word of mouth and smaller forms of advertisement, the program was able to build an inventory of clothing capable of providing students with a number of professional options.
Sara Kamp Collins '96 MBA '00 started an Indiegogo campaign for the program, asking fellow alumni for donations of $10, $25 or $50 through the online donation site with the goal of reaching $500. The program raised $575 for Suits for Scholars, allowing Brock and Martinez to expand the breadth of the sizes and styles included.
"When I started my senior year at William and Mary, I remember very clearly my mother taking me shopping for an interview suit," Collins said in the Indiegogo campaign description. "Every time I put on that suit, I felt confident that I was putting my best foot forward."
Collins noticed a need for professional clothing for College students during her own time at the College as a Career Center employee.
"I would have loved to have been able to offer that help to students back in 1995," Collins said. "[Donating to Suits for Scholars] is my — and your­ — opportunity to provide that help to our current students."
Brock said the financial donations raised by Collin's Indiegogo campaign allowed her to fill some needed gaps in sizes and styles for the program in both the men's and women's sections.
Another alumna, Nora Nickels J.D. '07, currently lives in Richmond and donated to the Suits for Scholars earlier this academic year. Nickels plans to promote the program at future Richmond area alumni events and collect donations.
"I think it was amazing to see how the collective Tribe spirit had all come together from not only alumni in the current community, but outside of the College, how they're all willing to participate in this program to help students," Martinez said. "I think since I started to get involved with the Career Center … I began to start to realize how much alumni care about this school. … I think we do have the Tribe spirit here, but I think, watching [alumni] and how they interact with us … when we graduate it's just magnified."
Suits for Scholars has received donations from a number of alumni-dense areas across the country.
"The message has gotten out a lot farther than I thought it would and has brought in with each of these pieces interesting stories," Brock said. "All those items have a story which I just think is a really neat thing."
So far, the program has primarily received inquiries, but Brock plans to increase advertising for it. Students can access the program request form through the Career Center website, which also includes a Flickr gallery to show all the pieces in the two-tiered closet. The only expense associated with the program for participating students is to return the items freshly dry cleaned.
"I can't say whether something that you're wearing changes your chances of getting a job, but first impressions do matter a lot and also confidence, we find, is one of the most important factors in hiring," Brock said. "So, if a student feels good about their appearance and how they're presenting themselves to an employer, they're probably going to perform better in the interview itself."