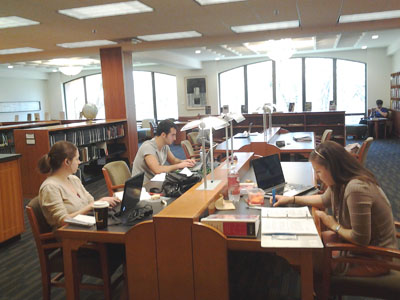 A homework assignment found at the Marshall-Wythe School of Law was misinterpreted as a mass homicide threat Saturday, March 30. The student who found the assignment reported it read, "Plan A: Kill 400 people."
The police began to investigate the threat immediately. On April 1, Associate Dean Lizbeth Jackson emailed students to inform them about the investigation.
Shortly after, the owner of the assignment contacted police and explained it was simply a mediation exercise.
"Within the context of the assignment it made perfect sense," College of William and Mary Police Chief Don Challis said. "But the story spread in a way if I were to whisper in your ear and you pass on the message as a whisper and the words change."
Jackson sent a follow-up email shortly after the case was resolved explaining the assignment and its misinterpretation.
"The article is about how people make choices and poses four different scenarios from which groups of people were asked to choose one," Jackson said in the email to Marshall-Wythe students. "For example, America is preparing for an outbreak of a deadly disease, which is expected to kill 600 people. If program A is adopted, 200 people will be saved."
The rumor and Jackson's email were posted on a blog called "Above the Law" and later on The Huffington Post. Both sites cast the reaction to the exercise as overblown. The Huffington Post's headline read "William and Mary Law School Went On High Alert Over Class Exercise."
Director of News Marketing for the College Suzanne Seurattan explained neither the law school nor campus was on high alert.
"It was never deemed a credible threat," Seurattan said.
Challis said it is unclear how "Above the Law" and The Huffington Post received word of the incident.
"We have a lot of students who could be involved with those sites, and that is their prerogative," Challis said.