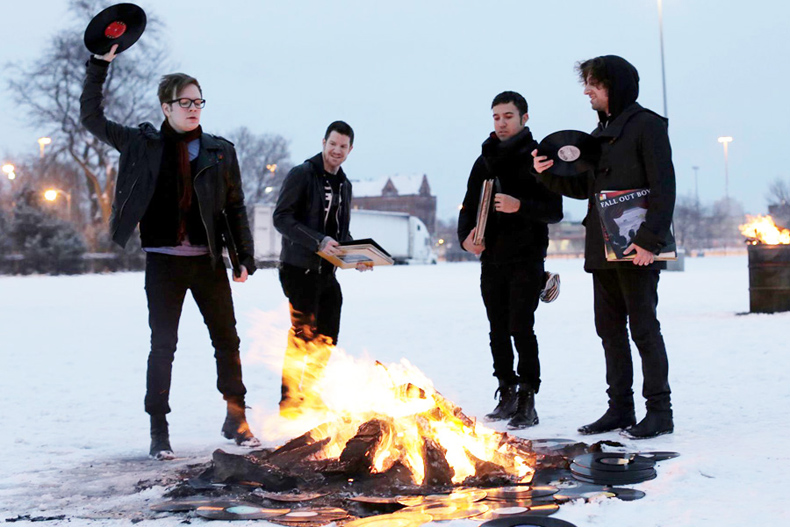 It is probably safe to assume music preferences change with age, but there is nothing sweeter than the nostalgia you feel when you listen to an oldie — at least one of the early 2000s variety. A song can bring back memories of all the juvenile things a certain band inspired you to do. The middle school years, for the majority of the 90s babies, were probably set to a soundtrack of angst-filled soft-rocking boy bands ranging from Backstreet Boys and 'N Sync to Good Charlotte and, of course, Fall Out Boy.
But just as you outgrew that stage of your life, many of the composers of the soundtrack to your childhood broke up and were eventually forgotten or replaced by new favorites. But I bet if you played that first Fall Out Boy album, you could still recite the lyrics to "Grand Theft Autumn/Where Is Your Boy," or maybe their second album's "Sugar We're Goin' Down."
When Fall Out Boy disbanded in 2009, the news was devastating for fans, to say the least. However, April 12 of this year, the band released their newest album entitled "Save Rock and Roll."
Immediately following the announcement of its new album and tour, the band released its lead single, "My Songs Know What You Did in the Dark (Light 'Em Up)," which reached the number two spot on iTunes. Featuring only a slight variation to the original sound, the song was the perfect reintroduction to the world of Fall Out Boy. While carrying the same tone as their previous music — debatably solely because of Patrick Stump's distinct voice — this introduction to their new album still has the almost-but-not-quite politicized lyrics and still uses the band's trademark — and witty — play on words.
"The Phoenix," a promotional single from the album, was released in late March, accompanied by yet another music video. Then, in early April, the band released "Young Volcanoes" to be streamed on SoundClound and Youtube as a second promotional song for the album. It takes on a very different sound than their traditional songs with a more acoustic feel.
These teasers were the perfect buildup for the album's complete release on SoundCloud April 8, where fans could listen to the album while waiting for the purchasable release on iTunes April 12. The album includes 11 songs and features a variety of prominent artists such as Big Sean, Foxes, Courtney Love and even Elton John.
The album's namesake "Save Rock and Roll" features Elton John and is an anthem of sorts, attesting to the band's resilience and showcasing lyrics that promote their simple mission of saving rock and roll. The steady beat and choral echoes give it an ethereal feel. This song is very different from the songs "Rat A Tat" and "Where Did the Party Go," which combine the  rock feeling of their previous albums and the originality of their first songs.
It is obvious, however, that some of the real gems on the album are those that did not receive as much media attention like "Death Valley," "Just One Yesterday" and "Miss Missing You." These songs  actually verge on  alternative,  with electronic beats beneath the electric guitar and much deeper lyrics.
The true surprise, however, is the song "The Mighty Fall," which features rapper Big Sean. This collaborative song has an interesting mix of the power of a rock song with the traditional bass of a rap song,  accompanied by interesting lyrics.
It seems Fall Out Boy has reverted back to its roots, tapping into that same youthful inspiration that created their first album. Their new album proves to fans that not only has their enthusiasm not dissipated, but no matter what, they are not going anywhere.