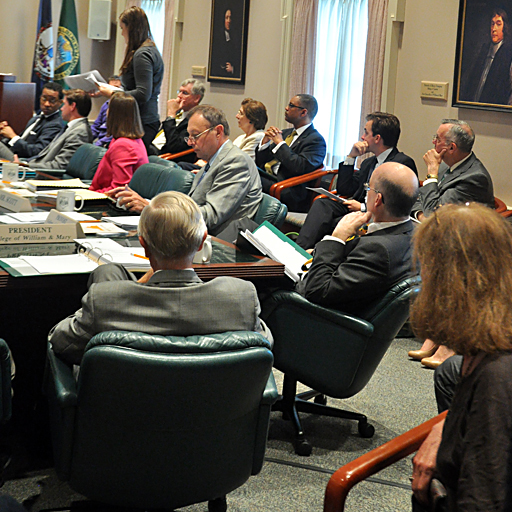 The William and Mary Promise, a new operating model for the College of William and Mary, was approved by the Board of Visitors Friday, promoting what BOV members called an "iron-clad" tuition guarantee for in-state students.
The new model targets in-state student tuition, aiming to reduce the net tuition paid by middle-class families or those earning less than $100,000 per year on average.
Starting with the incoming class of 2017, in-state students will enter the College under the new four-year tuition guarantee. Tuition will be set for their first year and will remain constant for all succeeding undergraduate years spent at the College.
For current in-state students, the new promise plans to hold annual tuition increases to no greater than the rate of inflation.
"An iron-clad tuition guarantee: The first of its kind of any public university in America," BOV Finance Committee Chair Todd Stottlemyer '85 said. "We hope students and parents will respond favorably to this. We believe they will because of that guarantee of knowing what you're going to pay in year one and knowing what you're going to pay in year four."
An additional 150 in-state students will be enrolled at the College over the next four years. Coupled with the state-mandated increase of 150 in-state students over the past few years, the College will see an 8 percent increase in in-state enrollment since 2010.
Vice President for Finance Sam Jones noted that the increase in enrollment will not affect class sizes at the College since the administration plans to increase full-time professor positions at the College to compensate for the enrollment growth.
"We'll add some full-time faculty slots to go along with that enrollment growth," Jones said. "The intent is that we're not changing the student-faculty ratio with this."
The College also intends to increase faculty salaries based on merit over the next few years, with a goal of moving faculty salaries from the 17th percentile in 2013 to the 51st percentile by 2016.
BOV member Robert Scott J.D. '68 drew on his experiences as a law professor who teaches about contracts to elaborate on the reciprocal nature of the College's new promise.
"The legal definition of a promise is a manifestation of an intention to act so made that it justifies the recipient in believing that the commitment has been made," Scott said. "And by accepting this infusion of dollars from incoming students, the faculty and staff here at the College are making a reciprocal promise. … A promise that, in short, they can and will enhance the teaching mission of the university without sacrificing, in any respect, the commitment to scholarship so essential to making this a great liberal arts university."
The Board approved the new plan, with one member, Pete Snyder '94, voting the measure down.
Snyder noted that any tuition increases in the current economic environment discouraged him from approving the measure.
"Making higher education a more affordable option for all Virginia students should be our number one priority as Board of Visitors Members," Snyder said in a statement. "While the plan will reduce net tuition for middle income families below $100,000 in annual income, I believe we must go deeper into the middle class to provide tuition relief and that no increases in tuition are warranted in these very tough and uncertain economic times.  Because of this, I cannot support this resolution and must vote no."
College President Taylor Reveley supported the new plan, emphasizing the need for collaboration between faculty, staff, alumni and students to implement the new model
"We know that William and Mary going forward must largely see to its own financial future," Reveley said. "It's William and Mary's great good fortune that we have the capacity to fend for ourselves, but this will take a powerful constellation of three groups. First, of campus productivity gains from our faculty and staff. Second, of heightened philanthropic support ofour alumni and friends. And third, more earned income from students who benefit from the extraordinary education William and Mary provides, always coupled with the need-based aid for students unable to pay."
Check back with The Flat Hat for more on this story.