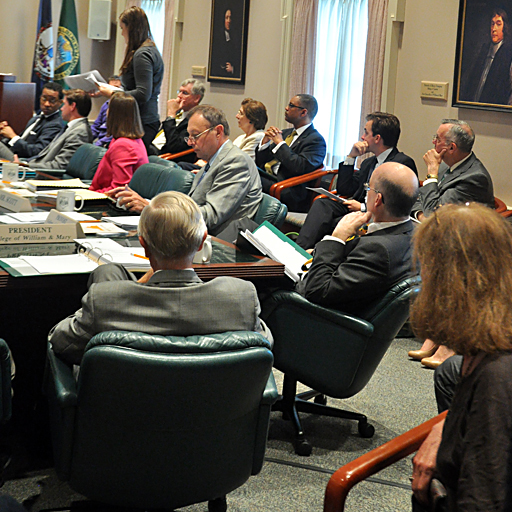 This fall, students could be moving their overstuffed bags and dressers into One Tribe Place and The Green and Gold Village, formerly known as the Hospitality House and the Units, respectively.
As both complexes undergo renovations for student move-in, the College of William and Mary Board of Visitors Committee on Administration, Buildings and Grounds unanimously voted to rename each complex and pass the legislation onto the full Board for approval.
The individual units will be called Griffin Hall, Lion Hall and Eagle Hall, respectively, if the BOV approves the resolution today.
Members of the committee said the proposed names of the residence halls could be temporary.
"We've chosen rather plain names in the hopes that donors will come in and want to re-name them," Vice President for Administration Anna Martin said.
With the steady increase in student enrollment at the College, administrators have also been working to increase on-campus student housing.
Administrators have also been working to increase on-campus student housing.
"We are about to undertake the most challenging summer in terms of buildings and renovation," Martin said. "In addition to renovating the Brafferton, Tucker Hall and the Sadler Center, we have to prepare the Units and the Hospitality House. All of these are projects with strict deadline[s]."
The renovations of the Units will create a "freshman village" beginning with the class of 2017.
"The Units will have a vibrant new life, and the freshman, they will like them," College President Taylor Reveley said.
In addition to the 318 rooms for students, the Hospitality House also has space for conference rooms and gatherings. Beginning next fall, Vice President for Financial Affairs Sam Jones will put together a working group to see how else the space might be used by the College.
Martin confirmed students will have use of all furniture and refrigerators in the Hospitality House, but the College will remove the hair dryers and televisions before move-in.
"These are very luxurious accommodations for our students, I wouldn't be surprised if there was food left in the refrigerators on move-in day," Martin said. "A single in One Tribe Place is bigger than most doubles on campus."
The BOV will vote to approve the new names of the Units at the Full Board meeting April 19.