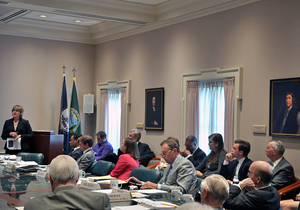 The Board of Visitors Committee on Strategic Initiatives reviewed the success of the College of William and Mary's Global Engagement Strategy and further discussed the potential partnership with Eastern Virginia Medical School Friday.
Stephen Hanson, vice provost for international affairs and director of the Wendy and Emery Reves Center for International Studies, reviewed the Reves Center's efforts to promote the College internationally.
He discussed the establishment of the William and Mary Confucius Institute, a group created by the People's Republic of China, which strives to promote Chinese language and culture, calling it a crucial success for the College's expansion.
"[The College was] actually featured on Chinese television during Chinese New Year," Hanson said. "Chinese students were seen enjoying themselves around the Wren building and Sunken Garden."
Hanson identified the creation of the Asian and Middle Eastern Studies multidisciplinary program, AidData, which received $25 million, as well as the continuing presence of the College's Washington, D.C. Office as other accomplishments this past year.
Hanson listed reaching a 60 percent study abroad participation rate and furthering international partnerships as goals for the Reves Center in the next several years.
Economics professor and Director of the Schroeder Center for Health Policy Jennifer Mellor gave updates on the partnership with EVMS and explained how the exploratory committee has used the $200,000 the Virginia General Assembly gave the College.
Mellor explained offering grants for research collaboration between EVMS and College faculty is one of the College's efforts toward preparing for a future partnership.
"We have lots of experts at William and Mary and EVMS," Muller said. "We are trying to bring the faculties together, to break down barriers and to incentivize them to work together."
Mellor also said the College hopes to create collaborative programs with the Mason School of Business and the Marshall-Wythe School of Law to arm medical students with knowledge of the health care industry and of the economy.
"We are focusing on health services research, which has strong underpinnings of the social sciences, business and law," Mellor said.