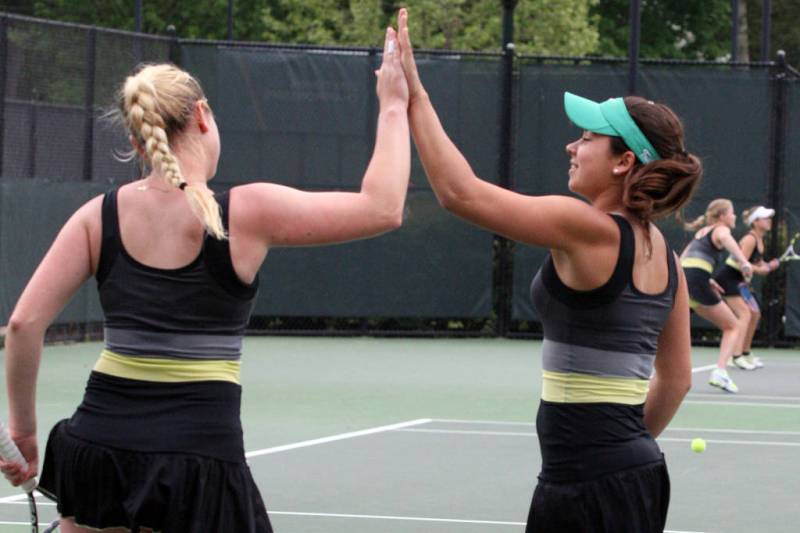 After winning the Colonial Athletic Association tournament, the College's No. 44 squad traveled to Charlottesville to take on No. 18 Texas, winners of the Big 12 Conference, in the first round of the NCAA Championship. Texas rallied to claim the doubles point before taking the No. 1, No. 2 and No. 5 spots in individual play to end the Tribe's season.
Despite the setback, head coach Tyler Thomson led the College to a 17-6 overall record, while winning the program's 22nd conference title. Thomson, however, wasn't done coaching yet; he still had two athletes competing in the national championship.
Junior Maria Belaya drew No. 20 Kyle McPhillips (University of California, Los Angeles) in the first round of the NCAA Singles Championship, held at the Khan Outdoor Tennis Complex in Urbana, Ill. McPhillips won handedly, 6-1, 6-1. Belaya ended her singles campaign with a 21-13 overall record, ranked as high as No. 116 nationally.
The following day, Belaya again took to the court. This time, however, junior Jeltje Loomans joined her in the opening round of the NCAA Doubles Championship as the No. 13 seed. Belaya and Loomans took on Pleun Burgmans and Plamena Kurteva, the No. 10 pair out of Auburn. Using early breaks in both sets, Belaya and Loomans won the match 6-3, 6-4, advancing to the Round of 16.
No. 3 seed Nebraska, also the No. 3 duo in the nation, faced the College in the next round the following day. Dropping the first set in a tiebreaker 7-6 (3), Belaya and Loomans rallied to win the second set 6-4. Down to the decisive third set, the Cornhuskers Patricia Veresova and Mary Weatherholt claimed the match with a 6-2 set victory. Finishing a round short of All-American status, the Tribe's tennis season came to a close.
Editor's take: Despite winning just once in the NCAA Championship, keep in mind that the program won yet another CAA title, grabbed a player of the year recognition (Belaya), and sent players to both the NCAA Singles and Doubles Championship. All of this came in Thomson's first year at the helm. If these are the results after just one year, the ceiling is high, as both Belaya and Loomans return for their senior years.