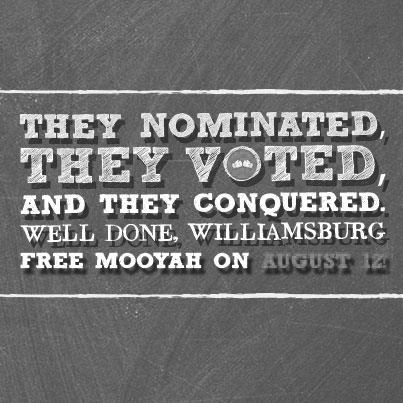 The Williamsburg community has once again reigned victorious in a free food competition. On Aug. 2, MOOYAH, a local burger restaurant located under Tribe Square, announced the Williamsburg location had won their summer MOOYAH Madness competition. The College of William and Mary's community used the power of social media to not only win the Facebook competition, but to change the date of Free MOOYAH Day.
MOOYAH Williamsburg won the competition after five rounds of cuts. MOOYAH originally announced that Aug. 12 was Free MOOYAH Day. When students voiced their concerns about their inability to attend even though they had voted, MOOYAH changed the date to Aug. 29.
"Ultimately, we wanted to celebrate with those who helped us win," Alexis Barnett Gillette, MOOYAH's Director of Marketing, said.
The company thanked the community over Facebook for "all of the support for continuously voting for your local MOOYAH."
Gillette says that customers can expect some surprises while they are waiting in line, potentially including samples of French fries, sweet potato fries and ice cream. She says MOOYAH is thankful for all of their fans and wants to reward them.
"We can't wait to celebrate," Gillette said. "We're really looking forward to seeing everyone on the 29th."
Last March, the Williamsburg Pita Pit location was the winner of Battle of the Pita Pits. In addition to a day of free food, some patrons standing in the long line where given t-shirts, sunglasses and other small gifts.
Owner of the Williamsburg MOOYAH, Alpen Patel, is very excited for Free MOOYAH Day.
"The William and Mary students who were behind us were getting out and voting every day helped us win — we couldn't have gotten best in the nation if it were for the kids voting," Patel said.
Chief Staff Writer Zach Hardy contributed to this report.