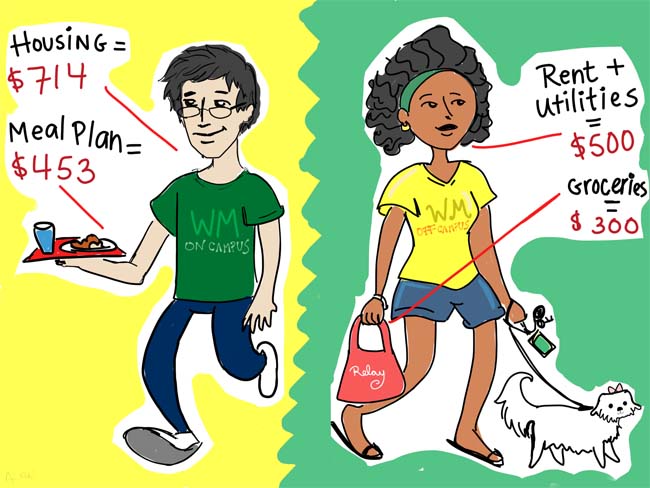 Each year at the College of William and Mary, over half of the student body competes for a spot on campus and approximately 73 percent of undergraduates live in housing operated by the College. The fact that some unlucky students are bumped off campus rather than leaving by choice shows the appeal of living on school grounds trumps the benefits of off-campus living for many of us (breaking free of the meal plan). This raises the question: Why should there be an overwhelming preference to live on a notoriously small campus with mediocre facilities that, relative to other housing options in Williamsburg, are somewhat overpriced?
Off-campus living is financially attractive, but I applied to the College for its on-campus perks. Its small campus allows students to be conveniently near friends, student groups, activities, academic resources, professors and athletics — essentially, the traditional college experience. Or, at least the one I expected to have at this school. Most of us believe the College is a place that emphasizes its campus community, where it is no surprise if you stay close friends with everyone in your freshman hall throughout all four years. Residence halls frequently hold events like dinner parties and porch cookouts — and people actually go to them.
I recently spoke to some international students about why they chose to study abroad in the United States and, specifically, Williamsburg. Naturally they didn't have (too) much enthusiasm for our local colonial surroundings, but they pointed out that living on campus with students their age all around them, and in a dorm room with a person they've never met before in a hall of several other random people, was both the foreign and the exciting aspect of coming to study in the United States. Back at home in places like the United Kingdom, Australia and France, the college experience is a matter of living in your own apartment or back at home with your parents, going to class on your own, and going out of your way to make plans with friends at some location unaffiliated with the college.
The College is not a big commuter school, which is why much of the draw comes from it being a place that can easily become a home away from home. Students who live off campus may miss out on opportunities and services offered outside the classroom, such as tutoring, clubs and support groups. Certainly this may not be the case for all off-campus students, but one cannot ignore the convenience of leaving a dorm with only a five-minute walk separating you from a dining hall, the library, the Sunken Garden and class.
Email Beatrice Loayza at bloayza@email.wm.edu.