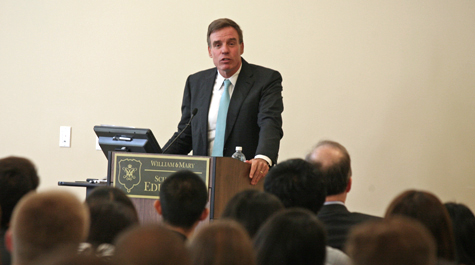 After serving in the armed forces, veterans are entitled to certain benefits if injured. Because of the difficult nature of diagnosing issues and the complicated process required to receive benefits, many injured veterans don't submit claims or their claims are backlogged and waiting to be processed. The Lewis B. Puller Jr. Clinic at the Marshall-Wythe School of Law has become a model by which veterans can obtain benefits they are entitled to receive.
The clinic pairs law students with attorneys to help veterans file benefits claims. They conduct interviews with the veterans and gather documents such as private treatment records. With this information, they can submit what's called a fully developed claim — a claim that helps the applicant receive benefits faster.
"We make it easy as possible for the veteran by gathering all the evidence they need to make a claim," Managing Attorney Stacey-Rae Simcox said. "These issues can be really complicated and they need someone to sit down and spend lots of time with them."
Since the clinic started in 2008, it has helped hundreds of veterans successfully process claims.
The Puller Clinic helps veterans navigate the legal processes involved in applying for benefits by collaborating with nursing students from Old Dominion University and faculty and students from Virginia Commonwealth University's Center for Psychological Services and Development. These students help evaluate veterans for physical and mental health issues, like post-traumatic stress disorder and traumatic brain damage.
"There are very few veterans clinics around the nation, and this is the first one that put lawyers together with doctors and people from other schools," Simcox said. "It makes us unique as well as very helpful."
Several politicians, including Gov. Bob McDonnell, R-Va., and Congressman Rob Wittman, R-1st, have praised the Lewis B. Puller, Jr. Clinic as a model that should be implemented at other law schools.
Senator Mark Warner, D-Va., wrote a letter to the senate on how similar clinics could help process the U.S.'s large backlog of claims. He recently announced with U.S. Secretary of Veterans Affairs Eric Shinseki that the Puller Clinic was added to the Fully Developed Claims Community of Practice, a group established by the Department of Veterans Affairs dedicated to expediting the process by which veterans receive benefits.
"This is a win-win-win: veterans get quicker approval for benefits they have earned, and VA can move quicker through its backlog because it will be receiving more complete and accurate claims," Warner said in his letter.