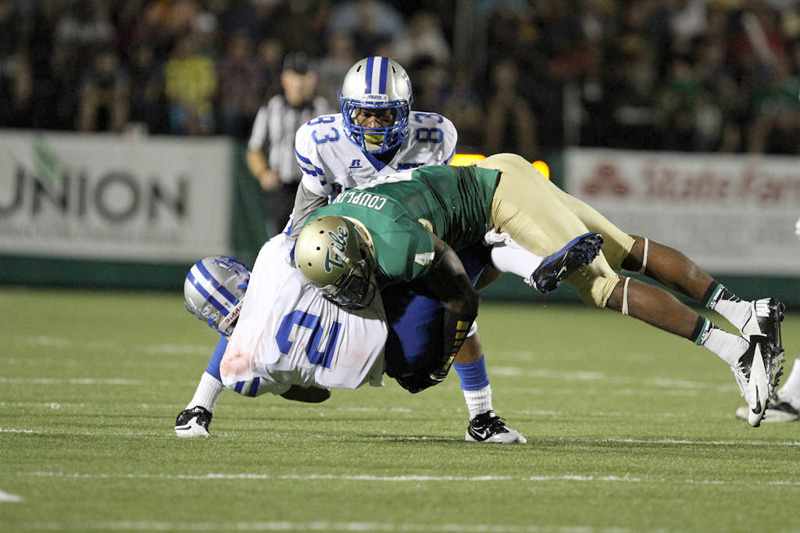 When a pair of Dallas Cowboys fans read the 114th pick of the National Football Draft, defensive coordinator Scott Boone watched his best cornerback, B.W. Webb '12, officially begin his professional career.
With Webb gone – and making his first professional appearance Sunday night against the New York Giants – many critics doubted Boone's ability to field anyone as complete as Webb.
Enter sophomore DeAndre Houston-Carson. The 6'1, 205 pound cornerback has all the physical attributes of a shutdown corner. Entering his third season with the team, Houston-Carson has begun developing as a leader.
"I don't really need my talking. I just lead by example," Houston-Carson said following the Tribe's 31-7 win over visiting Hampton. "Guys see you working hard and they're going to want to work hard too. Hopefully it'll transfer to the field, and we got a win tonight."
Houston-Carson brings an athletic ability similar to Webb's, having played tailback, wide receiver and defensive back for Massaponax High School, whilebasketball and track helped fill the offseason.
Boone also relies on senior Jerome Couplin to help the defense retain its strength from a season ago. The 6'2", 215-pound senior promises to contend for all-conference honors a season after leading all Colonial Athletic Association defensive backs with 8.3 tackles a game in 2012.
As Couplin III lines up behind Houston-Carson, he sees an emerging talent on the defensive side of the ball.
"He can be very good. He played eleven games last year, and started all eleven as a redshirt freshman," Couplin said. "He's developing; he's starting to mature a little bit."
For Boone, filling the void left by Webb is no easy task. With Couplin's experience and Houston-Carson's ability, the College looks to return to its superb form from 2012. For Couplin, leadership hasn't been an issue.
"It doesn't matter what year you are you can be a leader. [Houston-Carson's] doing a good job understanding that he's one of the guys with experience," Couplin said. "The sky's the limit for him. He needs to stay focused, stay motivated and keep working on his craft."
Boone will depend on Couplin and Houston-Carson to anchor a relatively inexperienced secondary that features two redshirt-freshman but, also, a lot of potential.