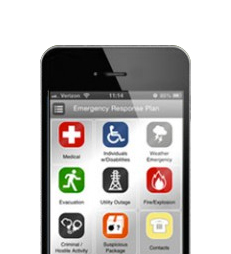 Last week, the College of William and Mary introduced "In Case of Crisis," a mobile app that offers information about emergency situations.
"In Case of Crisis," which is free in the iTunes app store, includes information on what to do in situations including earthquakes, fires, severe weather and in cases of sexual assault.
"The app is intended to provide information that might be important to the campus community," Emergency Management Coordinator Kenton Towner said. "It gives you the best information on finding shelter in situations. There's a module on sexual assault. … It just covers myriad of things that any student or staff member on campus may encounter during their time here."
The College worked with Irving Burton Associates to set up "In Case of Crisis." The app's content was already available on paper in residence halls and other locations on campus in the form of a multi-colored flow chart with emergency response information.
Vice President for Administration and Emergency Management Team Chair Anna Martin said the app  conveys the same information electronically.
"People use their phones more and more, and to be able to have all of this information on your phone is very convenient," Martin said.
Sutton MacQueen '16 said that the convenience of having emergency preparedness information readily available on her phone would draw her to download it.
"If it's an app I can get on my phone super easily, I'd definitely use it," MacQueen said. "I think it's an easier way to get information to students. It's streamlined and easily accessible."
Other students do not anticipate downloading the app. Elizabeth Thomason '14 said she feels would be an unnecessary addition to her phone.
"I don't want another app on my phone that I'm only going to use once a year," Thomason said.
While the app's information may not come in handy on a day-to-day basis, Towner and Martin both emphasized that reading it and having "In Case of Crisis" on hand can go a long way in terms of emergency preparedness.
"People have to make up their minds when they're faced with a situation," Towner said. "If you're informed and have read this information, you at least have a starting point of what you can do to protect yourself, your friends and your classmates."
The two encourage students, faculty
and staff to download "In Case of Crisis," which they have been promoting via email and the College's website.