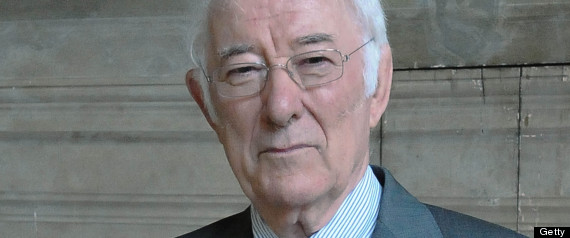 As the old joke goes: "How can you tell Seamus Heaney just walked down a street in Dublin? Because everyone is smiling."
The College of William and Mary department of English, in collaboration with the Patrick Hayes Writers Festival, held a memorial poetry reading in honor of famed poet Seamus Heaney Sept. 30. Heaney died Aug. 30 at the age of 74.
Professors, students and guests celebrated Heaney's life through personal remembrances and readings from his vast repertoire in the newly opened theater in St. George Tucker Hall. Suzanne Hagedorn, associate professor of English, mediated the event.
Born in Northern Ireland, Heaney rose from a disadvantaged childhood in a rural farmhouse — which lacked electricity and running water — to international stardom, winning the Nobel Prize in Literature in 1995. He wrote dozens of collections of poetry, penned works for the stage, and even translated the modern version of Beowulf that is commonly read in high school and college classes across the nation. His versatility and virtuosity, as well as his honest and poignant reflections on his native Ireland, led Robert Lowell to call him "the most important Irish poet since Yeats."
Henry Hart, Mildred and J.B. Hickson professor of English and Humanities and a friend of Heaney's, shared several personal stories about the poet. One particular story, featuring their first formal meeting at Harvard University to discuss Hart's upcoming book about Heaney, showcased Heaney's naturally kind and charming nature.
"When the conversation lagged, [Heaney] hustled to another room and returned with a bottle of Irish whiskey and two jars," Hart said. "The kind of jars used to hold jelly, or pickled vegetables, or moonshine. I'm not sure where the conversation went after that, but I know I had a good time. After a few drinks, he gave me a signed copy of his book, 'Station Island,' and then he walked me to my car. Before I left, I told him about my sister who recently graduated from college and was struggling to begin a career as an artist in Boston. He said he'd call her up and try to give her some help. I knew that Heaney was one of the most gifted modern poets, but at the time I didn't know what a generous person he was, what a gift-giver he was. … If a lot of famous poets leaned towards the satanic side of the personality spectrum, Heaney definitely leaned towards the saintly side."
Hart also shared memories about Heaney's three-day visit to the College in April 2002. A stop in his multi-college poetry tour, Heaney personally called Hart to ask what poems he should choose for his reading and agreed to recite works that were being studied in Hart's class on contemporary poetry. During his visit, Heaney charmed the Williamsburg community, including the dean of students and provost. He also gave authentic Irish coins to Hart's children and sent Hart signed special editions of his poems and lectures upon his return to Ireland.
Nancy Schoenberger, director of the Patrick Hayes Writers Festival and professor of English, noted that his humility, common touch and accessibility made him a relatable author. She also remarked that his work, which she discovered after seeing him "signing off" a late-night television show, comforted her during her first trip to Northern Ireland.
"There was that part of him that talked about writing a poem the way you would make an object — poetry as the making of something," she said. "I think that's a part of him and his approach to writing that I've always appreciated. The idea that, yes, it's good to be inspired, you need to be inspired, but we're also making something. I think that rootedness to the world was a big part, at least for me, to the attraction of his work."
Christy Burns, associate professor of English, shared Schoenberger's thoughts, while also noting that she frequently features his work in her classes.
"I had a freshman seminar that was on British and Irish women, and I so missed Seamus Heaney that I changed around the syllabus so I could do something with his work and include his poems," she said.
After the speeches, students and guests were encouraged to come to the stage and share a poem by Heaney that they particularly appreciated and enjoyed. Professors and students recited some of Heaney's most notable poems from "Death of a Naturalist" and "Field Work," as well as pieces from his last publication, "Human Chain." The former and current Poet Laureate of Virginia, Carolyn Kreiter-Foronda and Sofia Starnes, respectively, were also in attendance and read short poems.
Upon the event's completion, guests were invited to Tucker Hall's lobby to enjoy a selection of Irish-themed food and drinks, including homemade soda-bread and Guinness, and to enjoy the sounds of traditional Irish folk music played by students.