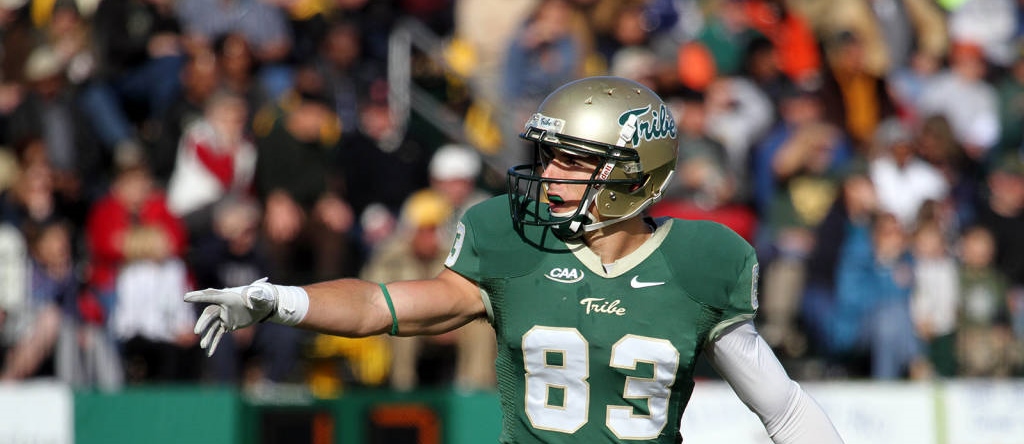 Despite a driving rain, William and Mary staved off a late Pennsylvania rally for a 27-14 win at Zable Stadium Saturday. Check back for full coverage and analysis.
Score by quarter
William and Mary    7   7   7   6
Pennsylvania            0   0   0   14
Story lines
Defense
In another strong effort, the College's defense allowed 237 yards, with just 109 of those coming on the ground. Constantly harassing Pennsylvania's quarterback Billy Ragone, the Tribe defensive line helped force 10 punts that totaled 408 yards – just shy of doubling the Quakers total offensive output.  The Quakers converted just 13 percent of its third downs (2-16).
Punts
Pennsylvania punted 10 times for 408 yards. Late in the second half, Max Kurucar, a defensive back who didn't play last season, began punting for the Quakers.
Senior safety Jerome Couplin
Couplin, a captain and all-conference safety, tallied 7 solo tackles and assisted on three others. Couplin provides a physical presence at the back end of the secondary and is key to the College's defensive mentality.
Guaranteed a win with three seconds left on the clock, Pennsylvania threatened to score on the game's final play. Rather than let the Quakers enjoy the meaningless touchdown, however, Couplin dragged down the Quaker ball-carrier at the goal line to emphatically end the game.
Player of the game
Sophomore tail back Mikal Abdul-Saboor
Abdul-Saboor topped 100 yards for the fourth time of the season, finishing with 103 yards on 23 carries and three scores. When Abdul-Saboor runs for more than 100 yards, the College is 4-0. Outside the run game, junior wideouts Sean Ballard and Tre McBride turned in strong performances. Ballard continued to establish himself as a big-play threat, hauling in three passes for a game-high 107 receiving yards. McBride had another quiet game, but did record his first touchdown reception on a three-yard fade from senior Michael Graham.
Critical decision
Having led the Quakers to nine fourth-quarter come-from-behind wins in his career, Ragone faced a dominant Tribe defense and a 21-0 hole entering the fourth quarter. Freshman tail back Kendell Anderson and Graham each fumbled, resulting in two Quaker scores, and Ragone was seemingly on his way to a tenth come-from-behind win.
Head coach Jimmye Laycock had an answer: an 83-yard touchdown drive that burned nearly seven minutes off the clock. Not a single pass play was called. The drive effectively ended the game and demonstrated Laycock's supreme confidence in his offensive line and rushing attack.
Quarterback situation
Graham, who suffered concussion-symptoms in last week's loss at Villanova, returned to his starting role. The senior quarterback didn't play particularly well, throwing for 159 yards on just nine completions, but returned some normalcy to the quarterback position. On a negative note, however, Graham threw his second interception of the season (the first coming against West Virginia in the season-opener).
 Next up
The College travels to Maine to face its second top-20 program of the season Saturday, returning to its CAA schedule. Kickoff is set for 12:30 p.m.
Full coverage
Check back here for full coverage and analysis later. The Sports Desk will be back in print on Friday, Oct. 18.