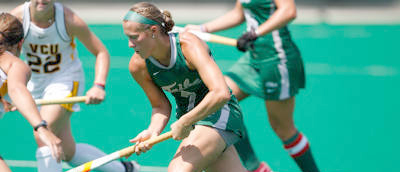 After shocking in-state rival No. 5 Virginia 2-1 Oct. 13, William and Mary entered Friday's match against No. 15 Old Dominion with a world of confidence. Seventy minutes later, with the College staring at a four-goal deficit, any sense of momentum had evaporated.
The Monarchs (8-6, 4-1 Big East) out-shot the College (6-8, 2-1 CAA) 12-2 in the first period. Starting redshirt sophomore goalkeeper Cate Johnson, who performed impressively against U.Va., staved off several shots on goal en route to recording five saves in the first 35 minutes.
Despite the Tribe defense holding strong against the Monarchs' aggressive offense most of the first half, the last minute saw the Monarch's forward Rosario Villagra score off a penalty corner after the ball rebounded off of Johnson's pads.
"We were flat coming out. We went more defensive," head coach Tess Ellis said. "We sort of sat back and waited for them and when we had opportunities to put the ball in the back of the net we didn't take those chances and finish them."
The Monarchs kept up an aggressive offensive front in the second period, wearing down the College's defenders. Sophomore goalkeeper Meredith Savage replaced Johnson, but allowed three goals on eight shots.
"Their skills were sharper and they were more determined to get to the ball than we were. That was probably the huge difference," Ellis said.
Monarch forwards Villagra and Emily Harting each scored two goals. Villagra's second shot hit the cage 10 minutes into the second period before Harting scored off a penalty corner 53 minutes into the game. Harting added her second goal off a penalty stroke in the 57th minute.
Junior midfielder Brittany Hopkins amassed the Tribe's only real scoring opportunities, but both of her shots on goal were saved.
After the Tribe's celebrated victory against highly-ranked Virginia, Friday's loss served as a sobering wake-up call for the College.
"The difference between the Virginia game and the ODU game, I think, was that ODU was prepared for us. They knew we would try to play an aggressive stall against them. I think U.Va. were caught a little unaware by how quick our team was upfront and we were able to put a lot of pressure on their backfield," Ellis said.
The College faces conference-foe Drexel Friday, and Ellis plans to work on communication amongst the offensive and defensive lines.
"With Drexel being a conference game it certainly steps up our level of play because if we want to make conference this year we have to take care of business, which is winning our next three conference games," Ellis said. "I think the pressure is on the team to come together after a big loss to Old Dominion, and to just rally and go back to our strong basics and work together more as a unit."
The College travels to Drexel Friday for its fourth Colonial Athletic Association game of the season, looking to improve on its 2-1 record in conference play. The game is set to begin at 7 p.m.